The 17-day Charlotte SHOUT Festival in Uptown Charlotte allowed local artists to showcase their work to passersby this weekend in a very unique environment. I had the opportunity of being one of those casual observers, but I don't think I'll soon forget the sight of grown adults belly laughing and smiling wide while flying through the air on oversized street-mounted seesaws. I'll also cherish the rush I felt when I walked back in time to recapture a piece of my early childhood memories on the bright red playground equipment.
Before I traveled to the uptown area, I scanned the event's website for directions to the various streetside venues and exhibits that I wanted to explore when I arrived. What was originally forecasted as a rainy day turned into hundreds of exchanged smiles in the sunny 70-degree weather.
Upon arrival, I paid for parking right next to Victoria Yards, and almost immediately, some funky music caught my ear. Soon I saw some of the most impressive graffiti art that I've ever seen. Captivated, I inched closer to the oversized art pieces, weaving between tents with thrifted clothing and other vendors. I also passed a stage where a group was still running through sound checks for the next set. Lawn chairs slowly began to fill up for the next musician's performance. I knew I had a lot to see, so I didn't get to wait very long, but I could sense the community's great anticipation to experience some urban vibes and sounds.
One of the things that surprised me the most about this festival was how spread out the exhibits were. As I walked in between them, gazing up at the backdrop of skyscrapers that towered mightily over the food trucks and crowds of people, I heard someone grumbling about how long walking distances were. Personally, I enjoyed taking a stroll through the Queen City. It showcased the uptown area nicely and felt like an elevated cultural experience. The cherry on top was that we all took in a sweet experience of "city life" amidst the art.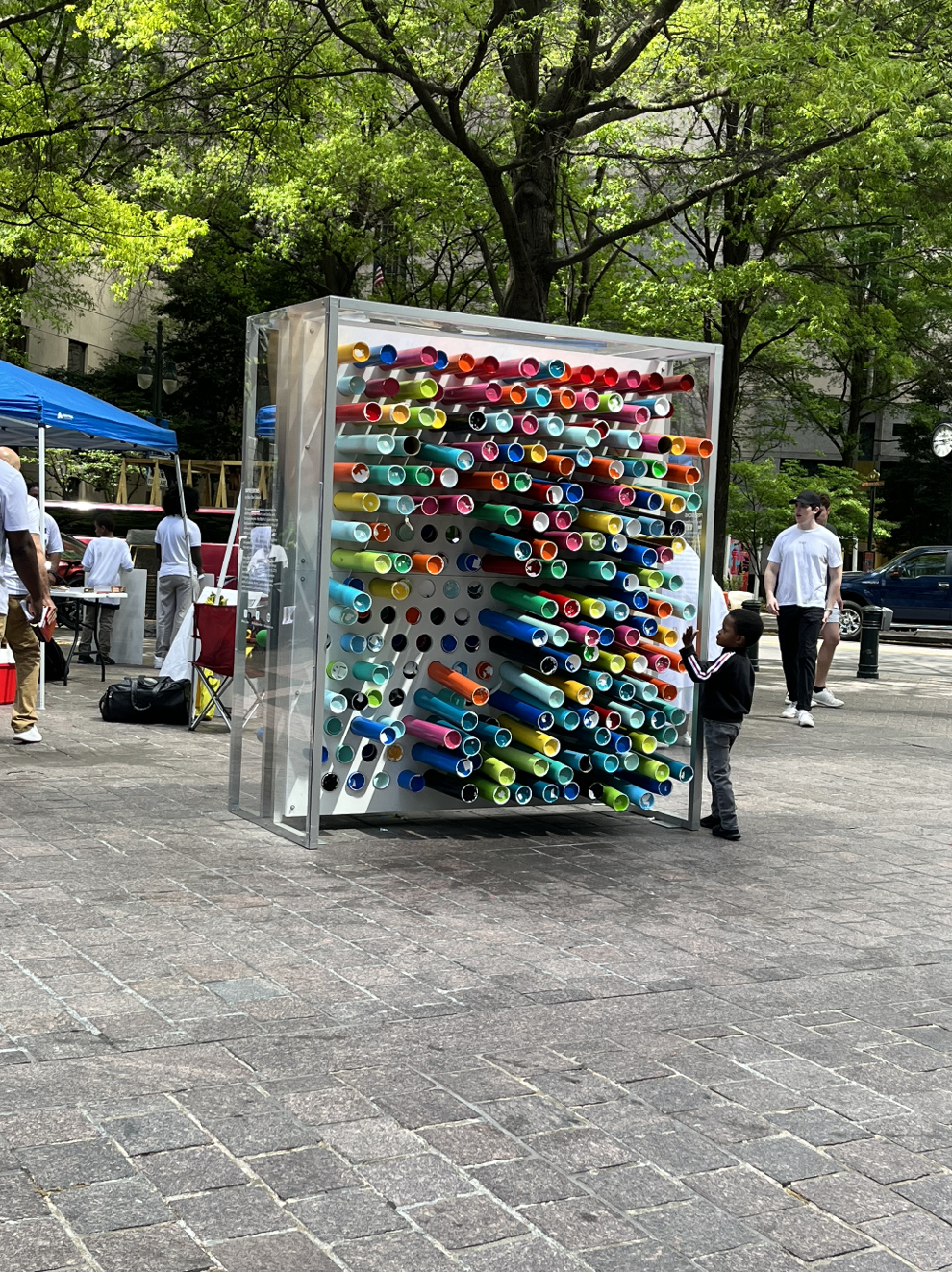 The next piece I came upon was an exhibit called "The Impressions." To be honest, when I first saw this piece, I had no idea what I was looking at. Kids ran up to it, gently slamming their bodies into multi-colored tubes that poked outside the piece's two-sided holes. When I arrived, there were so many kids waiting to do this, and all I could do was watch and laugh. Suddenly I realized the exhibit was mimicking a toy that I played with as a kid—the pin impression toy. The nostalgia hit immediately, and I felt those little pins against my hand, flashing back to a picture of them building my handprint on the opposite side of the glass. I couldn't help but take a moment to remember that kids these days probably don't play with these kinds of toys anymore. It was nice to see them interact with the life-size version of it, some not even knowing what they were doing. My stroll continued.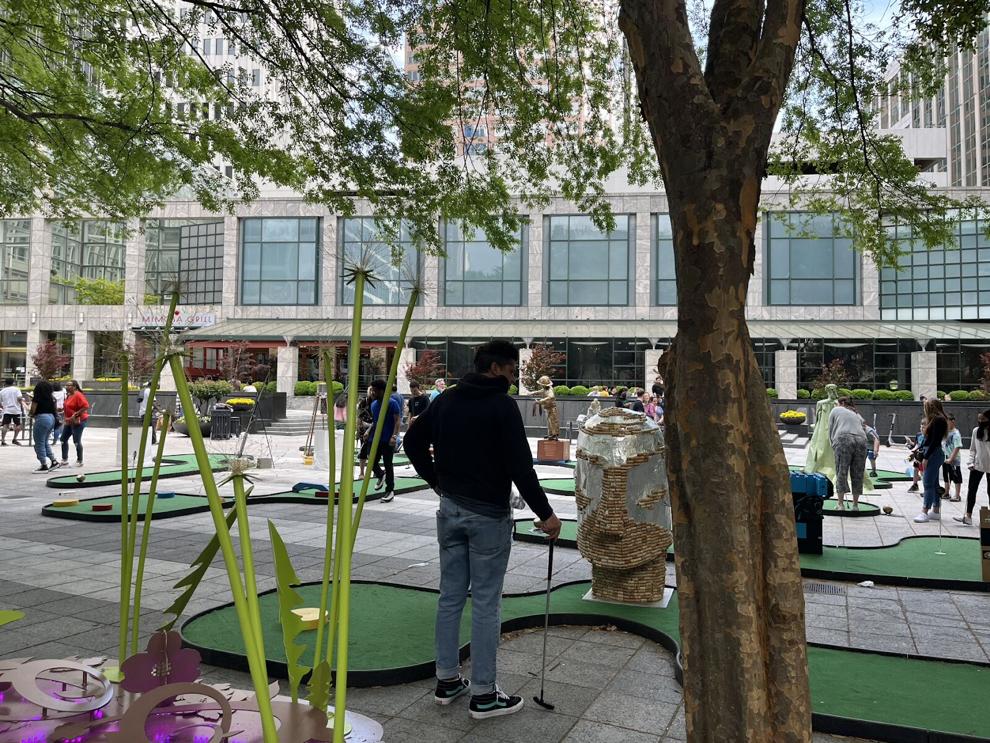 Next was the mini-golf course which I observed from a distance. Parents watched their kids in satisfaction, entertained by the putt-putt, relieved from their starvation by soul food and pizza. Little cheers bellowed out of little bodies when the golf ball found its way to the holes of the make-shift courses. Numerous city blocks away, I approached the entrance to the Mint Museum and watched skateboarders crash down on smooth brick-lined sidewalks, trying to discreetly recover from failed tricks and surprisingly landed ones. To the left was an attempted jump rope session and spinning baskets resembling playground carousels where dizziness prevailed for those who dared to take a few spins!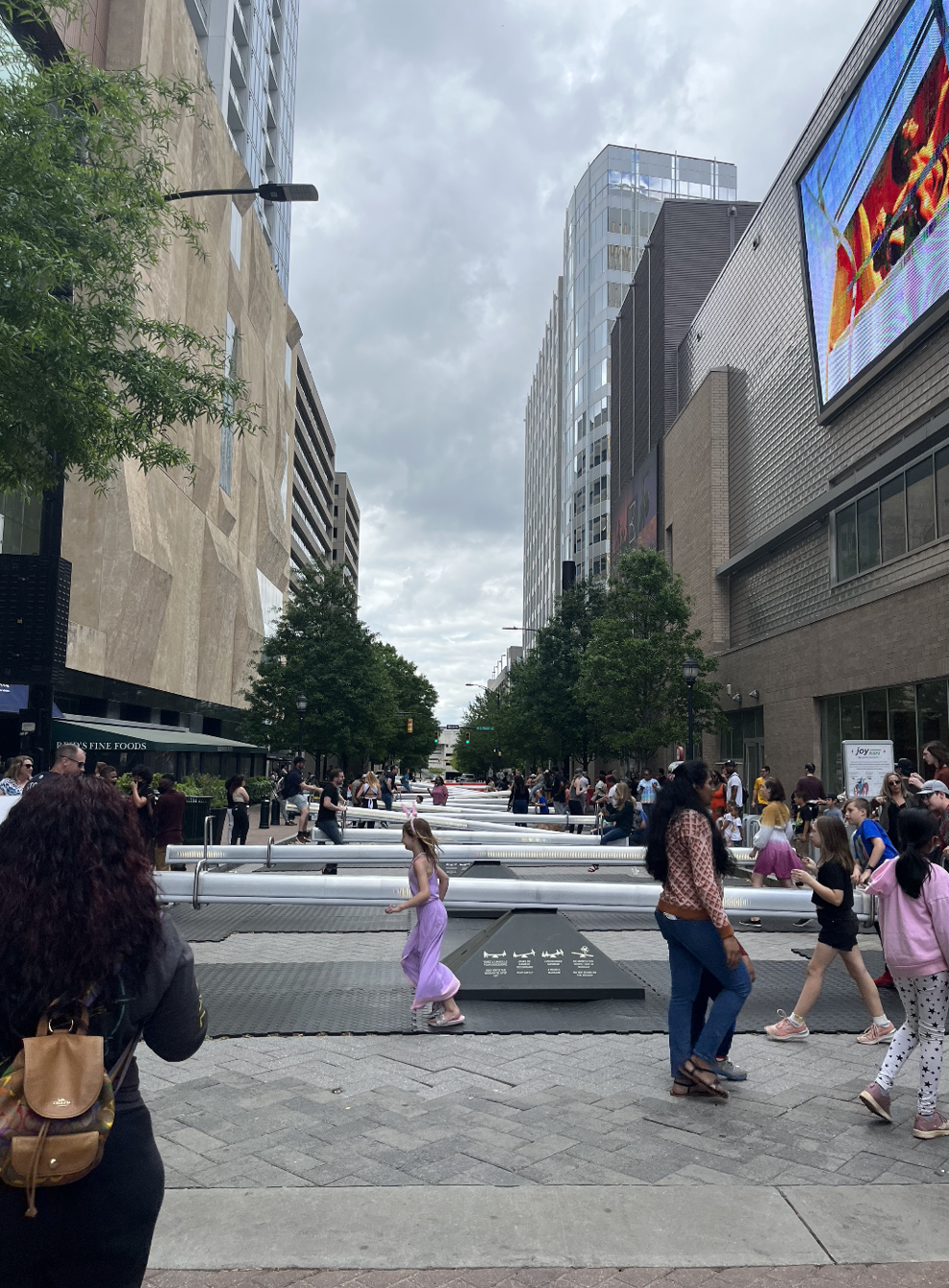 Just a few more steps, and there it was: the long lines of people patiently awaiting their turn to hop atop those giant silver metal seats of those sea saws that I saw pictures of online. Is it fair to say that I thought they'd be a myth? I saw parents lining up their kids on one side to try to balance out the weight and have some real fun. Grown adults readily entered these time capsules disguised as their favorite recess equipment. I raced over to the first empty seat and launched into the air with every frog jump of the man on the other side. At that moment, I felt unified along with every person in my vicinity. A child-like mind doesn't need to cease completely just because we're older now. There's a time and place to bask in the world of shameless and simple entertainment, and art doesn't always need to be accompanied by wine, a perplexed face and sophisticated words. Sometimes art is just swinging on a hammock or laughing at a street magician as he tries to come up with an excuse for dropping one of his juggling balls on the street. Sometimes it looks like clapping anyway, taking a break from the responsibilities and complications of life. That's what I felt Charlotte's SHOUT! festival was all about. Although I didn't get to explore every exhibit Charlotte SHOUT! had to offer, I'm very grateful to live in a city that makes experiences that I'll be looking forward to year after year. I cannot wait to see what those brilliant artists' minds have to offer us for entertainment in the future!