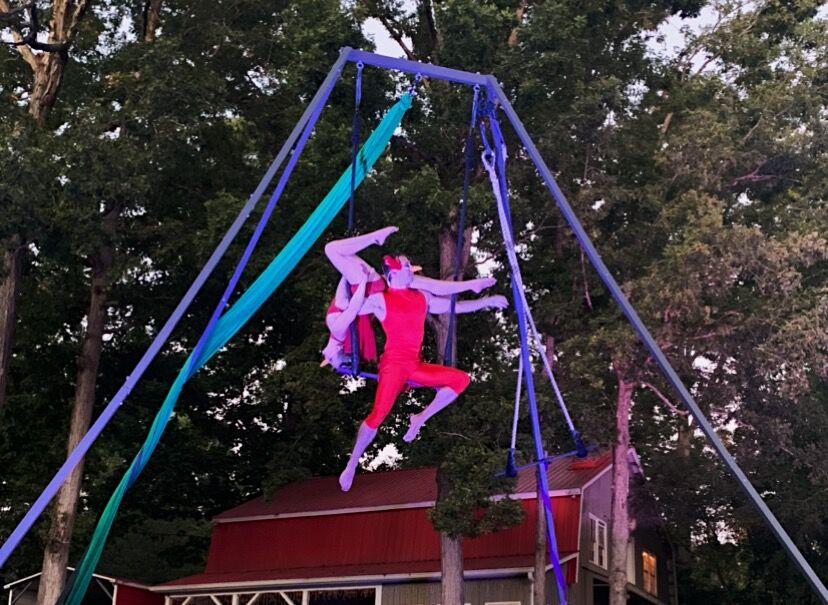 Caroline Calouche & Co. is Charlotte's only aerial and contemporary dance company and school. The company was founded by Caroline Calouche in 2006; Calouche is the Artistic and Executive Director. The company's most recent performance was "Animalia," an outdoor action-packed dance and circus act featuring several highly skilled artists from the company. 
"Animalia" focused on several animals including fish, panthers, koalas, monkeys, snakes and butterflies.
"Everything in the world right now seems to be so serious and heavy," Calouche said. "We wanted to make it a light and fun show for both kids and adults." 
The show was both educational and entertaining by showing through dance and cirque how different animals act. Acts included aerial silk, trapeze, tumbling and dance. Aerial silk is a type of performance in which one or more artists perform aerial acrobatics while hanging from a fabric. Artists climb the suspended fabric and will use the fabric to wrap, suspend, drop, swing and spiral their bodies in and out of various poses and positions. Trapeze acts can be performed solo, double, triple or as a group act. Trapeze is commonly found in circus performances. 
The show was followed by a Q&A session where the audience could ask performers questions or anything they were interested in knowing. This was fun for both kids and adults that attended and it created a good connection between attendees and performers. 
It was wonderful to see how excited kids got when they got to ask one of the "animals" a question or talk to them or take a picture with them after the show. The costumes were nicely done and did a great job of indicating what the animal was. 
Caroline Calouche & Co. has not let this trying pandemic rob them of performing. "Animalia" took place outside and was the perfect family atmosphere in which attendees could bring their own blankets/lawn chairs and food while watching the show. The event was also live-streamed so people could watch from home. 
The "Animalia" show was first performed in June. Rehearsals for the newest "Animalia" show started roughly a month before the show's debut. Training, however, is an entirely different story. It can take years to train for dance circus. Director Caroline Calouche has been doing circus dancing for 32 years. 
"Animalia" performers were of all different ages, the youngest being 16 years old. One performer in fact has only been training in dance cirque for 2 ½ years. Though training can be lengthy and rigorous, Calouche suggests that it is never too late to start. 
During these difficult times, it is crucial to support local businesses and companies. Especially local dance companies where it is difficult to hold performances and shows during this time. 
Caroline Calouche & Co. has two upcoming live virtual shows that will be performed in the school's studio theater. On Nov. 21-22 the show "Dance and Circus For All" will be performed. Caroline Calouche will be collaborating with local and national dance and circus artists. Styles of dancing ranging from contemporary to hip hop to ballet will be featured. 
From Dec. 19-20 the company will be performing "A Christmas Carol." It will be a live virtual Christmas show so viewers can watch and partake from the comfort of their home, which is perfect for the coming holiday season. 
The company is a resident company of Blumenthal Performing Arts Center and their home theater is Booth Playhouse which is a smaller 400 seat theater inside the bigger one. 
This was a very memorable experience because though this pandemic has taken away many aspects of our lives, Caroline Calouche & Co. found a creative way to still reach their audience and perform. It was very nicely done and it was great to see such an exciting show performed in a very unique way. 
Tickets for upcoming Caroline Calouche & Co. performances are available for purchase online.