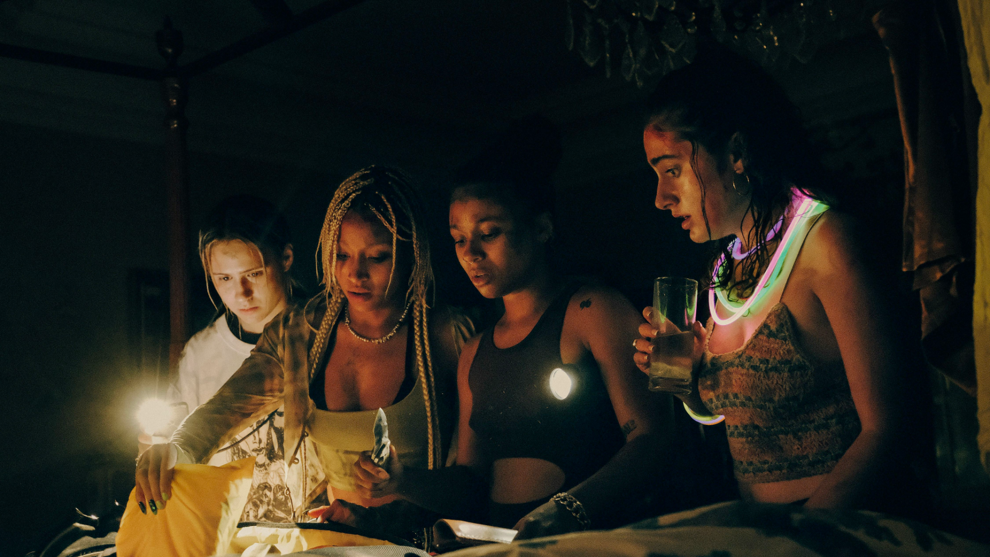 The latest from studio A24, a group of friends stuck in a house during a hurricane must try to survive when one of their games quickly becomes deadly. The trailers for "Bodies, Bodies, Bodies" were absolutely terrible, making it look cringey and trying too hard to be different and quirky. But I should never have doubted A24 because I had a total blast watching this. The satirical take on Gen Z and the whodunit genre is legitimately enjoyable, along with some surprisingly well-executed tension.
It's difficult to go wrong with a murder mystery film. However, the good ones seem to be becoming rarer, especially with "Knives Out" seemingly being the lone recent exception. It's hard to pull off the mixture of entertainment, mystery and tension after so many have done it perfectly. That's what makes "Bodies, Bodies, Bodies" stand out from the crowd, as it plays more towards being a comedy and satirical while also keeping the mystery very much in your mind. It was surprising just how good the mystery was, as I was never confident in who the killer was, and all of the possibilities seemed very plausible. 
As I mentioned before, the trailers made the film look incredibly unfunny, but its comedy was one of my favorite aspects. Multiple moments made me laugh quite hard, and few jokes fell flat. None of it felt forced or unnecessary, as it all felt natural for the satirical angle the director and writers were after. A lot of that credit is due to the delivery the actors give, specifically Pete Davidson, who I am usually not a fan of, but he has a few lines that are just fantastic.
While the actors do a great job, the characters are easily my least favorite part of the film. There is not a single moment of true character development or growth, which is very disappointing in a film, especially where characters are dying, and you're supposed to care about them. Not only is there no growth, but most of the characters are very unlikable, and the writers just seemingly expected the audience to like the characters because they told a few good jokes and had some funny moments.
With any mystery film, especially whodunits, you want the film to stick with you long after watching it to try to piece together the hints that were left behind earlier in the film, and that's the fun part about them. However, I did not find myself doing that in the least with this film. It's not entirely forgettable, but many moments just aren't that memorable. The ending especially, which I do like, did not make me rethink previous parts, and all of the kills up until that point is something that most whodunits should strive to do. 
The film certainly brought a new twist to the tired genre, which is commendable, as I'm sure we'll see plenty of slashers and whodunits in the future that try to be too similar. With its great mix of comedy, tension and gore, "Bodies, Bodies, Bodies" is a surefire good time that doesn't overstay its welcome whatsoever. I would have liked to see some character growth blend into this film, but I do appreciate that the film wasted no time getting into the gist of it all. 
Rating: 7.5/10