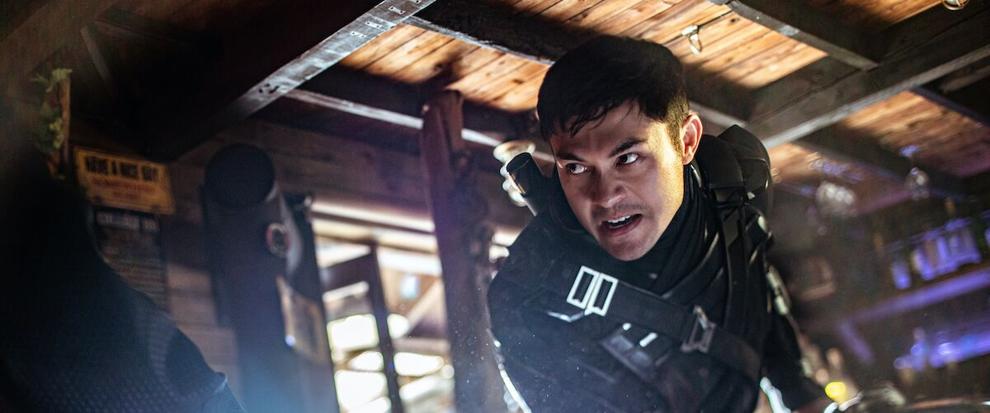 Since the original release in the 1960s, the "G.I Joe" films have been complete misfires. "G.I Joe: The Rise of Cobra" was a complete failure upon its release in 2009. "G.I Joe: Retaliation" was just as much a failure in 2013. Now, in an attempt to reinvigorate the franchise, we're back with an origin story. However, this story is not about the titular team but the silent ninja assassin, Snake Eyes. "Snake Eyes: G.I Joe Origins" follows Henry Golding as Snake Eyes, as he joins the Arashikage clan with Storm Shadow (Andrew Koji).
With the standards significantly lowered, audiences really had no set-in-stone expectations. However, after sitting through its two-hour runtime, the finished result is simply nothing more than okay. 
Our lead, Henry Golding, and Storm Shadow actor Andrew Koji make the ridiculousness believable. When we meet both characters, it is in a very different setting than what we're used to. In this film, Snake Eyes wants revenge for the loss of his father. When Snake is getting his introduction to the ninja clan, it is interesting. It's a new angle that links to the source material in a fresh and exciting way. The problem is that when the focus shifts to the Arashikage clan, it becomes cliched in the ninja-culture. There are so many discussions about honor, family, legacy and duty that it just becomes quite dull, which is a problem since the ninja aspects are the focal point. Director Robert Schwentke has somehow decided to shoot the action scenes like they're in a blender. The camera shakes so violently in these sequences that we can never clearly see what is happening. It makes us unable to see the stunt training the actors accomplished and makes the scene lack any sense of danger. For a character who is steeped in the lore and abilities of classic samurai films, it all just feels so frantic that it's headache-inducing. One of the more interesting aspects of the film is how it ties into the G.I Joe history. 
"Snake Eyes: G.I Joe Origins" isn't a disaster but simply a misunderstanding of what makes this world work. Instead of seeing just your standard "heroic" origin story, we deal with an unlikable lead character. The fault of that isn't on Golding, who delivers on the charismatic movie star charm. Where the real difficulty comes into play here is on the screenplay and the lackluster camera work. Here, the action is shot with such a shaky camera that we can never see the excellent and effective stunt work. Because of this, we can never connect with any characters. The genuine fault here is that the talent behind the camera can't meet the talent in front of it.
Rating: 5/10
Watch The Trailer Here: https://www.youtube.com/watch?v=fOzewsswtGM