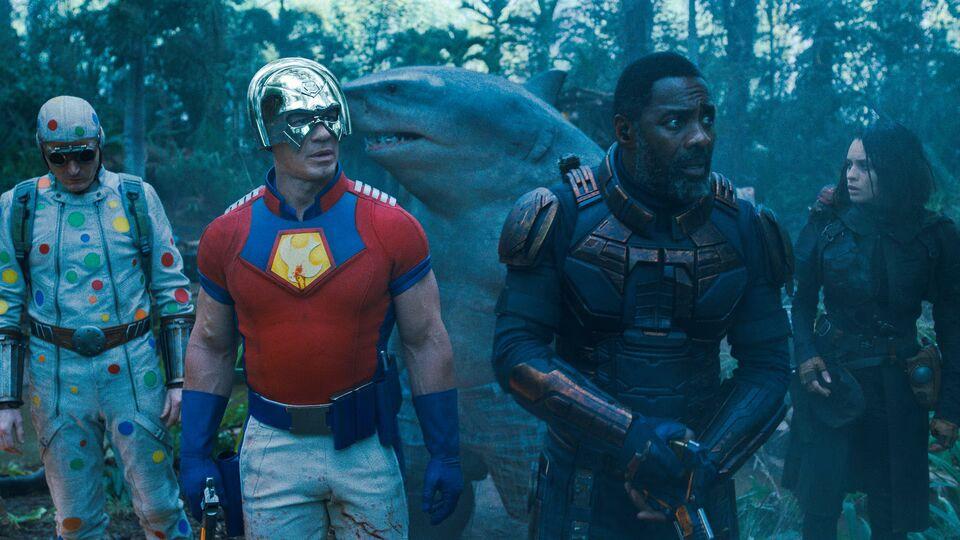 Full disclosure here, "Suicide Squad" was and always has been one of my favorite comic books. As someone with severe anxiety, I always identified with these characters as the outcasts of the DCEU. Granted, I certainly wouldn't call myself a living "supervillain," but there was something about these characters that just clicked with me. With director James Gunn at the helm, the excitement coursing through me for "The Suicide Squad" was massive. Amanda Waller (Viola Davis) forms Task Force X along with Bloodsport (Idris Elba), Peacemaker (John Cena), Ratcatcher 2 (Daniela Melchor), King Shark (Sylvester Stallone) and Polka-Dot Man (David Dastmalchian). Their mission is to arrive on the island Corto Maltese and rescue Harley Quinn (Margot Robbie) and Colonel Rick Flagg (Joel Kinnaman) while also taking down a brutal dictator. 
Reading that description can certainly lead to the assumption that the film throws too much at the audience. While those Gun's Guardians films were certainly popular, the story was constrained to its PG-13 rating. In simple terms, Gunn gets to craft a film that doesn't have any rules. Not having any perimeters from the studio, "The Suicide Squad" is an absolute blast. While some of its biggest surprises were in the trailer, I won't spoil it here. One of the biggest highlights, besides the surprises of their mission, is this cast's interplay.
Folks like Elba, Robbie and Cena are some of the most popular stars amongst fans and general audiences alike. As the titular clown princess of crime, Robbie has already built in a diehard legion of fans. Of course, playing Quinn's role still gives her the chance to be one of the most chaotic and exciting characters in comic cinema. In this comic reimagining, she still delivers, but the only difference is the cast around her. From a merciless assassin in Bloodsport to the walking contradiction in Peacemaker and the hearts in Polka-Dot Man and Ratcatcher 2, all of these characters are instantly likable. They've all done bad things and fit the criteria of being villains, but we sympathize with them. Particularly in their horrific origins and working under the cutthroat and brutal Waller.
Giving them all common enemies really lets these characters have a chance for us to learn about them. Learning about them doesn't just rely on us learning their origins, but what makes them who they become as they're sent on this mission. The real heart of that interplay comes through both Dastmalchian and Melchor. Their individual origin stories really help bring the team together in a way that's quite surprising—binding the team together in such a way that makes the broad, cartoonish violence all the more exciting. If that violence isn't your thing, then you might as well avoid this one now.
"The Suicide Squad" plays out like a comic book coming right off the page to the screen. It's violent, funny and gives each of these characters their moment to shine. Giving them their moment still doesn't take away from the concept of a group of villains who could go off-book any die. Instead, it gives the film a serious sense of danger and excitement, especially when Davis is in control. The violence and gore aren't going to be for everyone, particularly in the moments with a giant alien starfish. But, if wild and weird is your thing or if you're a fan of these comics and characters, this is definitely the movie for you. Fair warning, though, as Gunn and his cast have mentioned, don't get too attached.
Rating: 9/10
Watch The Trailer Here: https://www.youtube.com/watch?v=eg5ciqQzmK0