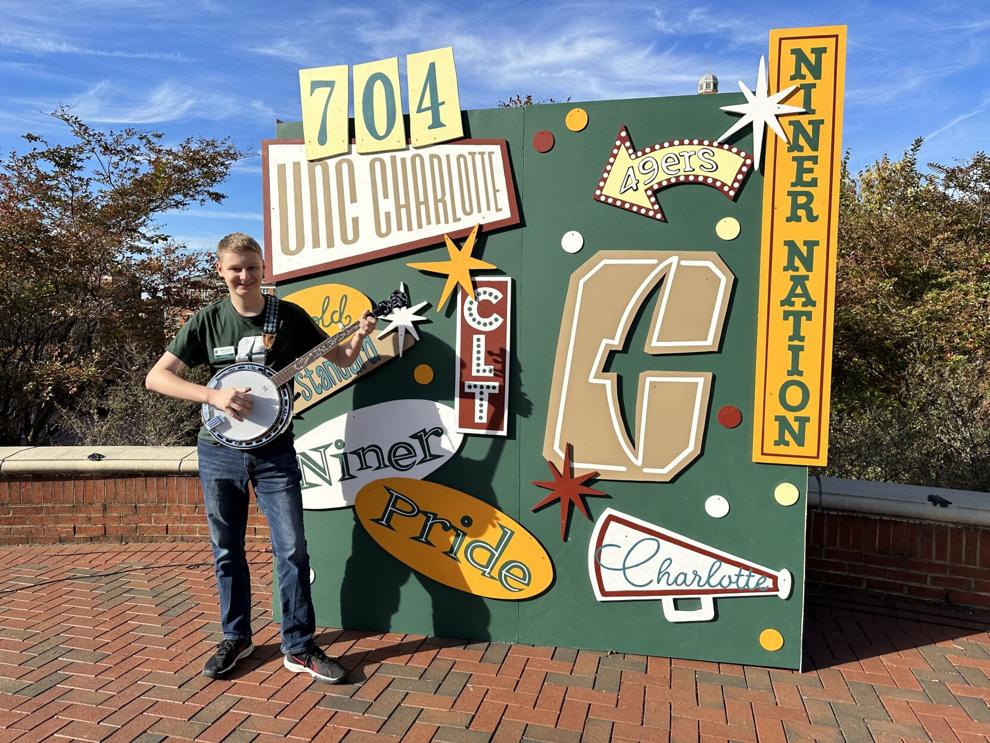 Walking through South Village on a nice day, there may be bluegrass music being played by a solo musician. Walk toward Holshouser, and a student will be playing the banjo and singing. That is Andrew Bowman, a fairly common sight on campus.
Bowman is a second-year student at UNC Charlotte from Winston-Salem. He is majoring in computer engineering but has played music since childhood, starting with the guitar.
"I had a teacher," Bowman said, "I was learning a more classical style from the time I was in kindergarten until seventh or eighth grade. With banjo, I am fully self-taught."
Bowman also plays the mandolin and is learning the fiddle. His background may be in classical guitar, but his passion lies elsewhere. With help from YouTube and Ultimate Guitar, he learned the banjo on his own and has been playing for over four years.
"I play a lot of bluegrass – a lot of older stuff," said Bowman. "Currently, my favorite song is 'Train That Carried My Girl From Town.'"
The song is a classic heartbreak ballad, attributed initially to folk musician Doc Watson, but numerous artists have since covered it. Bluegrass originated in the Appalachian region and was influenced by other traditional "mountain music." However, it reached a broader audience in the 1940s.
It is refreshing to see someone express genuine love for a musical tradition that is relatively uncommon today. It seems fitting that this kind of music would be played outside by a solo musician who plays it simply out of personal fondness.
Bowman has not always enjoyed playing in front of people, but he warmed up to it over time. This was partially out of necessity – the banjo is not a quiet instrument.
"I knew the banjo was loud. So when I wanted to play it loud, I would just come outside, and it just evolved from that," said Bowman.
When he first came to Charlotte, Bowman left his banjo at home at his parent's insistence. When they relented and brought him the instrument, he started playing outside, and the "banjo guy" was born.
Bowman is, of course, more than just "banjo guy." In addition to being a student, he works in IT part-time. He is a student ambassador, where he helps with the chancellor's events, and is the vice president of marketing for the Student Alumni Association. However, he still finds the time to sit outside and enjoy making music.
Bowman said that he sometimes gets comments from passersby.
"People wave or come talk to me. I know of one or two others that say they have a banjo, but I've never heard them play it out, so I'm the only one who actually plays it out on campus."
Bowman's willingness to share his art is not something everyone is comfortable doing, but it can be worth it. Bowman, the "banjo guy," is a great example of art being celebrated on campus.