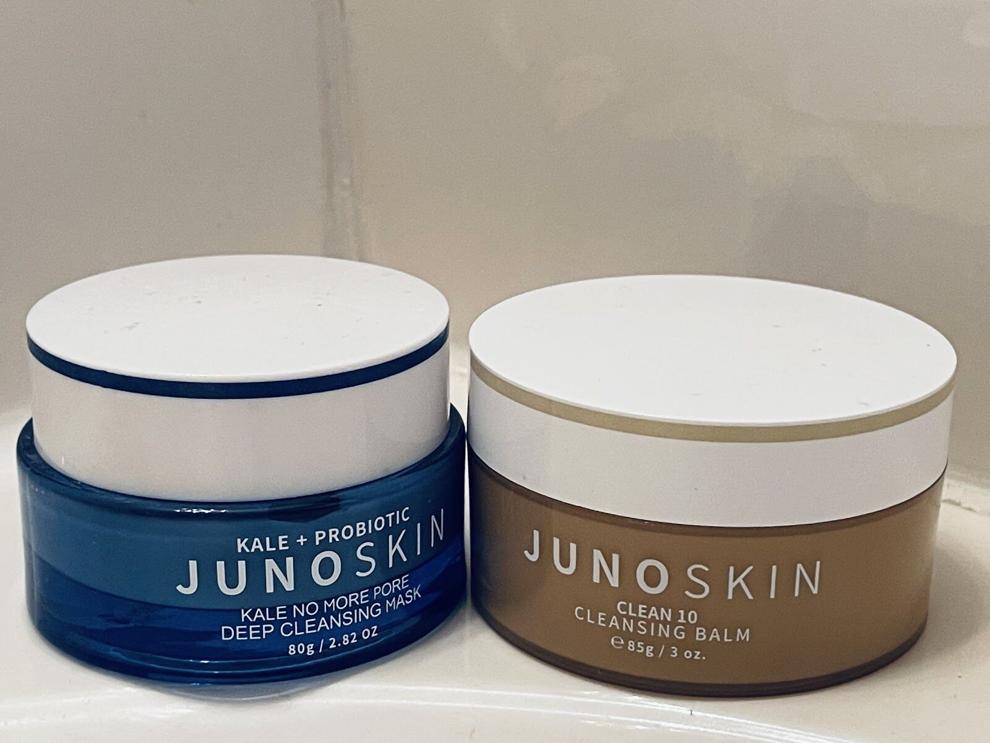 Juno & Co. is a California-based company that prides itself on using fresh and natural ingredients. I purchased two items from their website after hearing so much about the brand on social media. Some of the makeup content creators that I follow were raving about the brand, so I thought I'd check it out for myself. I purchased the Clean 10 Cleansing Balm and the Kale No More Pore Clay Mask. 
Clean 10 Cleansing Balm
I love to do my makeup, but the most tedious task is taking it off at the end. There are times where I outweigh how much energy I'll have to take off my makeup that I don't bother doing it in the first place. I have tried makeup remover wipes, micellar water and general makeup remover. I came across a TikTok video where a makeup artist used the cleansing balm to remove her makeup and was impressed. So impressed, I decided to purchase it because it almost seemed too good to be true. It also happens to be a cruelty-free makeup remover which caught my attention.
I tested it using dark-colored eyeshadows, lipstick and glitter, which is usually really tough to come off. The cleansing balm comes with a small plastic spatula that makes it easier to get the product. You have to warm the balm with your fingertips until it becomes oily, and you should make sure your hands are dry for the product to get the oil-like texture. After that, you begin to rub it in circular motions along your face to break down the makeup. It did a good job taking off the eyeshadows and glitter, but I found that I had to really rub off my eyeliner. It did not feel as oily as it looked, and I removed most of my makeup on the first try. After breaking down your makeup, you can spray some water on your face or use a damp washcloth so the oil becomes a milky consistency to wipe it off.   
Kale No More Pore Clay Mask
I wanted to try another clay mask after using the Aztec Clay Mask that dried out my skin. I have combination skin, so it can be hard for me to find a good clay mask that will not dry out my skin. This product also comes with a small spatula, but it does not fit in the container the way the cleansing balm spatula does. I used it after removing my makeup and washing my face to help my skin recover from the products I put on it. It was smooth and felt cool on my skin.
To use it, you have to evenly spread it across the skin using the spatula and wait for about five to ten minutes for it to dry. It did not harden as much as the Aztec Clay Mask, which felt refreshing because I felt I had more mobility with this mask. When rinsing it off, I didn't have to worry about clogging my sink with chunks of mud from the mask. The mask was slightly tedious to rinse off but did not take too much effort. Afterward, I had a nice glow and shine on my skin and didn't need to overcompensate with moisturizer as the mask didn't completely drain the moisture out of my skin. 
Overall Rating: 5/5
Both products were easy to use and did not strip my skin of moisture which I was worried about. I would recommend the Cleansing Balm to remove makeup especially considering how it is much more gentle for your skin than makeup removal wipes. It has also drastically improved the skin around my eyes because I don't have to nearly peel off my skin to remove eyeliner. The Clay Mask has become a necessity to maintain my combination skin because of the build-up that it removes from my pores without completely draining moisture from it. Both products do not have a strong fragrance, which is a plus, so it doesn't overpower your skin and nose.