After nearly two years since their last appearance due to the pandemic, Charlotte SHOUT! made its mark on Queen City again. The festival had various events each day, including musical performances, food trucks, interactive work, elemental yoga and more.
Throughout the festival, a guide directed you to the four main categories: ideas, music, food and art.
The Festival of Ideas took place during the three weeks the festival was in Charlotte through poetry, discussion, conversations and presentations. Events that fell under the ideas category were the Avenue of Ideas by the Guerilla Poets, Civic Reflection Conversations at the Mint Museum Uptown, the Elemental Yoga Series and Mental Health: Mind Matters. These events occurred at different times and days. Some of the events required reservations, but all were free of charge. The purpose of the Festival of Ideas was to connect with people and gain a new perspective.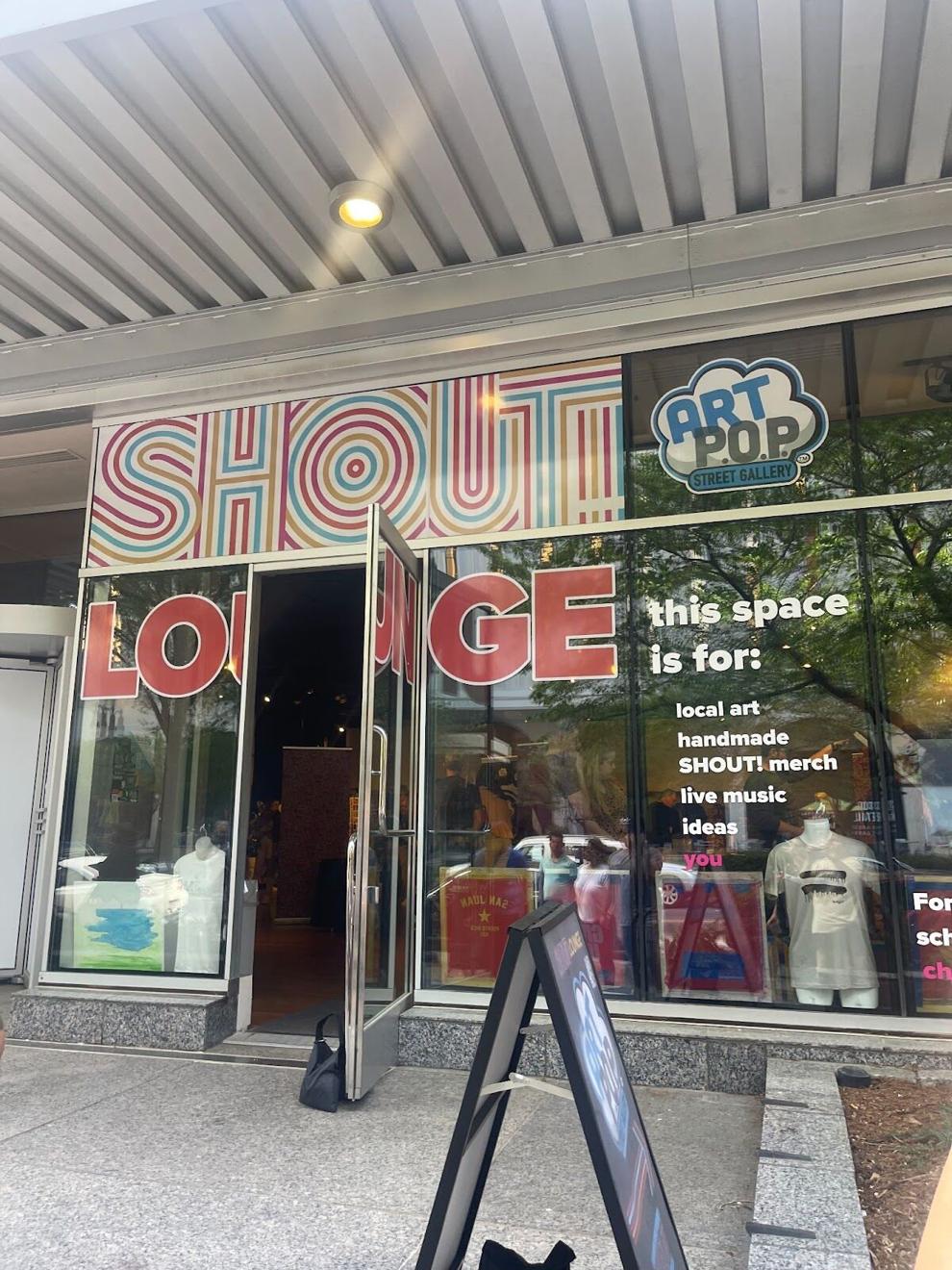 There were a ton of music artists who were in attendance at the festival. Some of the artists in attendance were Al Strong, House of Funk, Jay D. Jones, Tamra Simone and BRAVE. The purpose of bringing music to the festival is because music has the power to unite people. The music was played at the SHOUT! Lounge, Artpop Gallery, Victoria Yards and Cafe 400.
Food is another way to some people's hearts and can be a way to celebrate various cultures. From April 1 to April 16, Dine SHOUT! consisted of various South End and Uptown Charlotte restaurants offering a three-course tasting menu for $40 or less. Restaurants that participated in the event included Sea Level, Forchetta, Bocado Bar and Diner, Momo Station, and Mert's Heart and Soul. For most of the festival, food trucks were present on Tryon & Trade. Some of the food trucks were Donut I Luv, Endless Soulfood, Steel A Grill, Lost Cajun, Blasian Asian and Chips and Dips. Lastly, at Gateway Village on April 15 and April 16, the Charlotte StrEATs Festival was underway. This is where chefs from well-known Charlotte restaurants and food trucks presented delicious menu options. The StrEATs Festival required tickets, which were split into three levels: a VIP tasting ticket, a general admission tasting ticket and a free ticket. The ticket type determines your access to food demonstrations, cocktail tastings and private event spaces. Some of the restaurants and food trucks in attendance at the StrEATs Festival were Fat Cat Burger and Bakeshop, Halal Street Food, Plant Joy, Hot Box and Ve-Go.
So many talented artists came together to create the vibrant, interactive and beautiful art pieces seen throughout SHOUT!. One of the first art pieces I came across was the "Temple of Change" by Dorne Pentes and Danielle Lotito. "The Temple of Change" was created to represent the drastic changes our world has endured over the past two years. "The Temple" is meant for reflection, peace, honor and respect.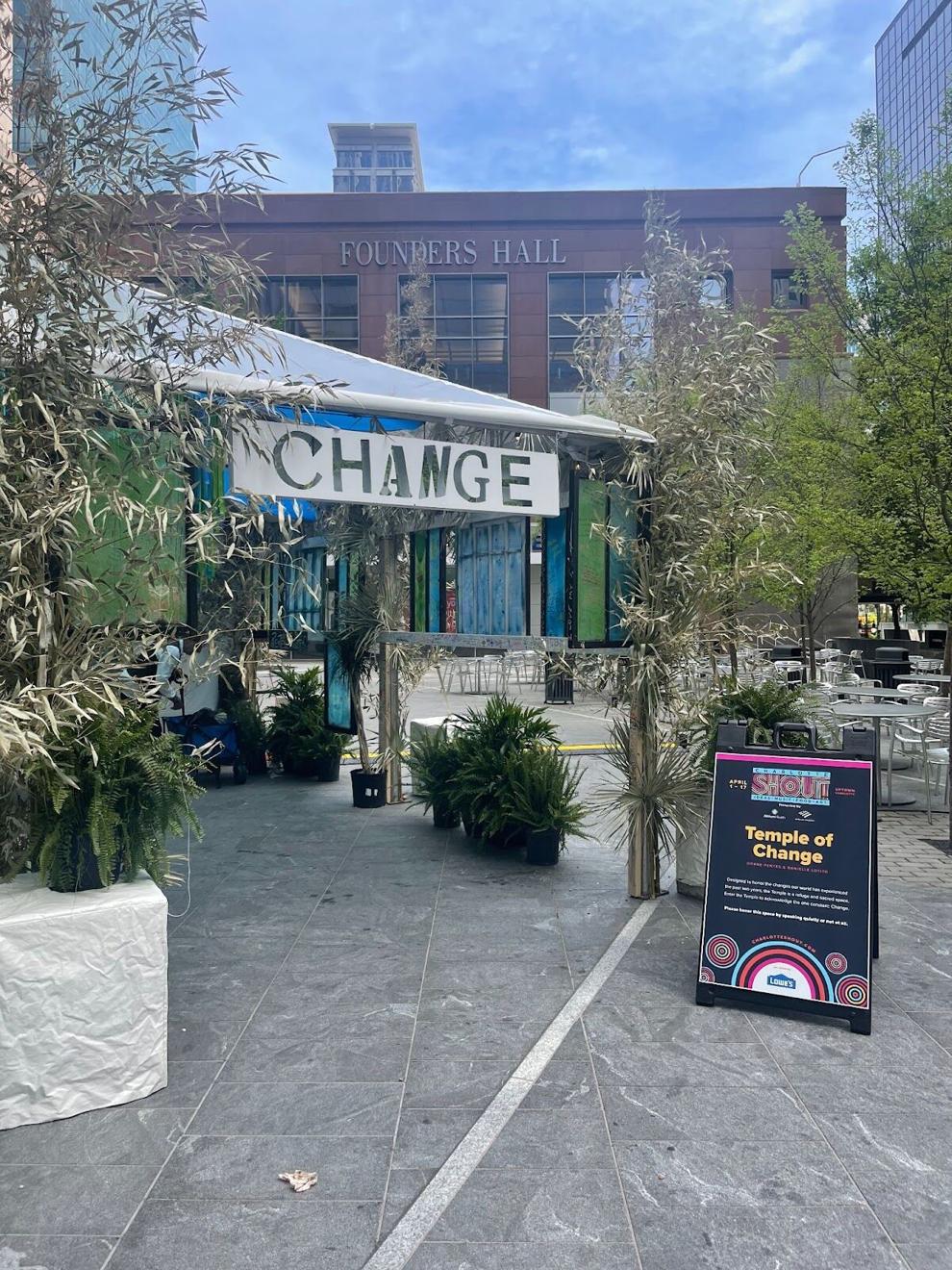 Hilary Siber Edwards' "Impressions" represents the childhood toy that many might be familiar with. The toy is a small square with hundreds of metal pins attached where you can make various impressions, whether that be your handprint or a peace sign. This interactive art piece allows those who come across it to make their own "impression."
"Los Trompos," Spanish for "Spinning Tops," was an interactive art piece where you can spin and rotate in the spinning tops. This piece of artwork was also built to represent a toy that children love worldwide.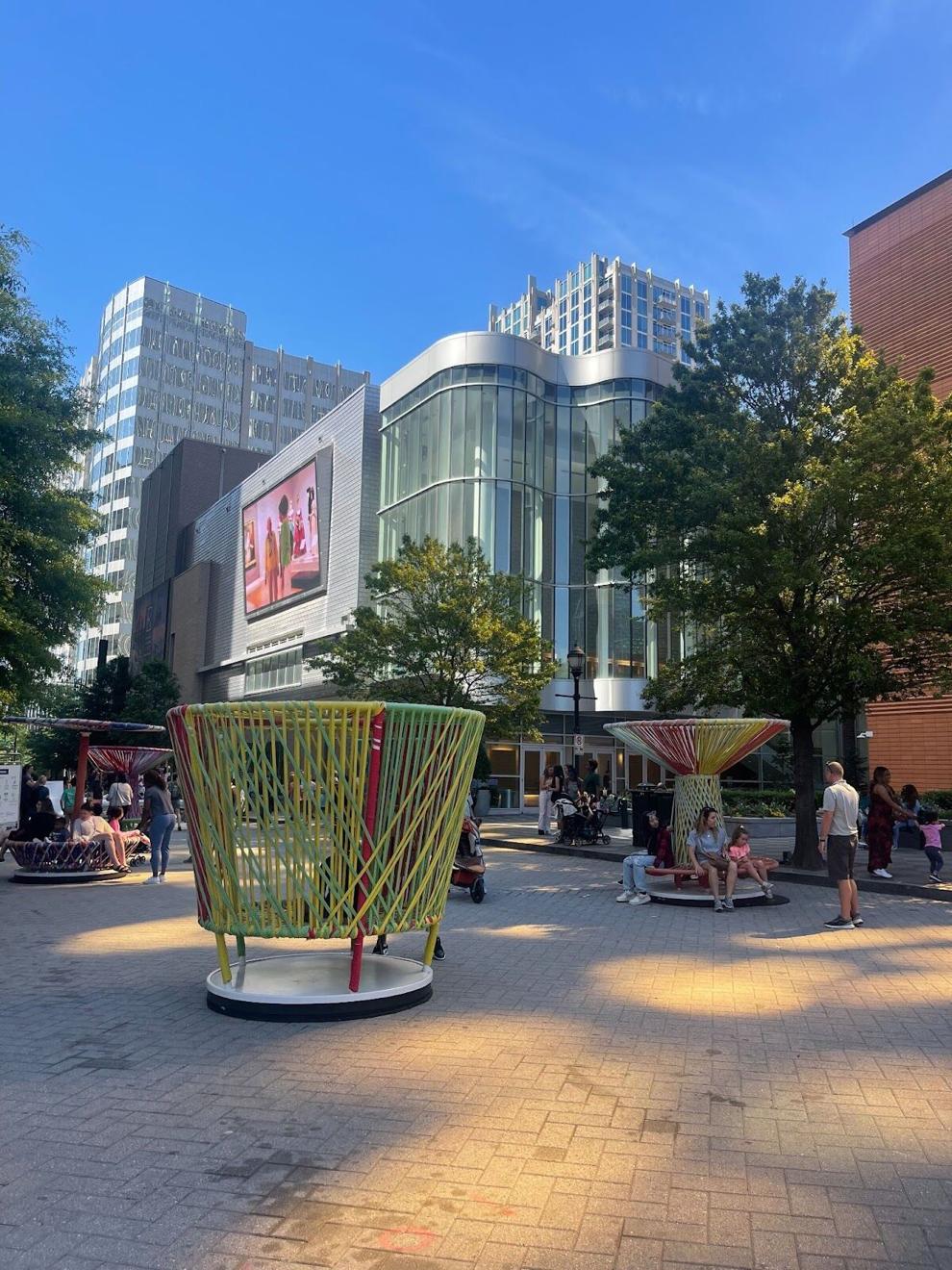 One of the most exciting parts of this festival was "Impulse," which contains 15 seesaws created by Lateral Office and CS Design. The seesaws contained light and sound that changed with motion. The sounds created as the seesaw moved let the public become the musicians.
The Queen's Greens Putt-Putt was a show stopper at the festival as it had a line to play. There are 9-holes of mini golf, and the obstacles are created by artists from Upcycle Arts and Charlotte is Creative. At each hole, various obstacles represent the city of Charlotte, such as the Tribute to CLT Murals, Charlotte Sports Tribute, Charlotte Skyline and Disco Chicken.
These were only a few among many other beautiful and meaningful art pieces. There was so much other art, such as the 12 Easter eggs, Mi Casa, Your Casa 2.0, the glowing snails and the Old Settlers' Cemetery. Every piece of art at this festival deserves to be honored and recognized for its creativity and meaningful messages.
This was such an amazing festival that showcased Charlotte's creativity. If you missed the festival this year, make sure to mark your calendars for the SHOUT festival planned for March 2023.