Whether you're a native Charlottean or new to Charlotte, there are many exciting things to experience here in the city. While our primary campus location is somewhat isolated, Charlotte Area Transit System (CATS) built a light rail station on our campus to allow us to safely navigate Charlotte—even if you don't own a car. The UNC Charlotte light rail station can be found in North Village. You can walk to this station on campus by walking behind the Popp Martin Student Union building, following the bridge, going past the dorm buildings and there you are! If you live in a dorm such as Miltimore, Lynch, or Wallis, you are really close. However, if you live in South Village, residing in a dorm such as Scott, Sanford or Laurel, there's no need to fret! It is not that bad of a walk to the other side of campus; I used to do it all the time.
And don't worry if you live off campus! Thanks to our university, it is free for all Charlotte students to ride the CATS light rail. If a CATS employee comes aboard your ride and they are checking for tickets, be sure to show them your student ID card. You will be riding the CATS Blue line, which takes you from UNC Charlotte all the way down to I-485 South Blvd. Be sure to download the CATS app on the app store to view what time you can expect the train to arrive!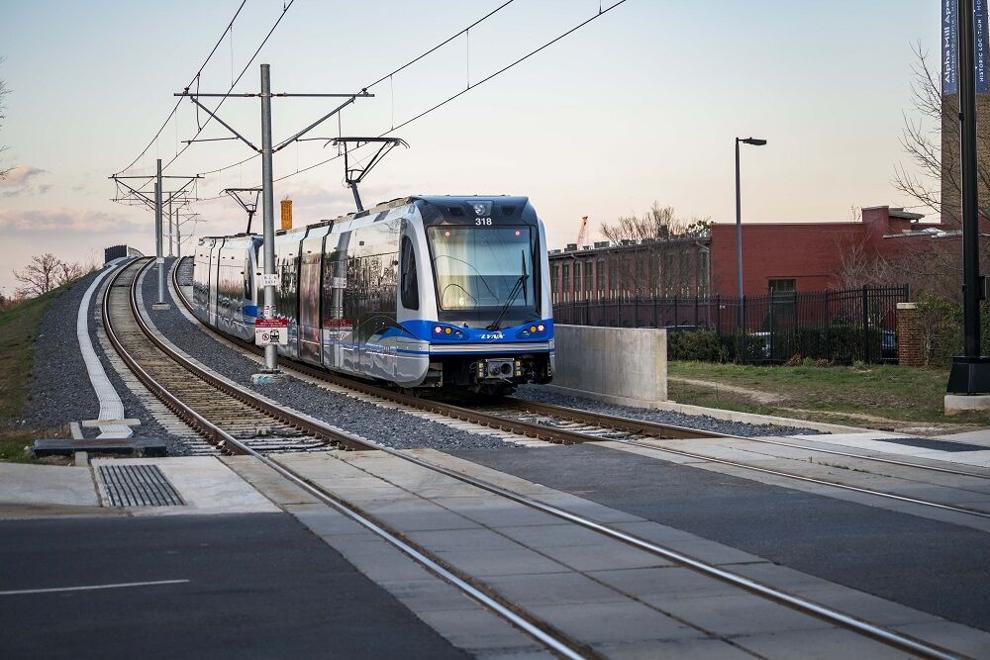 ​
Now that you have the city of Charlotte at your fingertips, I want to highlight some stops on the light rail that you can take advantage of to make the most of your time here. It's free, so you might as well ride!
J. W. Clay Blvd. / UNC Charlotte
This is the first stop after you leave the UNC Charlotte main station. Here, you can eat at some great restaurants such as Sabor Latin Grill, Panera Bread and more. You are also within walking distance to the Boardwalk from here, which is a popular dining and date location!
36th St.
Once you reach 36th St., you know you're in NoDa. NoDa is one of Charlotte's most famous arts neighborhoods. So whether you're going out bar hopping with your friends, catching some live music at the Neighborhood Theater, grabbing a cup of coffee, eating a nice dinner or going on a nice walk in a neighborhood, NoDa is the place to go.
7th St.
7th St. Marketplace is a cool place to be! It houses various shops, coffee, food, clothing and knick-knacks, so you will surely find something to do there.
Charlotte Transportation Center (CTC)
Welcome to Uptown Charlotte! While 7th St. is in Uptown as well, CTC station is in the heart of the city. While Uptown Charlotte could have its own article, here's a list of some of my favorite places.
The Mint Museum is full of a variety of astonishing pieces of art. While tickets are only $10, there is free admission for everyone on Wednesday from 5–9 p.m.!
Coco & The Director is one of my favorite study & hangout locations. There are a bunch of different places to sit, and you have a great menu of coffee and tea. If you are looking to get some work done in Uptown, check this place out.
Fourth Ward is one of Charlotte's most historic neighborhoods. Take a walk in Fourth Ward Park, check out the historic architecture in the neighborhood, and you will find a great view of the city.
Epicenter has its ups and downs business-wise, but there's always something to do. You can always count on finding a new shop in Epicenter, and there are a variety of clubs you can visit for a night out.
The UNC Charlotte Center City location resides in First Ward Park. If you have a class up there or just want to check it out, you can walk there from this light rail stop.
While Charlotte may feel like a big city if you have just moved here, don't let it overwhelm you. I found myself acquainted with the area fairly quickly, and moving into my senior year, I am now connected with the local music scene in Charlotte and work with a small business in Plaza Midwood. When I started my first year at Charlotte, I didn't have a car. I took full advantage of the light rail, and I got involved with my city easily. That being said, anything can happen in the city once you leave campus; you should be sure to always keep your wits about you and travel the city with a friend! There's plenty to explore, so make the best of your time here in college, and don't forget to spend time off campus.