We can now finally say that autumn is upon us. The temperature is getting cooler; the leaves are changing to a beautiful red, yellow and orange, finally breaking out our cozy and trendy clothes and, of course, the return of the spooky season.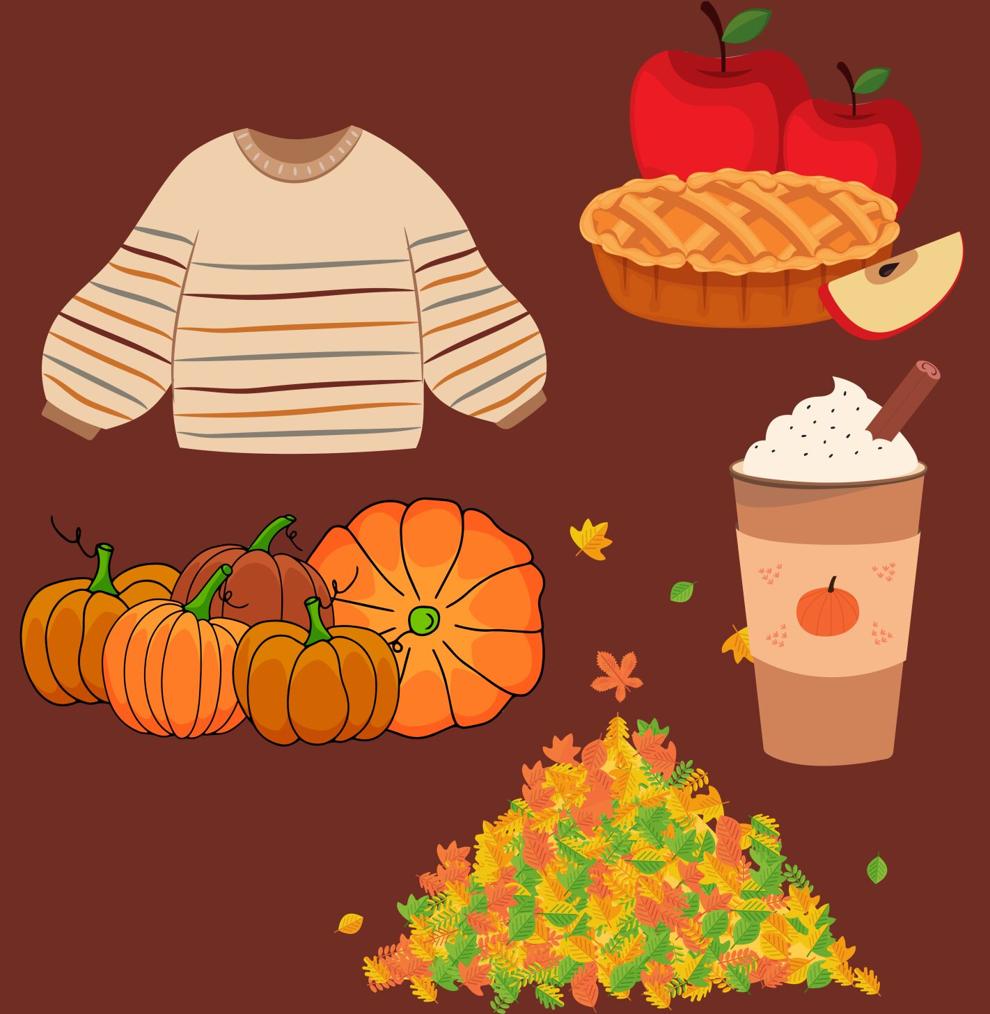 Though we can celebrate the return of some fall trends, clothes, food and movies, as well as welcome new ones, some things about fall are either overly praised or not appreciated enough. 
Here is a list of things about fall that I think are either overrated or underrated:
Overrated 
Pumpkin spice everything
I think we're going a little overboard with everything being pumpkin spice flavored. As a pumpkin spice lover myself, it may be an autumn classic as the taste is sweet and the smell is soothing, but it is also a little basic. Eating pumpkin spice pastries and drinking pumpkin spice flavored coffee is delicious but let me make one thing clear: to get it as a coffee flavor or as a pastry is one thing, but to get it as a flavor of popcorn, a chocolate bar or as a cup of ramen noodles, that's where I need to draw the line. Everything does not have to be pumpkin spiced flavored for it to be fall!
Cheesy fall Instagram captions
Every time I am scrolling through Instagram and I see fall photos with those cheesy fall Instagram captions such as, "I'm fall-ing for you," "Sweater Weather," "Hay there" or
"Pumpkin spice and everything nice." The cute play on words may be clever, but I think they are overused and unoriginal. 
Going to a pumpkin patch
Going to a pumpkin patch may have been fun as a kid and for some people, it may be a tradition to go to a pumpkin patch and pick out the biggest or smallest pumpkin that  they can find. Now, I think it's just for the aesthetic rather than just picking out a pumpkin to carve.
Black and red flannel
The black and red flannel may be comfy, but it's like everyone is wearing one or at least trying to get their hands on one. It's like I am looking at a clone of someone! On the other hand, if someone is thinking about getting a black and red flannel, has it ever occurred to anyone to try and wear it in a new way? Maybe that's something we should try for a change. 
Apple pie
Apple pie is a delicious dessert that is enjoyed by all, especially if it is homemade or topped off with vanilla ice cream. But it's the fact that I can get it year-round, especially at any local fast food restaurant for a quick dessert or snack. Also, it's the fact that it is always on almost everyone's dessert menu for Thanksgiving.  
Underrated
'Hocus Pocus'
For those who don't know, this movie is about teenager and Salem newcomer Max, his younger sister Dani and his crush, Allison. The three visit the Sanderson Sisters' house, who were three infamous witches from Salem many years ago. Max, as a joke, lights the Black Flame candle, which resurrects the Sanderson Sisters only for one night. As they come back to life, the sisters are determined to accomplish their plan: steal the lives of the children of Salem to remain young and beautiful and live forever. Yes, the movie may constantly play on Freeform and is referenced throughout the spooky season. Still, it is a fun and hilarious Halloween movie with a whole musical number that is really iconic! 
'The Nightmare Before Christmas'
 Another movie played on Freeform that is referenced many times throughout the spooky season, but what's not to like? You get catchy songs, a haunting yet really cool storyline, and on top of that, the movie is BOTH a Halloween and Christmas movie, which I think is a plus, all from the mind of Tim Burton!
Making leaf piles and jumping in them 
Remember when we were kids, and our parents would rake up leaves into a pile in the backyard, and we would jump in those leaf piles? Honestly, I don't think you're ever too old to rake up some leaves into a pile and just jump in them, for old-time's sake! Just please be safe when doing so. But afterward, will you end up with leaves in your hair and all over your clothes? Yes, but it will be worth it!
Thanksgiving
How can we forget about Thanksgiving? As soon as it hits Nov. 1, most people skip right to Christmas. We may be able to see our families on Christmas, but I see Thanksgiving as not only a time to be thankful but as another opportunity to see our loved ones, catch up and spend time with them, and of course, enjoy the delicious food everyone has made and brought to dinner. 
Crew neck sweaters
These sweaters are one of my go-to articles of fall clothing, and of course, they serve their purpose of keeping me warm. To me, they can be cute and stylish, no matter what the style is: casual, baggy or formal. Honestly, anyone can make it work!