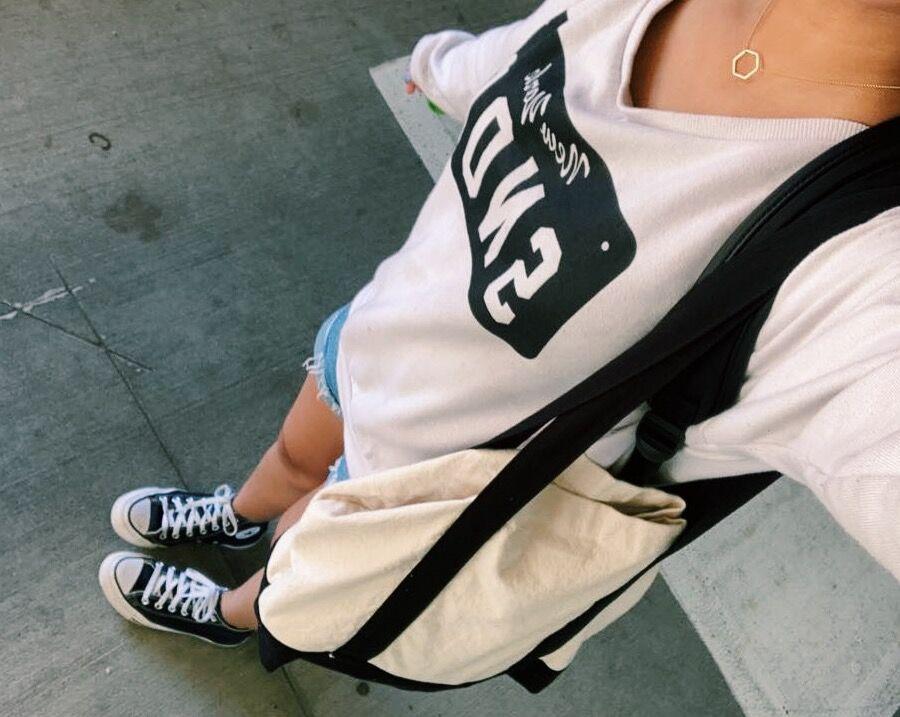 It is no surprise that society has changed in many ways regarding fashion. There are so many popular trends in clothing among college students. One of those trends is going thrift shopping at second-hand retail stores such as Goodwill, Salvation Army and Plato's closet.
As a recent transfer student coming from community college, saving is the key to keeping myself at ease. Thrift shopping is always good for finding unique and fashionable outfits. Recently, I explored a bit of Charlotte here and there. One of my favorite adventures is going thrift shopping with my roommate. We drove to Salvation Army, and I found the cutest oversized sweater. The fun thing about thrift shopping is that you can be as creative as you want. For those who have not tried thrifting, it is an exciting way to find unique clothing. These activities will help decrease clothing manufacturing that is damaging our environment.
According to Valentina Portela's article "The Fashion Industry Waste Is Drastically Contributing To Climate Change," about 85% of clothing is thrown into landfills and burned. This causes pollution and continues to result in climate change. The article also states that about 81 pounds of clothing are thrown away from the average American, as much as an 11-year-old child weighs. If this doesn't convince you about the danger of manufacturing clothing in society, you should know that about 13 million tons of clothing are produced and thrown away annually.
"I started thrifting when I was 16-years-old because one of my friends told me about a thrift shop she was going to with her family," said second-year Caroline Zittrouer. "We decided to check it out because they had wicked sales. It was one of those places that were 50 cents for one day and another day for 75 cents. The most expensive it ever got was about 2 dollars."
Zittrouer further explains her usual places to go thrift shopping around the location of Charlotte.
"My go-to is always Goodwill, the one at University City is a good one around UNC Charlotte. However, Plato's closet is always awesome in Charlotte. Also, Uptown Cheapskate and the Wearhouse have unique clothing," said Zittrouer.
Zittrouer expressed her thoughts about saving the environment by reusing the same clothing from other people. She recognizes how fast fashion can be a negative impact on the environment.
"Lately, I have been thrift shopping for my work clothes. I want to be able to thrift to save money. Typically I find pants, shirts, and jackets. It has been helping the environment, and it is becoming mainstream to reuse clothes. We have come a long way, such as the material used by not using too much clothing by thrifting. However, we should not capitalize or profit on popular clothing brands, rather shop for what we like and enjoy the experience," said Zittrouer.
Zittrouer added some helpful advice for those who want to start thrift shopping or are just getting started.
"I would definitely dedicate some time to look through every little thing and be meticulous about it. Another piece of advice would be to be patient because you never know what you will find," said Zittrouer.
I have always wanted to find unique clothing that other people do not own or recently bought from popular brand stores. Growing up, I never understood how to figure out my style in clothing. However, I knew there was not something specific I wanted but rather what I might like.
Something I learned when thrift shopping is always looking from the start to the end within the clothing racks. I say this because there are so many varieties of colors and lengths of clothing that you can choose from. It makes me feel like there are endless possibilities to snatch a gem. One of my favorite pieces of clothing I have found so far (besides an oversized long sleeve sweater) is a purple long sleeve that zips up. I can pair it with various clothing like oversized ripped jeans and the typical black yoga pants.
If you are new to thrift shopping, explore and see what your local places offer. It doesn't necessarily need to be clothing; it can be kitchen utensils, plant pots or shoes. There are so many things you can find if you go out and explore. Also, going by yourself can be fun too because you can take all the time in the world to shop.