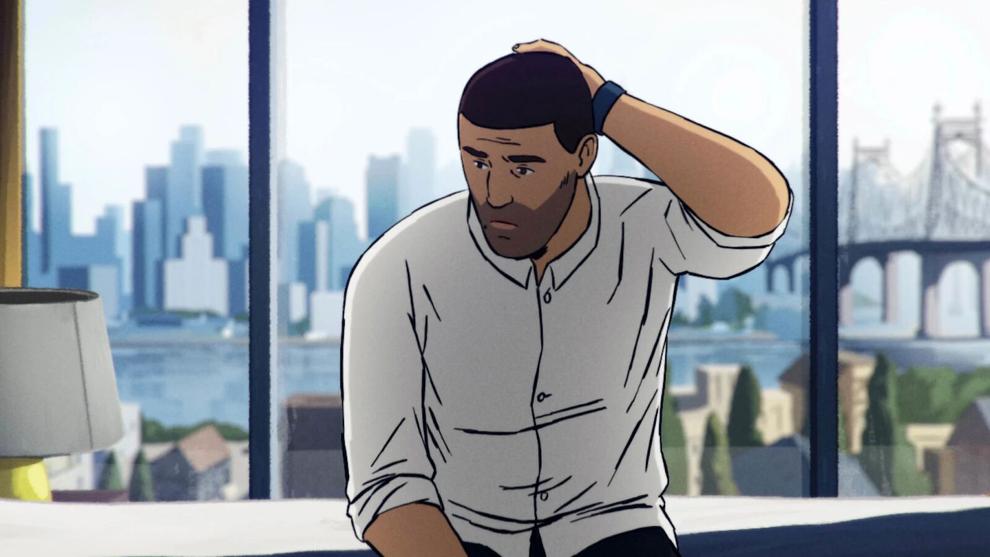 Documentary filmmaking is arguably one of the toughest  film genres to get right. Not only do you have to pay respect to those you're researching, but also present a balanced and informed point of view. Neon's new documentary "Flee"  turns those very conventions of a documentary on their heads. We follow the true story of a young man named Amin, who on the verge of marriage, shares his story of being a fleeing refugee when he was a child. Director Jonas Poher Rasmussen wisely takes a serious topic and adds the twist of making it entirely animated. This twist helps craft one of the most emotionally moving and powerful films of the year.
Like the typical documentary, we are given the "talking head" structure of someone telling their story to a camera. What breathes some originality into the structure is Rasmussen telling the story entirely animated to show what Amin is saying. Seeing young Amin and his family travel to the Americas is some of the most powerful imagery I've seen on film this year. It's funny, sweet, sad, scary and rather profound in it's emotion.  Even at a brisk 83 minute running time, we're taken on a journey with this man's life story. The animation works as a way to emphasize the darker moments of the immigration process. At a time where immigration is a serious political discussion, this look feels honest in a way unlike anything audiences have seen before.
Even in Amin's narration over these beautifully animated sequences, we learn everything we need to know about his emotions at the time. Between subtle pauses and smooth transitions to these flashbacks, we're taken on a journey with him. While watching, things play out in rather subtle ways, and it packs a punch emotionally. Particularly with how Rasmussen wisely shifts the focus between Amin's story with his past and his new life in New York City with his boyfriend. What he's wisely doing is helping us understand what Amin had to go through mentally. This not only shows the strength and bravery of Amin, but of all immigrants' journeys to make a new life for their families. It's a rather tough balance that is woven together in a nearly seamless fashion.
Unfortunately, the biggest strengths of "Flee" can also work against it as well.  Telling this sort of story in this way is something that has never been done before. What keeps it from being truly perfect is the animation style getting in the way of its messaging. It's a visual feast for the eyes, but some of that splendor really takes away from the messages audiences are supposed to take away. To spoil what exactly those messages are could truly ruin the experience and journey viewers go through. This is the sort of detail that doesn't take you out of the film, but was something that crossed me as an unscratchable itch. 
What the point of "Flee" winds up being is that of presenting a unified front for all people. Doing this also raises the question of what does it mean to have the "american dream?" It's the sort of question that, after having seen the film several weeks ago, still boggles me. I certainly don't know what the answer to that is, but it's a rather deep notion that more audiences should think about. It's certainly not the sort of idea that will work for all audiences, but it's hard to deny that it's effective in sticking with us.
In all of 2021 thus far, there hasn't been one film that's stuck with me as hard as "Flee." Its sweet story about what it means to be an immigrant has a painful honesty that's hard to ignore. This is that rare film that reminded me why the medium is something that remains so special to me. It gives us the chance to hear stories that otherwise may have never been told in the first place. Film is supposed to make us think, feel and most importantly understand the human experience. When it's released in December, I highly encourage you to run, not walk to see it.
Rating: 9.5/10
Watch The Trailer Here:https://www.youtube.com/watch?v=WzUVeuX1u04