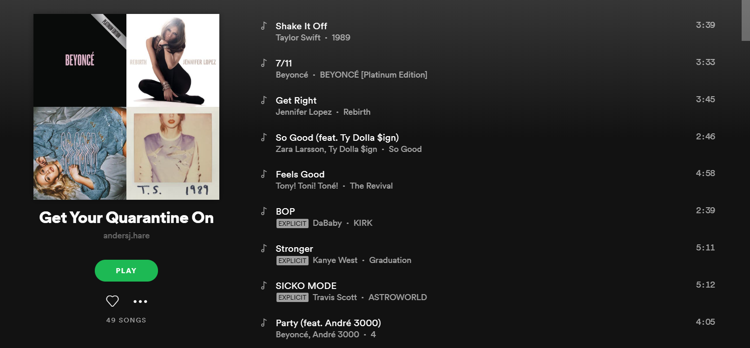 For most people, it has become pretty difficult to turn on the television, open social media, or even have a conversation with another person without mention of COVID-19 or simply Coronavirus. This worldwide pandemic has completely altered everyone's lives; from loved ones getting sick, to job loss, to economic decline, COVID-19 seems to be overtaking much of what makes this planet we love enjoyable.
Niners, COVID-19 sucks. Many of you are stressed from online work, not being able to work, family problems and the list goes on. For those of you who are embracing #QuarantineLife, you're an inspiration to all to keep pushing through this difficult time. It's important to stay positive during this time, and what is a better medicine for adversity than music? If you are having a hard time staying occupied while on lockdown, here are 49 current hits and old favorites to keep the energy and help get your quarantine on. Below are just a few of the highlights from the full playlists, which you can find links to for Spotify and Apple Music below!
"7/11" - Beyoncé
The dance-heavy final single Beyonce's 2013 self-titled album is guaranteed to you moving. Quarantine or no quarantine, the energy is always high with 7/11.
"Get Right" - Jennifer Lopez
This Rich Harrison-produced track is sure to give Saturday night vibes even when you're stuck in the house. Get up and "Get Right" to this electrifying dance single.
"Stronger" - Kanye West
Need a confidence boost? Look no further than Kanye West. You'll feel "Stronger" even during this global pandemic.
"SICKO MODE" - Travis Scott
Although we hope no one is actually going Sicko Mode out there, here is another high energy banger to get us through these challenging times.
"That's What I Like" - Bruno Mars
No matter the occasion, Bruno Mars sends the dance floor into a frenzy with this summer-tinged track.
"Before I Let Go" - Frankie Beverly & Maze
The weather may be getting warmer, but the vibes do not stop. "Let Go" of your anxiety and get into the vibe of this Summer BBQ classic.
"Juice" - Lizzo
Working out may be hard during this pandemic, but it does not have to be. Get your run (or walk) to this Lizzo classic. 
"Lose Control" - Missy Elliot featuring Ciara and Fat Man Scoop
The energy on this song is enough to make you forget we're in a global pandemic. "Lose Control" with Missy Elliot and Ciara on this throwback jam.
"This Is How We Do It" - Montell Jordan
The go-to party anthem is none other than Montell Jordan's "This Is How We Do It." Lose yourself in this iconic song and discover the true meaning of Friday night.
Get your quarantine party started with the full playlists below:
Spotify: https://open.spotify.com/playlist/3mMfgvVv98MYO4e0kT6IZZ?si=kN467p26R86vEyBz48QekQ 
Apple Music: https://music.apple.com/us/playlist/get-your-quarantine-on/pl.u-ZmblKx1iVGzKkj