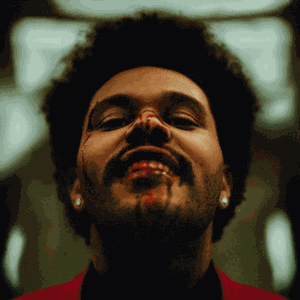 Over the course of his nearly ten-year career, The Weeknd's novelty brand of dark, drugged-out trap soul became embedded into nearly every facet of popular music. After shocking the world with his exceptionally candid "My Dear Melancholy" EP in 2018, The Weeknd fell silent, slowly marinating on something bigger as everyone awaited the diamond-certified artist's return to the alt-R&B throne. Now, The Weeknd is stepping into a new era with a revamped look, an all-too-familiar sound and a brand-new album titled "After Hours," potent enough to keep fans at the edge of their seat, even during a global pandemic.
The 14-track LP retraces the steps it took for Abel Tesfaye to become the enigmatic underground phenomenon known as The Weeknd during his 2011 debut, and loops around again to revisit the pinnacle upbeat moments of his career as a pop superstar. With a little bit of old and new traversing through everyone's speakers, "After Hours" sets up to be a quintessential addition in The Weeknd's extensive catalog. With new self-realization of his own toxicity in the driver's seat, "After Hours" takes fans on a wild ride, burying old hatchets with some familiar faces along the way. While it's apparent Tesfaye is forgiving, his drug-using ways can never be forgotten.
The Weeknd has gone from a hauntingly emotional voice infecting the deepest corners of Drake's Internet to a Grammy Award-winning force. From the opening track, "Alone Again," the Toronto-born artist expresses that the bonafide pop star-version of him is not his true identity. Instead, he says this facade is a mask. "Take off my disguise / I'm living someone else's life," he croons. Furthermore, The Weeknd insists that he divert from the fame he has acquired and throw away his riches to the drugs and toxicity he knew before. "How much to light up my star again / And rewire all my thoughts? / Oh, baby, won't you remind me what I am / And break, break my little cold heart?" he sings. In essence, the new look The Weeknd is going for in this new era is not new at all, but a return to the carefree, hedonistic life he had before fame, before money, and before the power. His need for a savage lifestyle is also restated in the album's lead single "Heartless."
"After Hours" incorporates the soundscape of The Weeknd's early mixtapes such as House of Balloons and Thursday in tracks such as the nostalgic "Snowchild" and the toxic-oozing "Faith." Revisiting these brings the old Tesfaye out and make audiences remember why they loved him in the first place. For other tracks such as "Hardest to Love" and "In Your Eyes," The Weeknd brings out the cinematic, full-production side of his music that catapulted him to super stardom. Super-producers Metro Boomin' and Max Martin play a role in the career-spanning journey as each has multiple credits on the album, guiding listeners on an LP that ties together themes across eras.
Although he is an R&B artist first and foremost, The Weeknd's eccentric brand of gloom and despair has often clouded the scope of his capabilities. However, the "Can't Feel My Face" singer makes it known that his vocal abilities are far from gone on "After Hours," making use of his unique voice with tracks that are vocally pleasing regardless of genre. On "Scared to Live," a track he debuted on Saturday Night Live, Tesfaye croons his heart out to an interpolation of Elton John's "Your Song." A vocal highlight on the dark album, "Scared to Live" is a power ballad in which Tesfaye realizes he is the cause of mistrust and uncertainty in his lover during a tragic break-up. The emotional song is a standout on the album of The Weeknd's entire discography.
Tesfaye's lack of empathy is not new at all. However, "After Hours" reveals that perhaps he is not as self-aware of his own apathetic nature as previously thought. The Weeknd is known for the way he taunts his lovers with pillow talk and then disappears to be with his true love: his own demise. On the Metro Boomin'-produced "Faith," one of the more old-school Tesfaye cuts, he pronounces his love of getting high and compares the feeling to religion; he even goes on to sing, "When coming down is the most I feel alone." Furthermore, The Weeknd follows this up on the album's final track, "Until I Bleed Out." It is on this track where the link between heartbreak and Tesfaye's distant nature clicks, but instead of telling his lover this, his toxicity seeps out to greet her with an utterly villainous goodbye. "I wanna cut you outta my dreams / 'Til I'm bleeding out," he sings on the track.
"After Hours" is the meeting of 2011's somber days and today's energetic soundscape. For Tesfaye, it is a journey of self-awareness, forgiveness and acceptance. For the audience, it is just The Weeknd being The Weeknd.
Rating: 4.5 out of 5
Listen to The Weeknd's new album here: https://music.apple.com/us/album/after-hours/1499385848