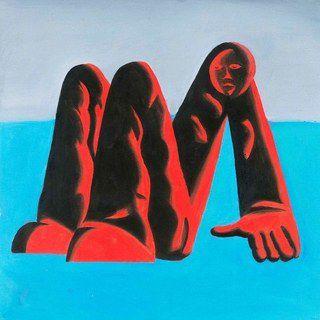 King Krule is the stage name of 25-year-old musical prodigy Archy Marshall. Marshall previously made music under a variety of names but gained the most popularity with the name King Krule. He is known for his strikingly eclectic influences, atmospheric compositions and ferocious baritone voice. With his last two full-length releases, he perfected his unique brand of melancholy. Both 2013's "6 Feet Beneath the Moon" and 2017's "The Ooz" are beautifully murky masterpieces that are defined by the swirling layers of sound that sometimes wash over and sometimes push along Marshall's raw vocals. With "Man Alive!" Marshall breaches the grimey surface but maintains his trademark grit. "Man Alive!" is the sound of Marshall doing what he does and doing it well.
The most immediately striking thing about any King Krule song is Marshall's cockney growl. His voice would never be mistaken for someone else. And neither would his words. Marshall has a way of writing incredibly poetic lyrics that-when paired with his harsh vocals-display complex emotions and a beautiful honesty. Individual images described in "Man Alive!" are as vivid and otherworldly as anything Marshall has written before. Lines like "Throw a stone, see it land, forget its flight" show the simple but striking imagery, but the true value in Marshall's writing is in the way words and lines seem to flow together, sometimes rising and falling in cadence as if being spoken by a Beat Poet of the 50's. 
Similar to past King Krule records, "Man Alive!" is like a night-blooming flower. Sounds flow in and out of songs as if being carried by an evening breeze. These swirling sonic layers demand your attention, and the melancholy gray and blue world that they describe should be explored away from the harsh light of the sun. That is not to say that this is an entirely depressive album. Since Marshall's last full-length release, he is now a father. There is a newfound optimism that underlies many of the songs on "Man Alive!" The best songs on the album perfectly toe the line between gloom and hope. "Underclass" achieves this quite masterfully. It feels as if Marshall is narrating a diary entry but it is accompanied by a saxophone. The song features the lines "Kept my head up above your intimacy or steadily / Your putrid ooz would swallow me." It shows a level of anxiety over his relationship with his partner. Many of Archy Marshall's past songs vividly describe feelings of depression and anxiety and the same type of poetic detail is present in "Man Alive!" He is a family man now, and the title itself expresses that. Marshall is no longer describing a metaphorical nosedive onto a concrete sidewalk; he is alive and father to a newborn daughter. The music expertly toes the line between melancholy and contentment. 
Sonically, the songs feel very fresh, at least for King Krule songs. The opening song "Cellular" features fluttering synths and a doleful saxophone that underscore Marshall's descriptions of a French girl crying on the television. It's surreal and strange in the most intriguing way possible, but it's also incredibly uplifting as far as King Krule songs go. "Man Alive!" is mesmerizing, murky and occasionally frightening. Archy Marshall is a true visionary, and with this album we are only pulled further into his dreamlike world.