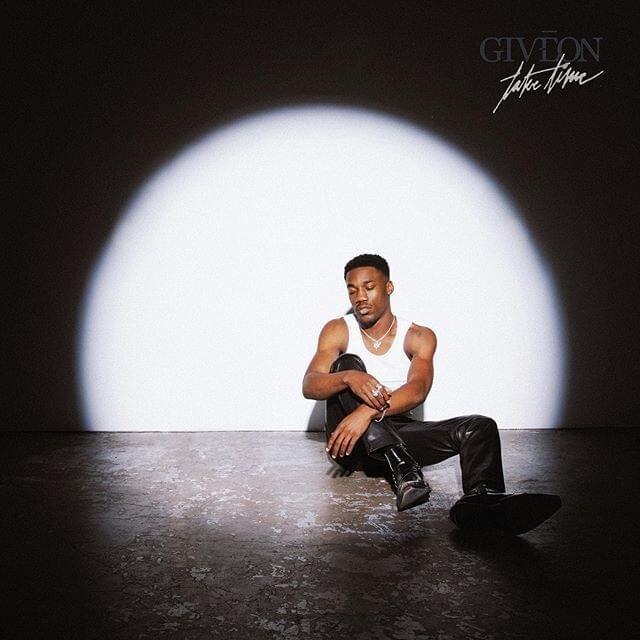 Have you ever heard Frank Sinatra's "Fly Me to the Moon?" That song is so beautiful. Thinking about how crisp and articulate the vocals are, yet its melody is smooth enough to serenade anyone's ears. It was released in 1963. Yes, the year when zip codes were first introduced and Martin Luther King Jr. gave his famous "I Have A Dream" speech. Sinatra had women "swooning" over him as my Nana would recall and "Old Blue Eyes" stood apart in his era of music. Flash forward to the present, the year 2020. Yes, the year where we were fearfully scrolling through World War III memes in January and we stand confined to the living space of our homes in quarantine due to COVID-19 in March and April. What do we have? Giveon Evans and his debut extended play, "TAKE TIME." Evans is a rising musical artist from Long Beach, California whose sound defies the boundaries of any typical genre of music. His single "Like I Want You" caught the public's attention in November of 2019. Inspired by Miguel, Frank Ocean and baritone singers Frank Sinatra, Barry White and Bobby Caldwell, the writer began creating songs and singing after realizing the serenade of his own voice. The EPIC Records recording artist made an appearance on Drake's "Chicago Freestyle" in early March of this year. This mystery feature blew up on Twitter as some fans initially thought that the voice belonged to Sampha, another soulful artist. Giveon clarified on Twitter that the feature was him and asked his followers to spread the word. Evans also opened up for Snoh Allegra as she went on tour. Fans enjoyed his stage presence and overall tone in singing. They went on to express their excitement to hear what music he would drop on his own.
Now, the singer/songwriter has created a fan base of his own through his polished EP "TAKE TIME," an elegant musical representation of the complications of being in love with another being. Listeners are falling in love with the fullness of Giveon's deep singing voice, his impressive range and his unique staccato melodies. His style is distinct and artistic. On this EP, he passionately sings about the impatient feelings that come when missing someone you love and the toll that takes on a man's heart. Love's perseverance is another theme, along with the illusion of trust and feigned feelings. He's a long beach native right? Should we expect another "Gin N' Juice"? Not quite, but I think you will be pleasantly surprised. I could write about this EP all day, but for the sake of the brevity, I'll break down my five favorite tracks (not in any specific order).
"I don't know if it was fireworks or gunshots but the birds is in the air" are the first words we hear on the track "THE BEACH"-- a successful lure into the rest of the extended play. These words came from a voicemail Giveon's mother left him in September of last year, reaching out to make sure he was safe. A high pitched electric guitar plays, mirroring Giveon's polytonal vocals. He sings with a rhythmic cadence about his hometown, the things that Californians deal with on the daily. With the detectable bass strumming, other musical additions appear to create a hypnotic instrumental vibe. In the song, he sings his appreciation of his lover's caring nature towards him, as she accepts the city that made him who he is and they explore it together. He tells a story with this track, revealing to us his humility and connection to his hometown and how that transitions authentically into his love life and his music. I felt happy listening to it, it's a cool vibe. I think listeners will like this one.
The track "FAVORITE MISTAKE" begins with humming synthesized sounds and a keyboard playing to create an overall alluring sensation. The song is about a man knowing that seeing this other person is a mistake, but he goes through with it anyway. The lyrics, "Look in my eyes Do you mind the lies?"  highlight the theme of feigned feelings and the illusion of trust. Sometimes people find themselves wanting what isn't best for them, or who isn't best for them rather. Lying becomes the ticket to satisfying temptation. This song is about how even when lies are made clear for both people involved, toxic interactions can become addicting. The mood of this song is tender and sincere. Giveon's polished vocals carry listeners gracefully through the track. I enjoyed this listen. It's a situation-specific song that I'd play again just to re-appreciate its content and depth. 
I liked the track "THIS AIN'T LOVE." It was a little more uptempo musically. The introduction starts off with an old-school rock vibe like Jimi Hendrix slowed down one of his guitar solos. The bass strums and the beat picks up as Giveon's beautiful falsetto enters and the tempo eventually increases, showcasing his impressive range. His vocal runs are musically satisfying. The theme of trust's illusion appears with the lyrics: "Know it's hard to tru-tru-trust me… Just another reason this ain't love." Evans is rejecting the possibility that what he and this other person have together is love. The song plays out with a conversation about proposing. The instrumentals and the conversation itself set up a smooth transition into the next track. 
"HEARTBREAK ANNIVERSARY" starts off with a piano being played along with a dirty guitar. The lyrics instantly hint that this is definitely our 'feels' song for the EP as he compares himself to lifeless balloons. The track is a bluesy and soulful anthem of mourning a relationship or romantic connection and it's bound to connect with a large audience. The lyricist sings "Just like the day that I met you, the day I thought forever… Said that you love me, but that'll last for never" showcasing Giveon's poetic songwriting abilities. The harmonizing of Evans' voice with the background vocalists on this track is angelic. His falsetto comes in and out in a timely manner. He is so poised with it. The song was so emotional and blue, I almost shed a tear. 
"LIKE I WANT YOU" is definitely one of my favorite tracks on the EP. Light drums play a steady beat and Giveon's voice is highlighted as an instrument in and of itself. Its rawness is comparable to a man singing on a street corner with no aid or comfort instrumentally except the background noise of the city. "You got me waitin' but you ain't coming through… Try to stay patient but gotta face the truth" are lyrics that highlight the pain that impatience in love can cause. There are feigned feelings involved as Evans sings about pretending to be over someone when he really isn't. Its delivery is passion-filled, with baritone vocals leading into higher-pitched runs.
So it's not your buoyant 1963 Sinatra record. It's not supposed to be. Sinatra had his style which set him apart in his time period, now Giveon is in the process of composing his own. Inspiration can be sparked by seeing someone else do what they love, regardless of if that is how it would look, or in this case sound, when you do it. Let's talk about why Miguel and Frank Ocean inspire Giveon real quick. In an interview with DJ Booth, Giveon spoke briefly about his appreciation for these artists because of their success in their ability to "make their own world" within their genre in a society that often lumps artists into a category more often based on how they look. Giveon is determined to be a "pioneer" in his own version of R&B and this extended play is just the beginning. He expressed in a tweet in early April, "While the melody and sonics are important to me - the lyrics are what I value the most." He was the primary lyricist for every song on this extended play and I believed every word he sang. Each track could be traced back to a story or a relatable perspective. Listening to Evans is like dining at a buffet rather than a culture or food-specific restaurant. His musical palette is sophisticated. So far, I'm satisfied, among plenty of other listeners. His quality over quantity mindset is admirable and I believe it will continue to uphold him to a high standard even as he gets experimental with his voice in the future. I'm excited to see how he will hone and implement his musical talent and originality on projects to come. 
Rating: 4.5/5