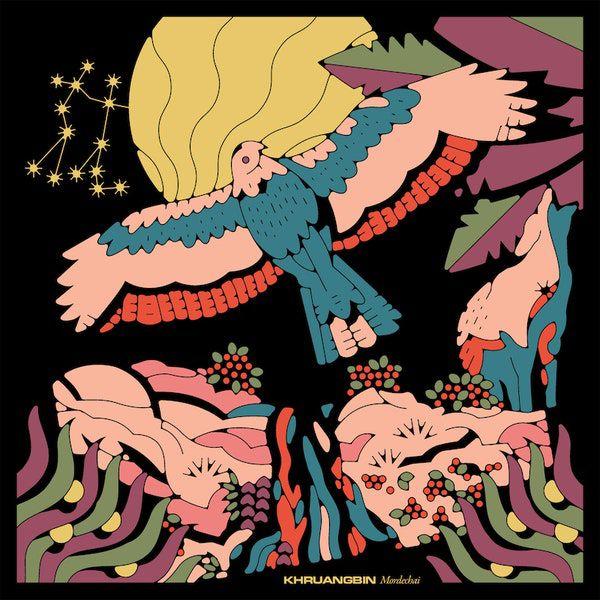 Khruangbin has perfected their groovy atmospheric sound. Their music has always contained a certain hazy nostalgia. Their eclectic influences range from 1960s Thai funk to surf rock to Iranian Pop to Japanese film. The Texas-based trio take these influences and mold them into accessible vibe setting songs, while still maintaining respect towards their global influences. "Mordechai" continues the band's genre-hopping exploration, and features some of their most direct and easygoing work yet.
"Mordechai" is their first album to feature vocals more prominently. Lyrics are sung mostly in English, sometimes in Spanish, and occasionally detour into a variety of other languages. Khruangbin manages this without making it feel gimmicky, perhaps because their commitment to creating globally-minded good mood music is so strong and sincere. "Pelota," the most upbeat song on the record, is sung entirely in Spanish and even for those without knowledge of the language or Spanish culture, the quick handclaps and playful guitar clearly reference Spanish music, but are not bogged down by it. Vocals are used as another instrument, hardly ever drawing attention away from the melodic bass and the rhythmic guitars, or whatever else Khrunagbin put forward at a particular moment in a song. All three members contribute to the hazy and surreal vocals. Lyrics are often repetitive like waves softly washing over a beach: beautifully rhythmic and undemanding. 
I have been a strong opponent of "chill" and "vibe" oriented music and playlists, and at first glance Khruangbin seems like just another band churning out calm groove-oriented songs to rack up Spotify streams. They have quite uniquely gathered a large cult following, and have garnered considerable acclaim since they first appeared on the scene. This is because their music manages to feel so timeless, and so geographically spaceless. They are a band that likely could not have existed before the internet. We live in an era where '60s Ethipoian jazz and '70s Moog songs for plants can gather millions of youtube streams. It is easier now more than any other time in history to find obscure music genres or overlooked artists from other countries. Khruangbin understands this and utilizes it to create their unique blend of global coffee shop music. The guitar on "Connaissais de Face" has hints of African influence, and opener "First Class" is more indebted to Jazz.
It is also important to note that Khruangbin does not shy away from revealing their influences. They understand the joy of sharing musical discoveries with others. In their rollout for this album, Khruangbin launched the website called AirKhruang. The website generates a playlist for you under the guise of charting a flight to somewhere in the world. You are allowed to adjust things like tempo and danceability, and the results are unique and globally-minded. Just as with their own music, Khruangbin invites us to see the value and history of music in other countries. 
In another time, Khruangbin might have been masters of the art of plunderphonics, eclectically uniting different songs and ideas into exciting sound collages. Instead, they have given us some of the most interestingly mellow music made today. They have managed to reach beyond the easy confines of American and western musical canon to create something suspended in time. Perhaps history will be less kind and look back on "Mordechai" as kitschy. But for now, they have suspended all time and place. All that is left is for us to ease into the liminal groove they have set, and relax.