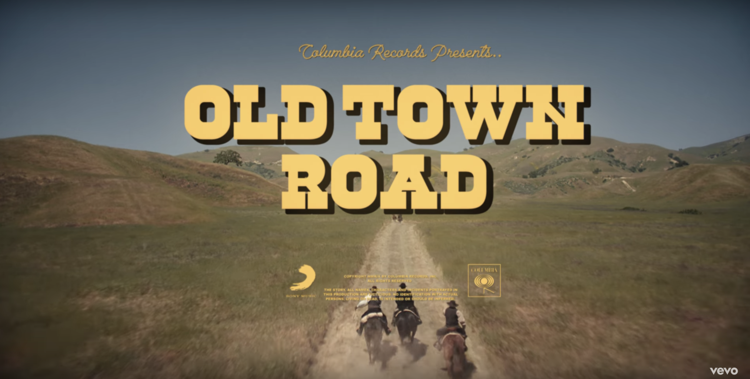 Cowboys are cool now. If you pay attention to pop culture or current music trends, this is probably something you've noticed. Social media platforms in 2018 were littered with "horse girl" memes. Kacey Musgraves' genre-breaking country album "Golden Hour" won 2018's album of the year award at the Grammys. And of course, Lil Nas X's "Old Town Road" grew from meme gold to Billboard's longest-charting number one song. Many of these artists are changing the limiting restrictions of country music and country personas from the top down.
In 2016, Beyoncé surprise released her landmark breakup album "Lemonade," which featured the song "Daddy Lessons." "Daddy Lessons" is undeniably a country song. Beyoncé also has a remix of the song with Dixie Chicks that was performed at the 2016 Country Music Awards. At the time, this was seen as just a flash in the pan. It was just a pop culture savant trying her hand at whatever she wanted to. But over the last few years more and more musicians have chosen to don cowboy hats, add country music references to their music, or as in indie artist Mitski's case, simply using "Be the Cowboy" as an album title. Mitski is an asian-american musician who is known for her poetic and emotive indie rock anthems. The album title is Mitski's way of embodying all of the things that define the stereotypical cowboy. To be strong, assertive, and loud; all of which are things that are not expected of her as an Asian American woman.
Indie slacker rock legend Mac DeMarco also used the "cowboy'' persona recently. Earlier in 2019 he released his sixth album, titled "Here Comes the Cowboy." It was immediately criticized on the internet. The album title is suspiciously similar to Mitski's, but where Mitski's use of the word "cowboy" is an act of validating her worth in America as a person of color, Mac DeMarco's use of the word is fairly vapid. The cowboy persona and aesthetic has always belonged to people like Mac DeMarco. 
The YeeHaw Agenda is about people of color reclaiming identities and opportunities that were stolen from them, and erased from history books. Besides philosophically questioning what the cowboy persona means, artists have been using imagery and fashion associated with cowboys. Artists like Cardi B and Megan Thee Stallion have sported sparkling cowboy hats and other western-style articles of clothing. Arguably, no one has pushed the limits of modern cowboy fashion as elegantly as Solange has. Her latest album "When I Get Home" is stunning in its own right, but the accompanying film is a gorgeous foray into black cowboy aesthetics. The film is full of black dancers in cowboy boots, cowboy hats, and riding horses, but it is all coordinated in the most controlled and elegant way. 
There is a certain machoism surrounding cowboys. Cowboys are stereotypically straight white men that embody all-American values like aggression, grit and rebelliousness. And then there's Orville Peck. He is a classic country artist who is gay, and is never seen without a leather fringe mask. He writes from the perspective of a lonesome gay cowboy, flipping societal expectations of country music. He is opening up the genre to a whole population of LGBT individuals to express themselves, and see themselves represented. 
Lil Nas X's meteoritic rise from nobody to multi-platinum musician in less than a year is the stuff of legends. Lil Nas X perfectly embodies the spirit of the cowboy. A young, gay, black man's first hit song is the longest-running Billboard number one song. To charge into the homogenized, whitewashed, casually homophobic world of country music and flip it on its head takes passion, grit, and a lot of rebellion. Lil Nas X is changing country music, and the perception of country music, from the top down. He is forcing everyone to acknowledge that a country-trap song is a viable music genre in 2019. He is making society accept that a 20-year-old can wear a cowboy hat and a gold-fringed outfit while being the first gay black artist to win a Country Music Award. 
On the other end of this country movement is a bottom up change in music. Perhaps it is because of the sudden explosion of the Yee Haw Agenda, but smaller scale artists. Faye Webster, a small indie artist had one of the most enjoyable albums of the year. "Atlanta Millionaires Club" is a distinctly country-folk album. Webster employed a pedal steel guitar, a classic country music instrument. Its sound brings a breath of fresh air to the music,  but the album seamlessly manages to include a verse from the Atlanta rapper Father. The Yee Haw Agenda is more than just a funny current trend in celebrity fashion. It's about breaking cultural boundaries that we might not have even realized existed. It's about breaking down the definition of country music and adding its components to the current musical lexicon. It's about people of color and LGBT individuals having new methods to express themselves through, and wider audiences to broadcast these messages to. In the year 2019 cowboys are cool, but now they are cool for more than just the straight white male.