Platform: PlayStation 5
The emergence of a new generation of gaming consoles is always like a second Christmas morning for game enthusiasts like myself. With new, more capable hardware comes new and exciting gaming experiences that (ideally) use that hardware to the fullest. "Astro's Playroom" was the very first game that I experienced on my shiny new PlayStation 5, and it certainly made one heck of a first impression. Developed by Team Asobi, a subdivision of Sony's Japan Studio, "Astro's Playroom" might just be one of the most compelling pack-in launch titles for a system that I have ever played, mixing fun gameplay with some truly novel features that are only possible thanks to the improvements that Sony has made under the hood of their new machine.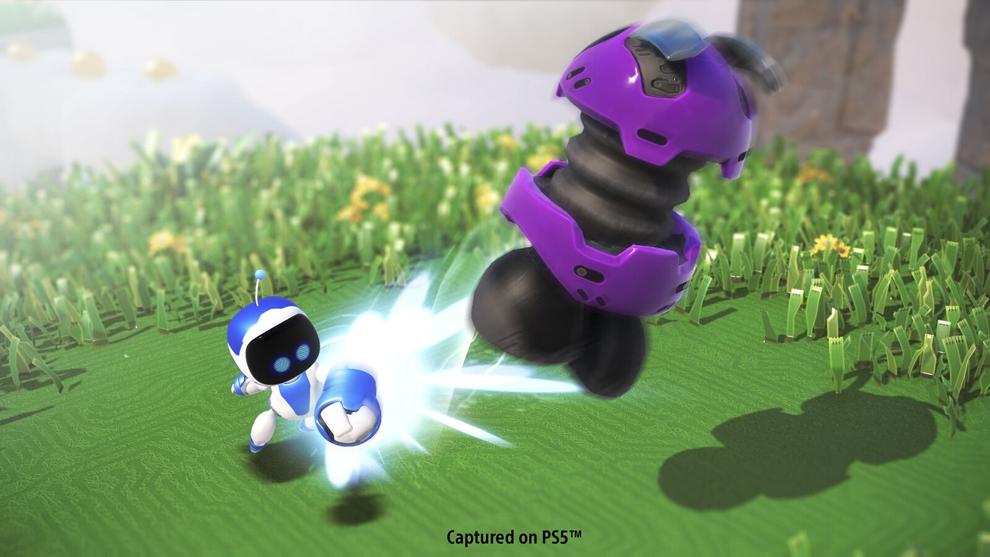 For anyone unfamiliar, "Astrobot" is a PlayStation character that made his debut on PS4, starring most notably in the PSVR title "Astrobot Rescue Mission" and appearing in several minigame collections. From the very first time I saw him, the character design of Astrobot clicked with me, making him one of my favorite original characters that Sony's teams have ever designed. It seems as though I may not be alone in that, as Sony spent most of the PS4 generation attempting to turn Astrobot into a mascot character for PlayStation as a brand, a move which is only further cemented by his starring role in this title. Included at no extra cost with every single PlayStation 5 system, "Astro's Playroom" aims to serve as a perfect starting point for those looking to get to grips with what their shiny new system is capable of. From the laundry list of features provided by the PS5's DualSense controller to the system's lighting-fast SSD infrastructure, "Astro's Playroom" puts virtually every new affordance of the PlayStation 5 hardware to great use. 
Players will be able to feel simulations of raindrops pitter-pattering on the top of their controller thanks to the DualSense's incredibly impressive haptic feedback system. The various stages that Astrobot platforms his way through all transition seamlessly to one another without any loading screens. The game allows you to warp to any previously cleared area in no more than three seconds flat. The game even puts the DualSense's adaptive triggers to use, the most impressive example of this being when the game tasks you with helping a robotic monkey climb a cliffside. These aren't even close to all of the brilliant ways that "Astro's Playroom" shows off what the PS5 is capable of, but they do help to show the insane amount of creativity and ambition that the game contains. The game doesn't just play like a next-gen title, it also looks like one, presenting players with gorgeous vistas and densely-packed environments all being displayed at a native 4K resolution and an absolutely unwavering 60 frames per second. 
That being said, it's hard to escape this lingering feeling that something is missing with "Astro's Playroom." For example, while Astrobot is a joy to control here, the actual level design feels fairly tame across the board. I never really felt as if my skills were being tested at any point, but that doesn't necessarily mean the game wasn't enjoyable. I just wish that there had been some more engaging challenges that let me put those great controls to better use. The game is also over very quickly, as I was able to do everything possible within the title and walk away with a Platinum Trophy in under 5 hours. It's a little difficult to complain about "Astro's Playroom" being light on content when it comes bundled in with the system to begin with, but I'm personally hoping that these lighter elements are signs that a fully-realized Astrobot title is in the works. I feel like a more fleshed out adventure with a larger amount of content and more intricately designed stages could allow the ideas from this game to truly shine.
Even if it's not the deepest or most involved game on the market, "Astro's Playroom" is absolutely worth a play-through for any PS5 owner. The game looks fantastic, does a great job getting people acquainted with the PS5's new capabilities, and, most importantly, is just fun to play. I genuinely hope that this title is a sign of bigger things to come from Astrobot as a character, as I would love to see him star in a fully fleshed out title sometime down the road. However, if this is how Sony is starting off their next-generation gaming efforts, then I think it's safe to say that I'm very excited to see what experiences this new chapter in PlayStation's lineage brings.
Final Score
9/10