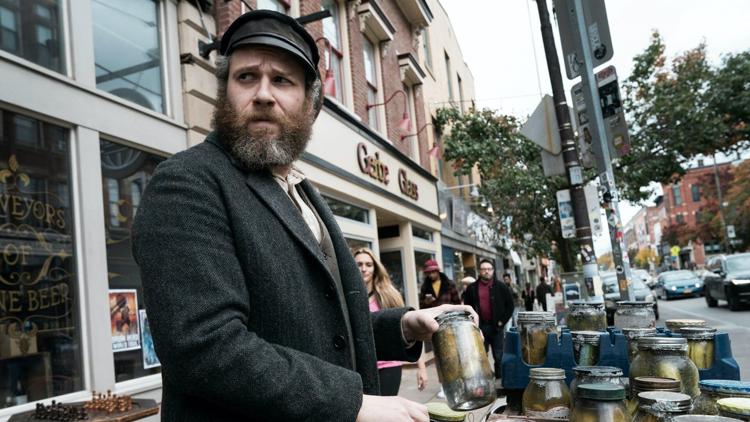 First off, I want to give a special thanks to the kind folks at HBO Max for sending me this early screener! At the beginning of 2020, if you would have told me Seth Rogen's latest about Herschel Greenbaum (played by Rogen) — a 19th century pickle farmer who is mistakenly brined in a pickle barrel, preserved for 100 years, and then awakens in modern-day New York — is a charming film, I would've said you are crazy. Originally set to be distributed by Sony Pictures and now streaming directly on HBO Max, the latest vehicle proves that some films really deserve the smaller screen. That's certainly not a knock against "An American Pickle," but a simple admittance that the digital era is pushing what kind of content is made. In this crazy world we're living in right now, it's nice to have a film that's got a lot of love. 
Unlike typical Seth Rogen fair, what makes "An American Pickle" stand out is his central performance. Rogen plays two roles which include the loud, out of his element Herschal (with a very pronounced accent) and the shy and meek Ben Greenbaum. In these roles he is able to flex acting muscles no one really knew he had. From a very funny scene involving sparkling water, to another involving Ben teaching Herschal twitter, there are some genuine laughs to be had. Over the laughs though, this is a film that has more on its mind than the premise suggests. I won't spoil the particulars as to how that heart comes into play, but I will say it is a pleasant surprise.
There are many ideas on display here about the state of immigration in this country if audiences want to think that way. The screenplay by Simon Rich leans into the state of immigrant culture and the insanity about how quickly America turns on them. In arguably the films funniest moment involving a political run for office, it allows Rogen to say and do some of the funniest lines in quite some time. While every joke unfortunately doesn't land (such as Ben teaching Herschal the internet), there is comedy to be mind for Herschal's naivety. Granted, some of the more comical sequences do get bogged down by certain cliches such as hipster New Yorkers and businessmen.
With that idea being said, those qualms are incredibly minor to the main point the film wants to convey. Now don't get me wrong, "An American Pickle" is by no means a perfect film. It's certainly not something that will be very memorable in the crazy year of 2020, but it's one that shows a different side of an actor who has more to him than meets the eye. I would also like to give a shoutout to actress Sarah Snook (HBO's Succession), who plays Herschal's wife Sarah.  Though she only has a small role in the film, she gives it one of its biggest laughs involving a fish. Overall, "An American Pickle" isn't as funny as it could be, but its got a lot of heart. For now, having a lot of heart in a film can make for pretty solid entertainment. The film dropped Aug. 6 on HBO Max. 
Rating:3/5 
Watch the film's trailer here.