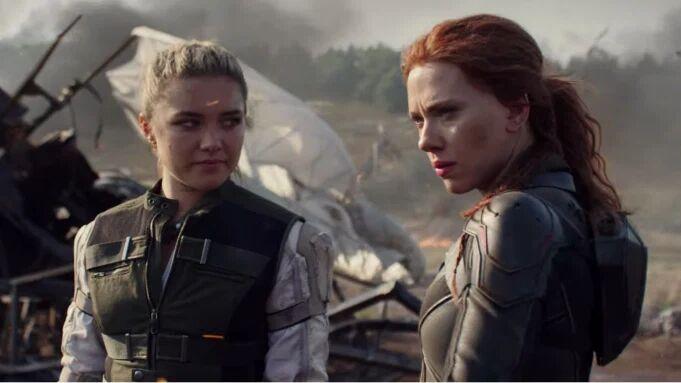 "Black Widow" was another victim of the 2020 COVID pandemic that delayed so many upcoming films which fans had been eagerly awaiting. Granted, most fans like myself assumed we'd already have received Natasha Romanoff's origin story before her death in 2019's "Avengers: Endgame." After much anticipation, "Black Widow" gives a proper sendoff to a legacy character while also setting the stage for the future. Our story follows Romanoff (Scarlett Johansson) as she's on the run between the events of "Captain America: Civil War" and "Avengers: Infinity War." This sends her back on a collision course with her makeshift family (Florence Pugh, Rachel Weisz and David Harbour), who raised Natasha while being secret KGB agents.
Before seeing "Black Widow," you never would have convinced me that the superhero movie would better explore family themes. Focusing on her family before the Avengers gives the film a jolt of humanity. Instead of going through the same beats, we've already learned about these characters, we see a different side of Romanoff's life. Director Cate Shortland understands this and focuses on making her cast the focal point. In focusing on family, what we get here is a gritty and dark spy film. Apply the dynamic of a makeshift family, and we get a story that's entirely character-driven in a way that nothing else in the MCU tapestry has been.
Johansson has taken the role of Black Widow and made her an emotional centerpiece. The trauma she comes from—which I won't spoil here—is so incredibly heartbreaking that it makes her human. The same could be said for her makeshift sister Yelena (Pugh), who went through her own hardships. Saying that these two characters have a fractured relationship is certainly an understatement. Still, both actresses play their parts with real warmth and the impression that they care for one another. It particularly shows the part of Pugh as a younger sister who holds a lot of resentment. Previous MCU affairs had their share of down-to-earth and relatable character interactions, but "Black Widow" takes these more grounded moments to a never-before-seen level. 
While Natasha is taking the role of the "straight-man" against larger personalities, her family steals the show. Florence Pugh is one actress who is positioning herself to be a powerhouse. Between more dramatic roles in films like "Little Women" and the understated "Lady McBeth," she has a grounded presence on screen. Here, she gets to be funny in a subtle but thoroughly engaging way and is often quite hilarious. In comparison, David Harbour and Rachel Weisz focus more on a broad comedy angle that never feels forced. Their characters Alexei "The Red Guardian" and Melina take the parental roles and provide both humor and heart. It's certainly an angle that the MCU has explored in previous films, but it left me with the hope that we will see more of each of them in the future. 
My biggest complaint with "Black Widow" is a rather common one that's plagued many previous MCU films. Dreykov (Ray Winstone), our main villain, is so one-note with a nonsense plan that wastes the classic comic villain henchman Taskmaster. She is certainly a threat that is felt and real but never quite lands in the way that those behind the camera intended. What is admirable is that the stakes are kept small and instead of world domination. They focus on having effects mostly on our heroes. Whereas almost all of the previous installments focus on a more broad threat, this was a pleasant change. 
There's no denying that "Black Widow" feels like it should've come together long before this character met her end. What's undeniable is that this is one of the better solo outings that sets the stage for an interesting future. Our cast is in top form thanks to the director's focus on character development instead of a ridiculous plot. If you're feeling safe to go to a theater, the action sequences make it worthy of a big-screen outing. With the film streaming on Disney+ for an additional $30 price tag, it could certainly make for a fun at-home experience. 
Rating: 8/10
Watch The Trailer Here: https://www.youtube.com/watch?v=ybji16u608U