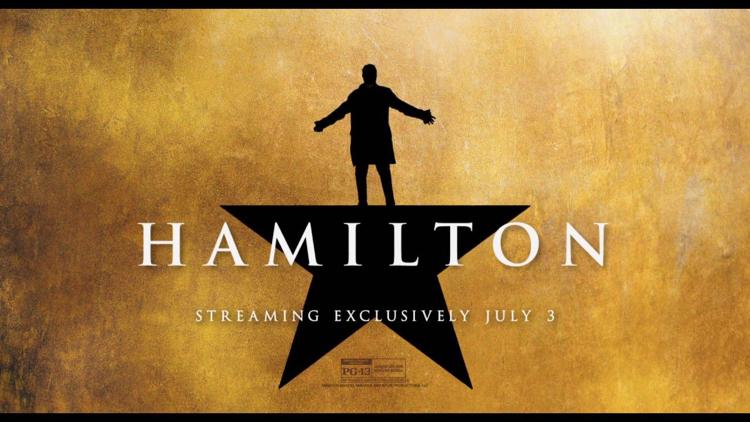 If you followed any worldwide media fad over the last couple of years, then you know the story of "Hamilton" the 2016 broadway hit. This epic broadway tale follows the history of one of America's founding fathers, and the first Secretary of State, Alexander Hamilton. The catch here is that thanks to the writing of Lin-Manuel Miranda, a piece of history is given the flavor of hip-hop. Full disclaimer, this will not be a review in the traditional sense of what I do, but a look at how this phenomenon pulls it off. What I'll say right off the bat is, it's unlike anything out cinematically right now.
The film follows the recording of the 2016 production on Broadway whose cast includes Lin-Manuel Miranda, Daveed Diggs, Renee Elise Goldsberry, Jasmine Cephas Jones, and Jonathan Groff. In each of these performances, what surprised me the most was how each performer handles the style. These styles can vary all the way from rap battles, hip-hop and even emotionally moving melodies. Two particular examples of this would be "Who Lives Who Lives, Who Dies, Who Tells Your Story" and "1800" which encompass the types of songs that make this a joy to watch. There is also a very humorous song sung by Jonathan Groff titled "You'll Be Back" that gave me some great laughs. The reason why I bring up these specifics is to signify what makes Hamilton such an experience.
Throughout its two-hour-and-forty-minute runtime you never once feel the length. Each song gives its prospective actor or ensemble a powerful moment to leave a lasting impression. With each actor getting an individual moment, waiting through each one may not be for all audiences. If you are a fan of musicals, then there's really nothing I can say here that will change your mind. It is full, nonstop, two hours and forty minutes of professionals belting out some pretty catchy songs. If you are someone who is overly concerned about pacing or writing, Hamilton won't do anything to win you over. Some may consider Director Thomas Kail's style to be heavy-handed or bland as a screen adaption which some may consider unwatchable. I don't believe I could even call these issues, but points that should be made to those who aren't musical fans.
There's a lot to love about Hamilton, from the sets, costumes, great songs, and even better performances. If that is something that isn't your cup of tea then I would easily say to avoid this at all cost. Even as an outsider who had not only never seen Hamilton or heard any of these songs, I would've said you're crazy. What I didn't expect was the most exhilarating theatrical experience I've seen in quite some time transported to the small screen on Disney+. As long as you are already a fan or just curious about what the hype is, Hamilton's almost three-hour runtime feels like three minutes. At this point, all I can say is that if you are excited, believe the hype because Hamilton demands to be seen in any way possible!
Rating: 5/5