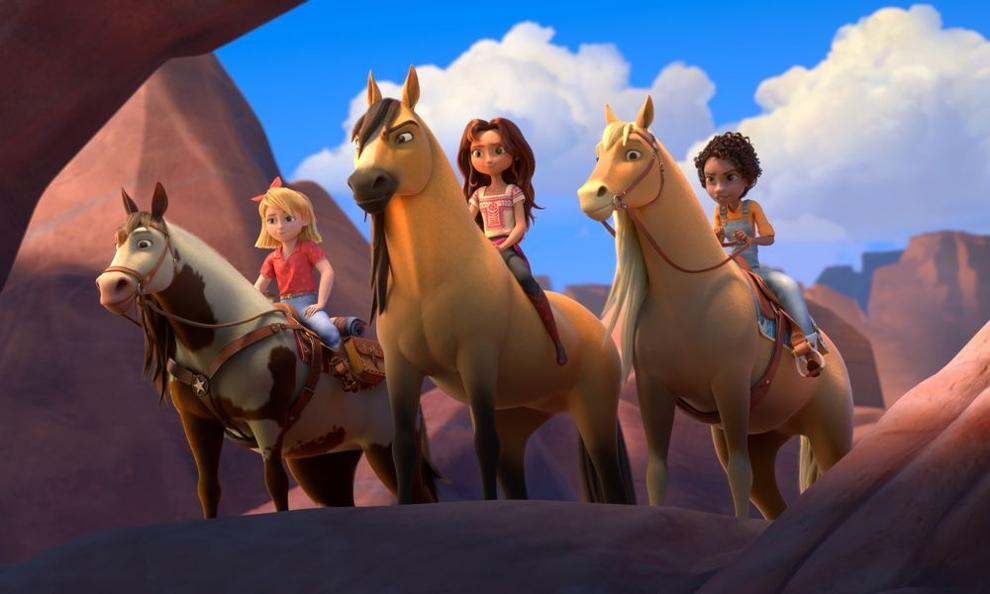 Having never seen "Spirit: Stallion of the Cimarron," I had no idea of what to expect from "Untamed." It's hard to deny that the voice cast, including folks like Julianne Moore and Jake Gyllenhaal, wasn't a draw, but the trailers didn't impress me. Having seen the film and not being angered, it was just a story that felt offensively lazy. Our story follows Lucky Prescott (Isabella Merced) life is changed forever when she moves back to her small hometown and befriends a horse named Spirit. If you hear that premise and think you know the story, trust me when I tell you that you do.
In the modern pantheon of animated films, we usually start with an incident that forces the protagonist to lose a parent. Some films may have that be the mom, while others may be the dad and force the character on a journey of self-discovery. It also includes a new setting with colorful side characters and a villain who will tell you their plan within the first five minutes. If you ever needed to win a game of kid-film bingo, "Spirit: Untamed" is the perfect addition. There's nothing in the reimagining of the story that's designed to "offend" anyone who watches it. The purpose of this story is nothing more than to distract the targeted child audience, Which is rather unfortunate when you have the cast that you do.
Besides just Moore and Gyllenhaal, you have child actors like Isabela Merced, Marsai Martin and McKenna Grace. Even in animated form, you can feel a real chemistry bloom amongst these three characters. Yes, it's a rather simple "new group of friends" dynamic, but it still works well for young kids. There's enough simplicity on display here that young kids will get a solid 87 minutes of entertainment out of it. For the adults whose kids may have dragged to the theater, it's going to be quite hard not to be bored senseless. Maybe the filmmakers intended to make a film just for kids, but it's certainly hard to tell.
Even from an animation perspective, everything looks unfinished. There's a sensation to the scenery that feels generated, like something you'd see in a video game. Some could consider that to be a good thing, but the film does nothing with that idea. We get moments that tease a more interesting and exciting film, only for it to dance around that potential constantly. We end up with something so safe that there's never even an attempt to try and be different, which makes the schmaltz that a story like this regularly has come off as nothing more than boring. Being boring is arguably the cardinal sin a movie like this can perpetrate since its target is a family audience. 
"Spirit: Untamed" plays as nothing more than a studio's idea as to what audiences want to see. In this case, it's a story that follows the formula "fish out of water finds a new home" with no room for surprises. It results in an empty finished product that just comes off as being painfully average. Average normally wouldn't be a bad thing, but family audiences are getting smarter and smarter. They're ready for more intellectual stories that can give them a healthy discussion on their drive home. For some, a simple 90 minutes and a night out will be more than enough. Though for a more refined movie for the family, there's more than enough stronger content out there. 
Rating: 3.5/5
Watch Trailer Here: https://www.youtube.com/watch?v=X3h8h-0QEVQ