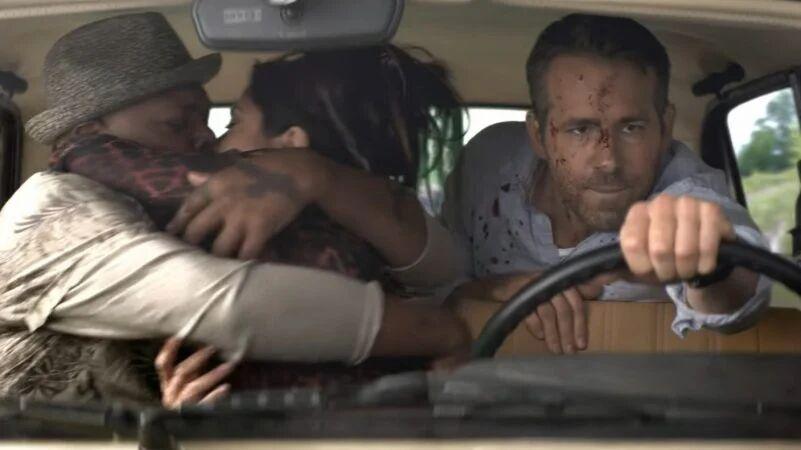 I was absolutely not a fan of 2017's "The Hitman's Bodyguard" as an action-comedy. Ryan Reynolds and Samuel L. Jackson had chemistry, but not much else. It was plenty for audiences as an August summer blockbuster, which warranted "The Hitman's Wife's Bodyguard." In this new adventure forces ex-protection agent Michael Bryce (Reynolds) and hitman Darius Kincaid (Jackson) to begrudgingly team up against a terrorist (Antonio Banderas). The only difference is that Kincaid's loose cannon wife, Sonia (Salma Hayek), is along for the ride on this adventure.
There could be a portion of this review that goes the ludicrously stupid plot mechanics of what's happening. If we went down that road, it would leave you scratching your head, wondering if it was real. The unfortunate thing about this plot is that even though our leads are hilarious, this movie is just bland. At 1 hour and 39 minutes, we're immediately thrown into the action movie mayhem. While that makes up for a lot of pacing issues, watching it in the theater was quite entertaining. The pace was zippy, and the chemistry was dynamite, which made a fun night out as the days passed since my viewing more and more about the film just started to bother me. 
The film's infatuation with a terrorist plot with a flamboyant Antonia Banderas feels dated. We've seen these sorts of stories so many times that it feels more tired than ever in 2021. Reynolds, Jackson and Hayek are a blast to watch together on screen as they go on this international adventure. Some of the action sequences are exciting, and we have just as much fun as the cast does. The problems start to lie: the realization that funny quips and grotesque action sequences are all the film has to offer. This is a rather frustrating detail when you have a cast that's as capable as this. 
What's easy to see is director Patrick Hughes really making sure his directing doesn't get in the way of his stars. Throwing us immediately into the chemistry is arguably the one option for studios to appease the largest audience possible. For some, having the chance to go and see it in the theater will be more than enough, but it forces us to ask the question, don't we deserve better? Movies like "The Hitman's Wife's Bodyguard" are designed to fulfill a certain purpose. That purpose is to entertain us with familiar faces that can let us escape for two hours in a theater. The only problem is that with having these sorts of films for years, we're getting tired of them. 
 If you're looking for escapist cinema, this bodyguard sequel could be more than enough. You have a group of likable leads who navigate large action sequences in beautiful locations. The difficulty is that there's nothing new or original in the type of story being told here. The sameness from one set piece to a moment of quiet drama feels empty. Being empty while watching something like this makes you think of the better movies of the ilk. Some of these better movies even include Reynolds and Jackson, which makes "Bodyguard" feel more forgettable. 
As a piece of summer entertainment, I'd be lying if I said there aren't worse films out there. It's just way too difficult to shake the feeling of knowing that audiences of had we deserve better after the year. "The Hitman's Wife's Bodyguard" isn't even a bad film. It's just one that could've been much more. Our cast is game for the brutal and ludicrous moments, but the repetition keeps it from being something special. If you're looking for a night out at the theater, you'll get everything you want out of it, even if it isn't what audiences deserve.
Rating 4.5/10