Many companies are finding themselves in a rather unique position, in many cases having to ask their employees to work remotely from home to ensure the safety of everyone. Of course, Nintendo is no exception, as the company has temporarily transitioned many of its employees in Japan, the United States and around the world into a new "working-from-home" environment. However, this is far from a doom and gloom scenario, as the company's various teams of programmers, artists and writers remain hard at work to continue providing the kind of compelling and innovative content that their fans have come to expect. Many of Nintendo's titles are still being released in a timely manner even as they are being developed remotely, and if there's a lesson to be learned here, it's that creativity and collaboration absolutely can exist in light of physical distancing measures.
This leads me to the topic at hand today. You see, apparently even veteran game developers are going through many of the same troubles we all are when trying to adapt to the quarantine way of life. Finding themselves with an abundance of free time and longing for something to help them stay active while staying at home, a small team of developers got together and created a simple fitness game. This project seems to have gained a lot of traction since its original inception, so much so that the title has now actually been released to the public as a free download through the Nintendo Switch eShop.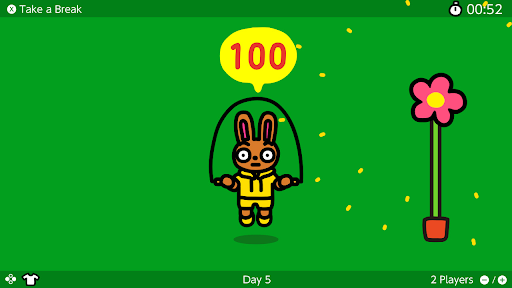 "Jump Rope Challenge" is the result of this effort. A game that involves players swinging a Joy-con controller in each hand and jumping in place as a nameless rabbit character mirrors the player's movements on screen. Completing a certain amount of jumps each day will unlock a new background for your profile, there are several outfits available for your character and… that's about it. This game is the pure definition of "simple," but there is actually a surprising amount of charm to be found here. Despite the incredibly basic graphics and gameplay, Nintendo seems to have injected the highest possible amount of character into every facet of this title, elevating the final product to something that is far more than the sum of its parts. Each day presents not only a new background to unlock, but also new sound effects for each jump, a new look for the meter and a variety of other small visual touches that add just enough incentive to come back and see what the next day has in store.
Sure, "Jump Rope Challenge" isn't likely to be a game that you might sit and play for an extended session, but there is definitely a lot more to this little experiment in socially-distanced game development than I initially thought. That being said, one of my favorite things about this game is the message that it sends. It almost feels as if there was a sense of triumph on the developer's part when they cited their newly acquired free time and desire for something to get people up and moving in the comfort (and safety) of their own homes as the main source of inspiration for this project. Perhaps I'm reading a bit too much into it, but "Jump Rope Challenge" almost seems to signify a bout of goodwill directly from Nintendo's developers to their players around the world. While the methods of game development may have changed for the time being, the continued dedication that these teams have shown to making fun and engaging experiences serves as a clear message that no amount of physical distancing can stop innovation and creativity from prevailing. If you own a Nintendo Switch, I highly recommend that you give the game a download and try it out for yourself. I can almost guarantee that it will put a smile on your face, and who couldn't use that right about now?