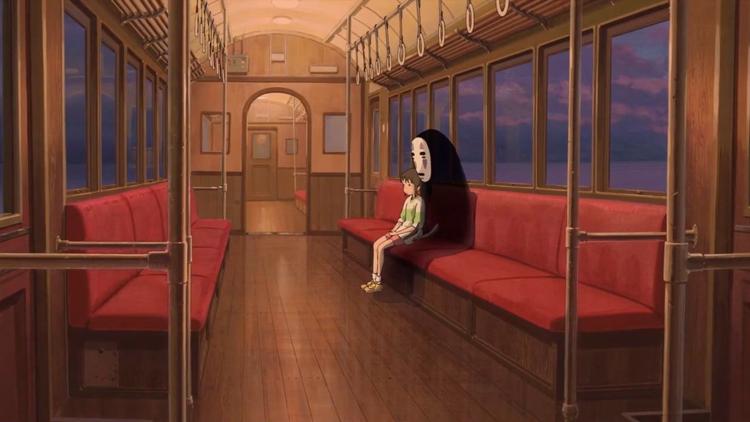 In all fairness here, I have been watching this film since I was a kid so obviously, I jumped at the chance to write about it. "Spirited Away" is one of the many masterpieces of Studio Ghibli, having won the Academy Award for Best Animated Feature in 2003 to prove it. I walked into a crowded theater and when the music started, I was a goner, already misty-eyed with heart-ache and nostalgia.
This coming-of-age fantasy film focuses on Chihiro, a young 10-year-old girl, moving with her mother and father to a new neighborhood. After a detour by her father, this small family unintentionally crosses into the spirit world. When her parents are turned into pigs by their own gluttonous faults, it is then up to Chihiro to save them and return them all safely to the human world.
I don't take the "coming-of-age" genre lightly. I'm more likely to make unwarranted and overly harsh assumptions just from hearing the phrase. This film handles it in such a tactful and tasteful way that makes it more poignant and less on the nose about its overarching themes. This is a well-known trait about Studio Ghibli.
Studio Ghibli was founded in 1985 by Hayao Miyazaki and the late Isao Takahata. This revered film studio is renowned for its moving storytelling and beautiful 2D animation, and that is just the tip of the iceberg. I like to think I use the word "masterpiece" rather sparingly, but I'm just going to go off the deep end here. I can't mince my words with this caliber of film. Almost every Studio Ghibli film is a masterpiece in its own right. They have strong female leads who are complex and fully developed characters; they're not cookie-cutter in the slightest. Isn't it funny how that's such a high praise, for what should be a really low (nonexistent) bar? Studio Ghibli handles themes that I find are rarely addressed in Western media. It can also be said that the more worldly films outside of the U.S. handle much heavier themes; they are not prone to the pitfall that is the need for a happy ending like in the U.S. "Spirited Away" handles complicated themes of struggle and doubt, while also maintaining the spell of such an elusive and intricate setting. 
As a self-declared, writer, artist/animator-in-progress and cinephile, I think "Spirited Away" is a prime example of what storytelling and film-making are all about. This film has something for everyone to enjoy and relate to. When I was sitting in the audience of complete strangers, I noticed there was no one demographic, it was people of every age. That's when you know you've got something good, when it transcends the idea that age is just a deciding factor of a demographic. "Spirited Away" is a wild, colorful ride from start to finish. It is a transformative journey is inspiring and has the perfect blend of humor and drama to keep it interesting. Even now, I laugh as I always have, I tear up more than I used too and the film continues to blow me away every time I watch it.
Ghibli Fest celebrates Studio Ghibli's famous filmography by playing a random shuffle of a select number of their groundbreaking work every year since 2017. Ghibli Fest 2019 has two more films left before the year concludes, leaving "Princess Mononoke" at the tail-end of November and lastly "The Tale of Princess Kaguya" for December. For fans old and new, the young and the nostalgic, these are beautiful and wholesome films you don't want to miss.