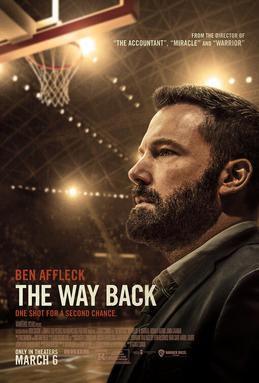 It's a pretty rare thing not to see a sports drama such as this one drop into theaters almost every year. Whether they are true stories of determined coaches and their underdog players or portraits of broken individuals battling their own demons on whatever playing field they call their own, these films often hold some kind of emotional resonance with audiences both young and old. Be it a love for the game or a deeper connection with those facing adversity, sports dramas have ingrained themselves into the world of cinema as one of its most successful sub-genres. Not unlike its latest product in Gavin O'Conner's "The Way Back," the sub-genre also tends to yield iconic performances from its leading stars. For the leading man of "The Way Back," Ben Affleck, however, it was a memorable on-screen performance undeniably tinged with real-life struggle. 
Jack Cunningham (Affleck) was once a famed basketball prodigy for his high school team. Leaving the game behind despite the admiration it gained from his neglectful father, Jack opts for a life of menial labor as a construction worker, quickly falling into bad habits including alcoholism. When he is approached by Father Devine, the priest from his old high school, who asks him to step in as the new basketball coach, Jack is reluctant but eventually agrees. As he begins to train the team of young players, who have been suffering from a major losing streak, Jack confronts his past with the game and with his ex-wife Angela (Janina Gavankar). While the team improves, Jack's old habits begin to creep up as his crippling addiction threatens to dampen his new purpose as a coach.
Perhaps more than it was the average and all-too-formulaic underdog story, "The Way Back" was at its core a tale of recovery and redemption. As its peripheral story told the story of a struggling basketball team in desperate need of someone to whip them back into shape, the film quickly displayed Cunningham as the basis for the film's theme of overcoming adversity. While many actors of star Ben Affleck's caliber have traversed similar paths in their careers on-screen, hanging their personal emotions on their sleeve to offer raw and meaningful performances, Affleck may just be the best at it. With the actor's not-too-distant past as an alcoholic injecting itself into his role, he brought to Jack Cunningham both a somberness and a rage that felt all too real sometimes. His heartbreak and anguish, as his life spirals out of control when it seems things are beginning to look up, cemented Affleck as the perfect actor for a role such as this. 
While sports dramas are surely not my favorite sub-genre in film, often tackling familiar subjects in familiar ways, witnessing a team of young, naive players being slowly molded back into shape by such a brash and self-destructive coach was compelling enough to make "The Way Back" a worthy addition. As the players sought the guidance of their coach both on and off the court, it was at times both fascinating and frustrating to see Affleck balance the incredible weight of saving his players and saving himself. Despite the film's story and direction dribbling along the same lines as past examples, its focus on one individual's deep connection with the game and the role it serves in bringing them out of the darkness in their lives allowed "The Way Back" to become something more.