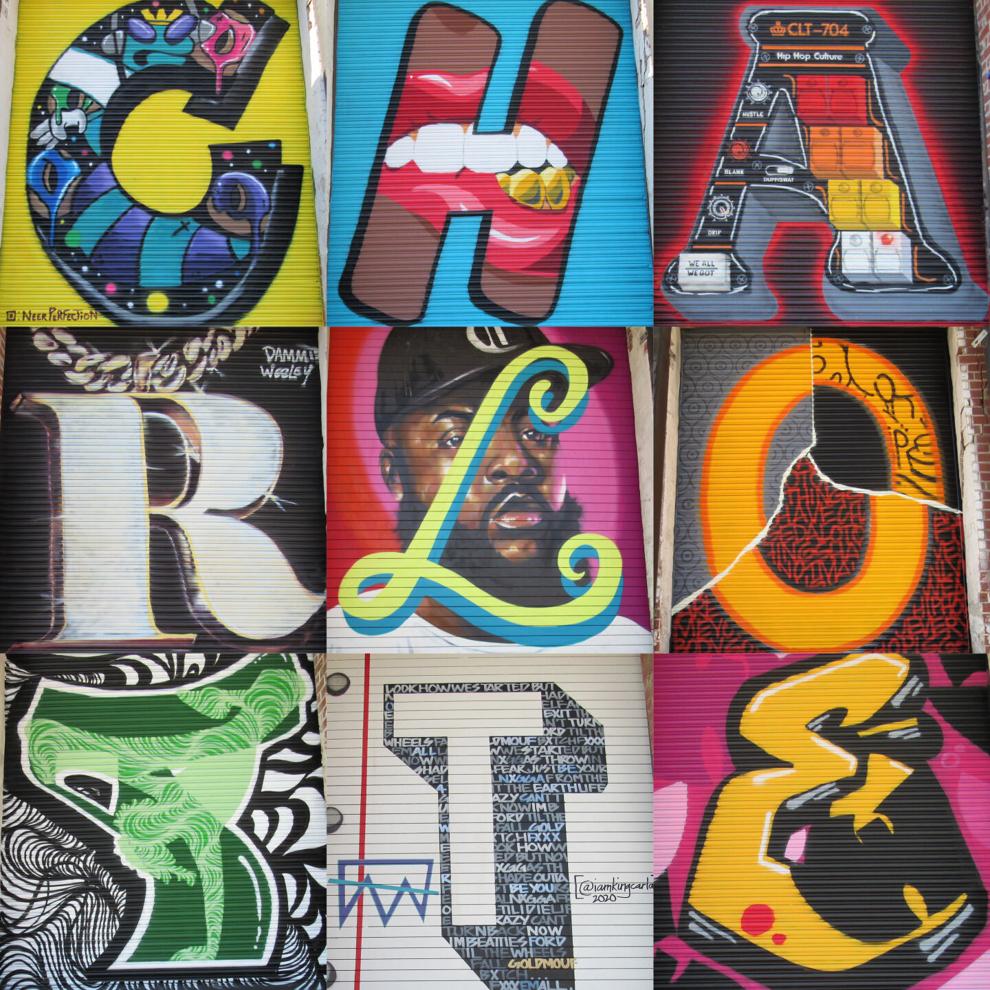 Various key players in Charlotte's artistic community have come together to unveil the city's first spelled-out letter mural titled "We Are Hip Hop" at Camp North End.
The imposing artwork was produced under the direction of Charlotte creative Bree Stallings and presented by the Blumenthal Performing Arts as "an ongoing celebration and recognition of local hip-hop culture and talent." It features the work of 11 prominent Charlotte artists who bring their interpretation of hip-hop culture from private to public in Charlotte's arts community.
The mural and its official November unveiling are predecessors of the "We Are Hip Hop" festival, a four-day event with performances and installations by hip hop artists and dancers, DJs, spoken word poets, graffiti artists, and more. It is set to kick off in January 2021 at the Blumenthal's Booth Playhouse.
"We spent a lot of time brainstorming and thinking, and one of the words we came up with is that hip-hop is collaborative," Stallings explains. "It's about making things that would've usually happened inside and bringing it outside so b-boying out on the streets, tagging up trains and doing all this other stuff. It's about making the private public and talking about these things and being loud and proud about it."
Originally conceived as a response to murals in other metropolitan cities such as New York City, Chicago and Atlanta, "We Are Hip Hop" plays a part in Stallings' vision of putting the Queen City on the main stage. 
"We're not just a mini-Atlanta or Raleigh on the rise. We are Charlotte, and we have this identity space where we're growing from a smaller to a bigger city and what we are sewing into is what sticks so it feels really exciting to be a part of that narrative creating what will become landmarks," Stallings said. 
Highlights of the mural feature tie-ins to rap on the national and local levels from the Wu-Tang Clan to Charlotte MC Elevator Jay. It includes tributes to native rappers that reflect the city's profound culture. King Carla's 'T,' for example, pays homage to famed Charlotte rapper Lute's songs "GED" and the J. Cole and DaBaby-assisted "Under The Sun." She said the latter song is anthemic to the city. 
A reenvision of Surf Mitchell's portrait of Elevator Jay by Stallings also brings attention to the roots of Charlotte's ever-expanding hip-hop movement. "It's going to draw people toward his music because they are going to look at it like 'who is that guy,'" Mitchell explained. "He's a well-known artist within our city, and that's good publicity for him."
"We Are Hip Hop" showcases artists' connection to the city, hip-hop and their craft on a multitude of levels. CHD:WCK! seamlessly reconstructs his 'O' as a metaphor for the art of sampling in hip-hop and correlates lyrics from Mos Def's "Fear Not of Man." On the other hand, Frankie Zombie's 'E' is heavily symbolic of his upbringing in the Bronx, NY, and he used his contribution to "talk some things through."
"I use shades of pink to pay respects to Breast Cancer Awareness month," Zombie explained. "My mom was diagnosed with stage four breast cancer and she's still fighting right now, so it was just a moment where I can pay my respect and support the Breast Cancer awareness movement and let them know we have their back. People that are fighting, people that are still fighting, and I'm letting them know we have their back 100%."
Several creatives behind "We Are Hip Hop" also contributed to Charlotte's lauded Black Lives Matter mural back in June, including Dammit Wesley, 2 G's, OWL, CHD:WCK!, Frankie Zombie, and Marcus Kiser. A co-owner of prominent Charlotte art studio Blk Mrkt CLT, Dammit Wesley believes that these murals will change the game in how city developers view and invest in public art. 
"I think this mural specifically is going to encourage more artists and more businesses to acknowledge that public art is good for business," Dammit Wesley detailed. "I think Charlotte will probably see all the hard work that these artists are currently doing to bring national attention to the city and maybe rally behind them and make sure in the future that there is allocated funding behind them to help artists create things to actually highlight the city in ways that they can't."
The mural spotlights a heavily-entangled bond between Charlotte's hip-hop community and the city's growing presence as a world-class city. Several of its artists discussed what they envision the mural's impact will be on the Queen City. "Jobs, opportunities, I think Charlotte should be another jewel in the southern crown of hip-hop," artist and Queens University educator Mike Wirth explained. 
"This is the first mural with Charlotte spelled out and we did it under hip-hop which is something that's not normal for Charlotte," DeNeer added. "You know, I think we're a little bit more slow, so we're bringing out that other cultural side we have because it's hidden deep."
Regardless of what the impact "We Are Hip Hop" has on the Queen City, exposure is encouraged. "I see a lot more music videos being shot in this location, that's how I see it," King Carla said. "Own it, remix it, make it yours. That part would be super cool because art can't only be made for preservation. It should be celebrated."