A scratched record skips along the Temptations' "Ain't too Proud to Beg." Its owner, the strong-willed but soft-hearted Chelle (played by Erika Rush), gets up every time it skips and starts it over. She sits on a couch in front of three large, beautiful posters: one supposedly represents a fist of the boxer Joe Louis, another shows a woman with an afro and the caption "Power and Equality" and a final of Malcolm X accompanied by a quote about truth and justice (an excellent set design, overall, by Tom Burch). 
These sounds of Motown opened up the Department of Theatre's first production of its 2019-20 season, an equally funny and tragic "Detroit 67" by the TONY-nominated playwright Dominique Morisseau, directed by guest artist Ron McClelland. The piece was performed in the Black Box Theater of Robinson Hall beginning Sept. 27. 
Chelle and her brother Lank (Derrick Jones) live in their parents' old home in Detroit (a.k.a. Motown). To make ends meet and provide for Chelle's son, who's studying at the Tuskegee Institute, Chelle and Lank host parties in their basement, complete with lights and a bar to sell drinks. Most importantly at these parties, there is space to dance and music to dance to -- record player willing.  
Helping with the underground club are Sly (Xavier Stinson) and Bunny (Akeela Sy'mone), the confident and goofy friends of the siblings who help to recruit customers and set things up. Sly and Lank like to do things their own way, sometimes to the dismay of Chelle who oftentimes gets left in the dark. For example, in one of the first scenes, Lank and Sly bring home a new music box: a cassette player, an innovation which Chelle doesn't trust. Chelle and Lank bicker about the need for a new appliance and the amount of money allocated to it. There's only so much of their parents' inheritance to go around. Nevertheless, Lank puts in a tape and the smooth sounds of soul relieve the tension. All members present start to groove to the music and things are forgiven (for the time being). Unfortunately, broken records and sibling quibbles will become the least of the family's troubles when the infamous Detroit Riot of 1967 breaks out between African American residents and white police officers (the riots left 43 people dead, the majority of which were black). And even before then, when Lank and Sly end up rescuing and bringing home a beat-up and blacked-out white girl named Caroline (Jocelyn Cabaniss) whom they find helpless in the street. 
"Detroit 67" was a well-executed, entertaining and profound performance. The play was a "staged reading workshop," meaning not all lines were memorized but were allowed to be read from scripts which the actors held in-hand throughout the performance. To my surprise, the scripts rarely caused any sort of distraction or disruption: the actors were professional in their use and seemed to know most of their lines by heart anyhow. All of the actors were energetic and convincing, particularly Rush (who played Chelle) whose character's expression ranged from playful attitude to sisterly affection to all-out anger and grief. Rush was effective in portraying all of these emotions, both in monologue and dialogue.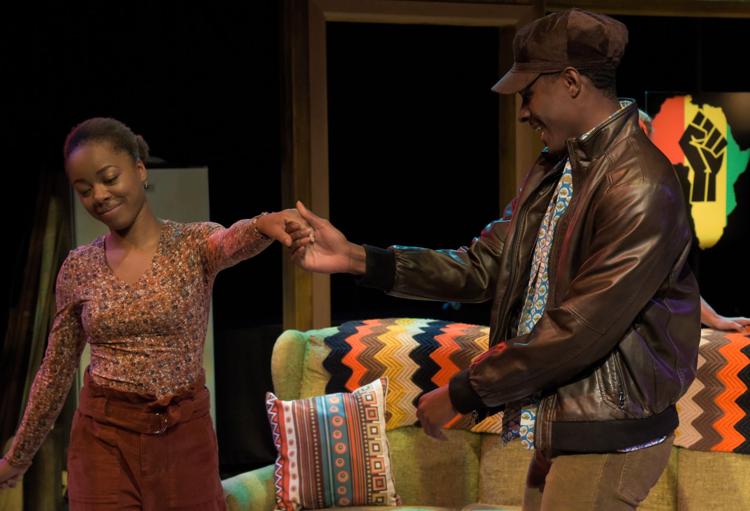 While the actual riots stay pretty much in the background of the play (some characters participate but the audience never sees the riots), race definitely remains at the forefront. It's not all that the characters talk about -- they discuss relationships, the Vietnam War and music, among other things (sometimes in earnest and sometimes hilariously, like when Bunny refers to Smokey Robinson, saying, "That Smokey'll make you throw ya drawls on stage"). But as African Americans (during anytime, but especially during the turbulent 60s), their race governs the extent to which they live and thus remains a constant topic of conversation and, obviously, conflict. 
"I'm tired a bein' treated like trash," Lank says at one point in passing. "I can think of a whole lot more need to be cleaned up on these streets than us," he says. "They wanna clean somethin', why don't they clean up them pigs that come down here droppin' that dope off on the corner?" Sly responds, referring to dirty cops that have been transporting drugs to neighborhoods under the radar. The incessant police suspicion of and brutality on African Americans, particularly at this time and in Motown, makes it close to impossible for Sly and Lank to make any kind of progress, financially, let alone just walk freely on the streets. As for Chelle and Bunny, "ain't no kinda chivalry in them ass whoopins. Men. Women. Don't seem to matter."   
(That being said, men and women do get treated differently in society and Chelle and Bunny address some of these issues as well. Chelle and Bunny discuss the trials of black women, from being labeled 'streetwalkers' just for walking alone after nightfall to racist and unachievable white beauty standards. At one point, Chelle speaks to Bunny about the way she feels black men look at white women, like white women are more valuable and worthy of affection than black women. She sounds not only angry about the injustice but truly hurt and almost heartbroken.)
Throughout the uncertainty and tragedy of the play and just as in the beginning, music remains a constant. It isn't just background noise; it's a necessity for the characters. Sometimes they need to dance; sometimes they need to mourn; sometimes they need to relieve anger. No matter the reason, the music is there and is an active piece of the plot as well as member of the cast. Just like for the city for which it was named, Motown is part of the story and the people, whether smooth and sexy or all scratched up. 
"Detroit 67" will continue through this Thursday, Oct. 3. Tickets are free for all College of Arts and Architecture majors, $8.00 for all other students, $12.00 for faculty/staff and $18.00 for the general public.