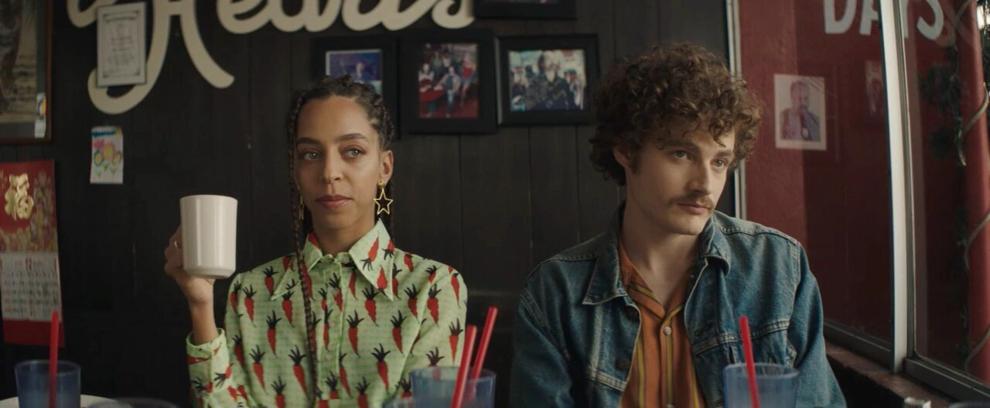 With festivals like Tribeca, we're always going to get some sort of romantic comedy. However, instead of a typical "meet-cute" romantic story we follow a couple, Mark (Ben Rosenfield) and Mary (Hayley Law). Together they come up with the decision to try out an open relationship. While I won't spoil what leads to that decision, what follows isn't exactly what you'd expect. This is in no small part due to the naturalism that director Hannah Marks is able to get from her performers. The natural quality helps a rather convoluted idea become something that is much more than the sum of its parts.
Rosenfield and Law, as our lead performers, are given the opportunity to be much more than the standard "boyfriend and girlfriend." We're given time to see how they fall in love but still have their own hopes and ambitions. The essence of this idea comes from a place that doesn't feel like it's manufactured. What brings the characters to this point of wanting to explore an open relationship is a rather natural realization. Since the film is only 90 minutes long, their romance is never given any sort of padding. We meet them, see their attraction, then quickly understand why the idea of an open relationship manifests itself. It's a rather organic process that makes for an enjoyable watch.
The real breakout here is the script by Marks, as well as the direction the film takes. Lots of people are going to call this a look at a "messy" modern relationship. There's no denying this relationship is far from perfect. It's more than that. Seeing these people navigate an open relationship but deeply love each other shows it is a deeply rooted relationship. Mark never belittles us with the notion of polyamory being a bad thing. It's a rather bold notion that lets her stars be absolutely front and center, which is a blast to watch. Letting her stars be front and center works especially well with the numerous actors she has in supporting roles.
With a story like this, each character has to have the obligatory "group of friends" to vent to. Odessa A'zion, Sofia Bryant, Matt Shively and Nik Dodani make the most out of rather thankless roles. However, they're never given anywhere near the character depth or personalization that our leads are. Whereas when you have seasoned comedic actors like Lea Thompson, Gillian Jacobs and Joe Lo Truglio in a scene piece, they steal every moment. Even if they don't add much to the overall story, it was quite impressive to see the control Marks has over her cast.
"Mark, Mary and Some Other People" is a fun but simple film, because it isn't anything audiences haven't seen before. In terms of that romantic, R-rated comedy genre, it doesn't spread its wings to the point of originality. It's because of this that it may feel somewhat slight in the overcrowded romantic comedy filmography. What it shows is that Marks as a filmmaker, has a lot of promise for handling more raunchy material. For something like Tribeca, who gives newer filmmakers an outlet, that may be all a film like this needs to accomplish.
As my first film of the festival, It's hard not to be charmed by the movie's subtleness of its subject. We are given some hard R gags, but they don't take away from this couple's palpable and real chemistry. It's nice to see that since many films of this same ilk lean too hard into one thing over another. Where the surprise with "Mark, Mary" really works is within its unexpected finale. As an audience, we're given a sort of honesty that most studio films would never even touch.
Rating: 6.5/10