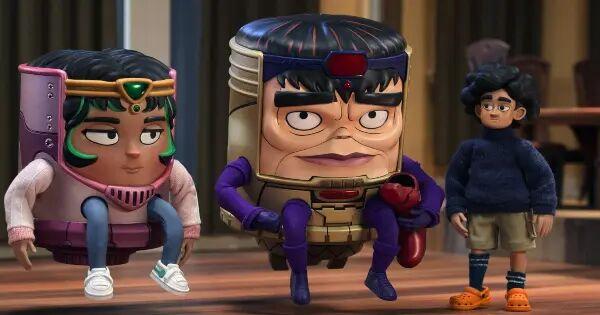 In the entire MCU comic lineage, M.O.D.O.K just might be one of the strangest characters. Can a giant floating head and evil super-genius make for an interesting ten-episode half-hour comedy? Leave it to a known fan of the character, comedian Patton Oswalt, to develop an idea so strange that it works. We follow the megalomaniac M.O.D.O.K as he tries to balance running his evil organization "A.I.M" and his family. If you're not familiar with the lore of the crazy megalomaniac M.O.D.O.K as a character, then this may not be for you. Including just how he got to be a giant floating head. 
I'll be the first to admit that I didn't know much about this character's origins besides being a villain to the Avengers. Because of this limited knowledge, some of the jokes didn't land as easily as intended. There's obscurity that Oswalt, one of the show's creators, is trying for that just doesn't work. With that being said, when a reference was recognized, it was thoroughly hysterical. This is largely due to the talented voice cast that has been assembled. 
Actors such as Aimee Garcia, Melissa Fumero and Ben Schwartz as M.O.D.O.K's family steal every moment they're on screen. This also includes sequences with M.O.D.O.K at "A.I.M" and his numerous interactions with his coworkers and henchmen. Wendi McLendon-Covey as fellow "A.I.M" scientist Monica and Sam Richardson as right-hand man Gary are quite funny. All of these secondary characters open the door to some very clever and smart references that both fans and non-comic fans will love. There's a clear amount of ridiculousness on display here that makes for all-around thoroughly entertaining content.
Filmed with the same sort of clay-like figures in "Robot Chicken," this is the sort of show that knows what it wants to be. It's very clearly a parody of the sort of content we expect from Marvel as a franchise. We do get to see some familiar characters like Iron Man and some rather obscure characters like Wonder Man. If you haven't seen or read who plays these parts, I'm going to recommend going into it blind. Half of the fun in watching "M.O.D.O.K" is simply trying to guess who will show up next. Oswalt is this character, and watching him interact with a cavalcade of others makes for some great moments.
The same could be said for Schwartz as the magic-obsessed son Lou, who has one of the season's funniest episodes. It's these sporadic but incredibly funny moments with characters that help "M.O.D.O.K" from being a complete disaster. If anything, you can see them experimenting with different jokes and ideas that can hopefully grow in future seasons. That may not say much about this first season, but it's quite easy to see the potential in some of the easter eggs being laid. Even if all of those easter eggs don't work in the way they were intended to.
"M.O.D.O.K" is a thoroughly interesting comedy show concept that seems a bit skittish in reaching its true potential. While there are many references and easter eggs, the familial drama/comedy is what I considered to be the best. You care about this family and the hijinks they're involved in making for some pretty solid comedy. Even though we've seen this sort of drama before, the superhero setting still gives it a solid amount of freshness. If they can just push the boundaries a bit more in additional seasons, a good season could turn into a great series. 
Rating: 6/10
Watch The Trailer Here: https://www.youtube.com/watch?v=oSEWdhHBlYU