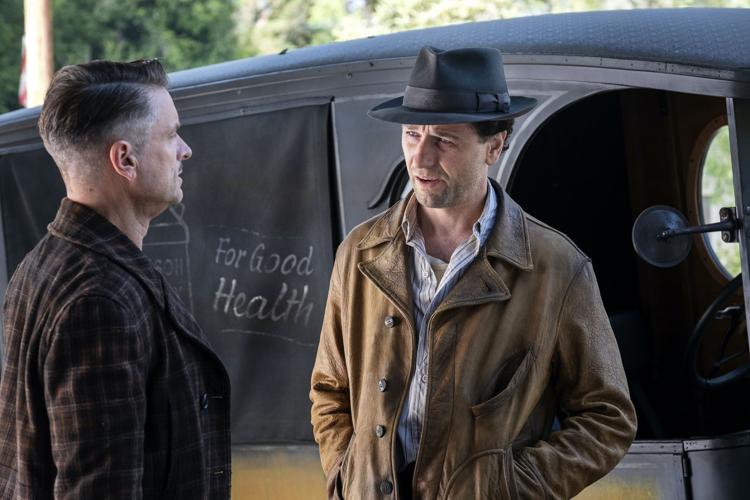 After a rocky start, Perry Mason is finally putting a story in motion by giving us new details on our titular character as well as meeting some new ones. This episode starts with us meeting evangelical church leader Sister Alice (Tatiana Maslany, Orphan Black) as she leads a sermon that eventually leads her to fully supporting the Dodson family (the parents of the child from the pilot) both morally and financially. The sub plot of this episode follows police officer Paul Drake (Chris Chalk, "When They See Us", "Detroit") who stumbles upon a gruesome crime scene that may or may not involve Mason.
What this episode showed me, especially after the first left me a rocky impression, is that the tension is in the details. Learning aspects about the Dodson's personalities and personal trials and tribulations does more than just move the story along. We are able to learn more about Mason as a character in this process and some of those details really stuck out to me. One particular detail involving a military "blue ticket discharge" a type of military discharge strictly for removing homosexual members from service. This sets up an interesting idea for where the character of Mason could go in later episodes. Besides seeing intense sequences in his warlike past, this "blue ticket" could be seen as trying to be politically correct as to today's modern culture, but I see it entirely as something else. What this one detail is doing is taking a possibly "dated" character and modernizing him in an effective way.
Where my issues in this episode really lie, are in the number of reveals and twists viewers are saddled with. "Chapter 2" does a lot right in terms of moving the plot forward and giving us moments to learn about our familiar and new faces. It's just that around the 45 minute mark, five possible twists and turns occur that are a bit overwhelming to take in. That's not to fault any of the cast in these sequences—Stephen Root plays attorney Maynard Barnes trying to pin this murder on the parents with charming villainy—but the number of twists don't seem to have a proper place. Each one certainly never dulled my enjoyment in this episode, it just feels as if there's a lot to take in.
My issues in this episode are small but have most to do with the subplot involving character Drake (Chris Chalk). I am going to simply say that Officer Drake goes on an investigation that may just involve Mason in one of episode 1's most violent scenes. It's an interesting idea to throw our protagonist into an investigation of his own, but it just feels unnecessary for anyone involved. For myself as a viewer, I find the subplot to distract away from the aspects I'm interested in the most. With this, a story of a brutal case and the psychological toll it takes on the detective's is something I find fascinating— that's why another HBO show, "True Detective'' is one of my all-time favorite shows.
"Chapter 2" of Perry Mason is definitely a huge improvement over Chapter 1. We aren't focusing on uncomfortable humorous jokes, but building up the world and these characters. Now that certainly means that brutal moments do indeed happen, but it moves the plot forward. Moving this plot forward made for an exciting second episode, it's just a rather large adjustment compared to what we saw in the first. I can't wait to see what's in store for our titular character and this episode proves there's still a lot to uncover.
Rating: 3.5/5