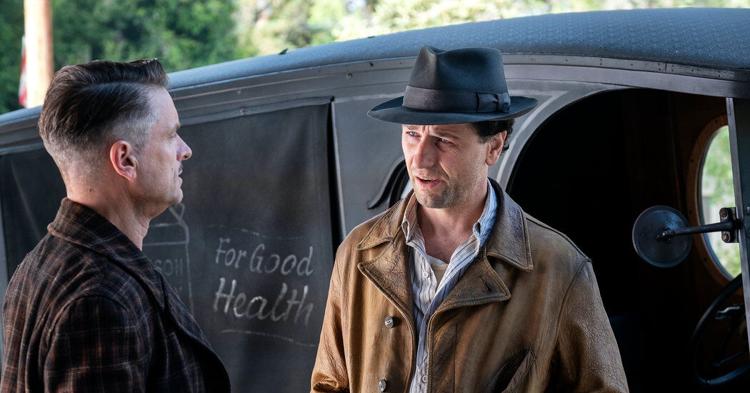 We're officially over the halfway mark in this "Perry Mason" reimagining and what we get this week puts us where we expect with this character. That isn't necessarily a bad thing, but it almost feels as if the breaks were pulled to take fans where they wanted in episode one. This episode follows the aftermath of E.B's suicide and the hunt made by Della and Perry to try and find new Representation for Emily. Meanwhile, Emily and Sister Alice continue with a slow forming familial bond while Officer Drake navigates the changing world of 1932. What's frustrating about those details of nothing really moving forward.
Like I mention every week, that has nothing to do with the terrific group of actors that make up this show. The problem here is that we don't really learn anything that we didn't already know or didn't already figure out for ourselves.  A sequence of Perry taking time off the case to go and visit his son comes off as overly dramatized and heavy handed. Plus, a sequence involving Dodson at the graveyard of her son with sister Alice comes off as more cliched and heavy handed over the impactful tone it tries to have. 
The highlights of this episode, while not as many as I would like, definitely help in keeping this episode's head above water. When this show is given the room to breath and teach us more about the unique characters (such as Sister Alice), it shines brightly. Moreover, this episode also contains one of the more moving sequences involving Della and Mason going to visit E.B's son. While actor Ian Lithgow (son of John) eerily sounds like E.B., the emotion shown here is quite powerful and feels honest. That honesty is such a refreshing take for this show since the noir-type moments overtake some more serious drama. Even some of the political and lawyer-based intrigue is quite interesting, such as D.A Barnes planting a mole in team Mason.
However, the thing that I can't quite nail my feelings on in this episode would have to be the arch of Mason. After five episodes of the downtrodden P.I., we finally start to see the phases of the infamous attorney Mason come to form.  While the elements of this process include under-the-radar meetings, assistant D.A Hamilton Burger (who's gunning for Barnes Job) become effective scenes of learning the lawyer practice, the real punchline comes from the scale of this case. Burger tells Mason "People in the D.A.'s office are scared of this case," which teases audiences about the importance of Mason becoming the character many fans know. 
While the idea of what's to come, with Mason becoming who audiences know is quite exciting to see, it just feels a little monotonous in the process of how that works. That's certainly not to anyone's fault in the involvement of the show, it's just that once his scene with Burger is finished nothing really lands the way it should. Much like I talked about in earlier episodes, this is a show that seems to be doing a lot of table setting for future events. I am eager to see Mason in the courtroom and do enjoy the minutiae of getting there. I just can't help but wonder if this show doesn't know where the line for too much minutiae is. 
Rating: 3/5