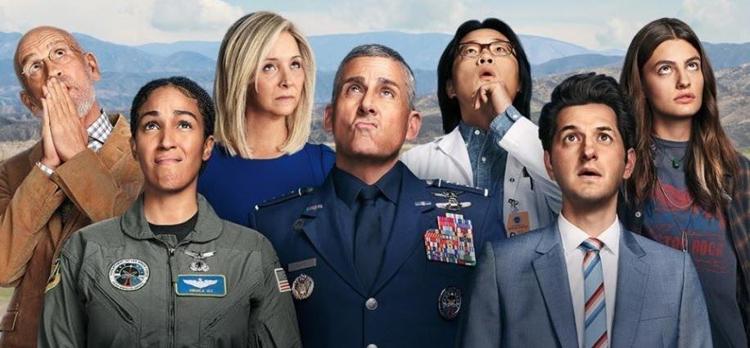 What began as a hardly subtle parody of the sixth branch of the United States Armed Forces proposed by President Donald Trump in 2018, Netflix's latest comedy series, "Space Force" is now one of the streaming service's top trending shows in the U.S. That is partly due not only to the people behind the show, "The Office" alums Greg Daniels and Steve Carell, but also the slew of funny actors headlining the series -- including Carell, John Malkovich, Ben Schwartz, and Lisa Kudrow. With such an ambitious crew behind the project, a ten-episode peek behind the curtain of what the newly-minted military branch might be up to, it is easy to see the series as a gold mine for a brilliant mix of brazen political commentary and sharp humor. That gold mine, however, might have been far too dry to mine anything from the start.   
Acting as a light political satire on what's currently happening within the American government, "Space Force" had the potential to shoot for the stars so to speak, and touch on the eccentricities of a slightly absurd new branch of government set within a hauntingly-comical administration based hauntingly-close on our own. Masked as a half-hour workplace comedy, the series never reached that far, quickly settling into a cycle of placing dimwitted characters in increasingly dimwitted situations involving the trials of bringing a new crew of astronauts to the moon. At the center of it all, the bickering duo of a blind-sided military commander and the noble scientist just trying to keep things from boiling over.  
The series kicked off by introducing a hefty amount of characters right from its first episode. From leading military man General Mark Naird (Carell) and his lead scientist for the branch Dr. Adrian Mallory (Malkovich) to the numerous supporting characters either at Naird's side or those sighting him in their crosshairs. On either side of the spectrum, few performances stood out aside from Carell and Malkovich, together holding most of the series up with their mix of fevered debate and occasional almost-brotherly banter. As the series presented a slew of running storylines involving Naird's complicated family situation, including his rebellious teenage daughter (Diana Silvers), his incarcerated wife (Kudrow) and his nearly-senile father (a wonderful performance by the late Fred Willard), most of them took a backseat to the daily nuisances at Space Force Headquarters. The show briefly touched on the relationship between pilot-turned-astronaut Angela Ali (Tawny Newsome) and Space Force scientist Dr. Chan (Jimmy O. Yang). As well as the former's quick interaction with Naird's directionless daughter Erin, but they didn't play out to anything that felt anywhere near satisfying.   
Rather than providing fleshed-out characters or any resolved plotlines for that matter (they fail to even mention what Kudrow's character was even arrested for), the show prioritized its endeavor to lift off towards the moon, highlighting more frequently the evident dysfunction and just straight bureaucratic absurdity of its titular government facet. The series dealt out a conflict-of-the-week with Carell and Malkovich's characters as the sole players equipped to solve it. However, they can't fully succeed without interacting somewhat with the bureaucracy that employs them. Fairly quickly, the parallels to our own government came into view.
As Naird unwillingly stumbled into the hot seat as Space Force's Chief of Operations, at the behest of the unnamed but easily tempered President of the United States, the equally hot-headed general sparred with the likes of public relations director F. Tony Scarapiducci (Schwartz) and New York congresswoman Anabela Ysidro-Campos (Ginger Gonzaga). Fairly obvious to those who have kept up on the news since 2016, the show took its small shots at real-life individuals like Anthony Scaramucci and Alexandria Ocasio-Cortez. With these individuals standing in their way, along with a bumbling Joint Chiefs of Staff made up of comedic actors from Jane Lynch to Patrick Warburton, Naird and Mallory must defuse their situation of the day in order to prove the branch's effectiveness. That doesn't go without a few mishaps along the way, from sending a space chimp to repair a satellite to nearly enacting outer-space warfare with China. 
While the situations General Naird and his team find themselves in during each episode might escalate fairly quickly in the show (the Space Force and the Air Force duke it out in a highly underwhelming and extensive episode of "capture the flag"), the series itself remained mostly tame in its critique, or at least display, of a dysfunctional administration akin to the one under President Trump. The show presented an almost parallel dimension in which the characters interact with a familiar governing body and combat significant scientific hurdles. But the ranks of authority and bureaucracy easily blur behind the will of whoever is speaking the loudest. Perhaps, in that way, it's not too far off from our own. 
In conclusion, if you're looking for a series in the vein of workplace comedies like "The Office" and "Parks and Recreation," "Space Force" may or may not be your cup of tea. Its awkward comedic pauses rarely land as they should, its many characters often meandering around searching for a laugh in the most difficult places. While it offered a handful of potential for a second season, which could correct some of the pacing and writing issues, you will have to bear with a rough take-off of Season 1 first.
"Space Force" is now streaming on Netflix.