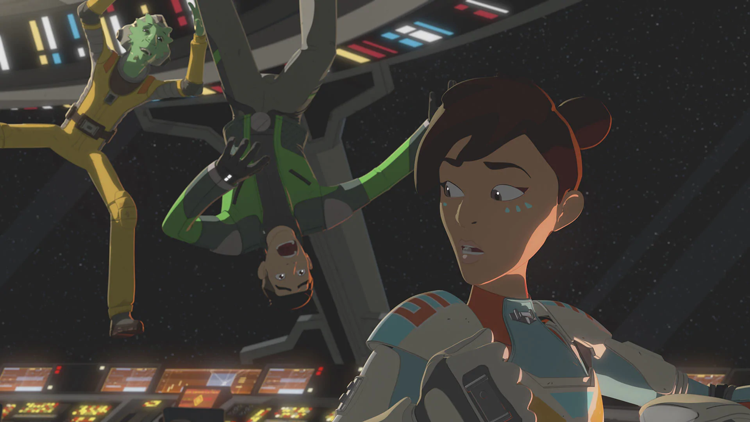 Warning: Spoilers for all of season one of "Star Wars Resistance" follow.
"Star Wars Resistance" is finally back from the summer break with its second and final season. You read that right, the second season of "Star Wars Resistance" will be its final, but a bit more on that at the end. The season premiere picks up right where the season finale left off, with Kaz (Christopher Sean) and the people of the Colossus coming out of hyperspace and Tam (Suzie McGrath) officially joining the First Order.
Now out of hyperspace, the crew of the Colossus finds themselves not too far from the Resistance base on D'Qar, but not without some hefty damages instilled on the moving space station itself. Kaz, Torra (Myrna Velasco) and Neeku (Josh Brener) are tasked by Captain Doza (Jason Hightower) to fix the station's artificial gravity and long-range communication systems. Meanwhile, with the First Order, Captain Phasma (Ellen Dubin -- unfortunately no Gwendolyn Christie back for this season) commands Commander Pyre (Liam McIntyre) and Agent Tierny (Sumalee Montano) to track down the location of the Colossus. Thankfully for them, they have Tam on their side now who can help lead them to her former friends. Accepting her role, Tam fully dedicates herself to the First Order, signified by a pretty sweet Tie pilot outfit.
Of course, Kaz and company can't simply fix the gravity and comms without any obstacles. Leftover from the First Order's occupation towards the end of last season, an evil BB unit stands in their way. The rest of the episode is solid, with enough action and intrigue to set the stage for the rest of the season. My favorite bit of the episode is CB-23 facing off with the evil droid in ball-on-ball action.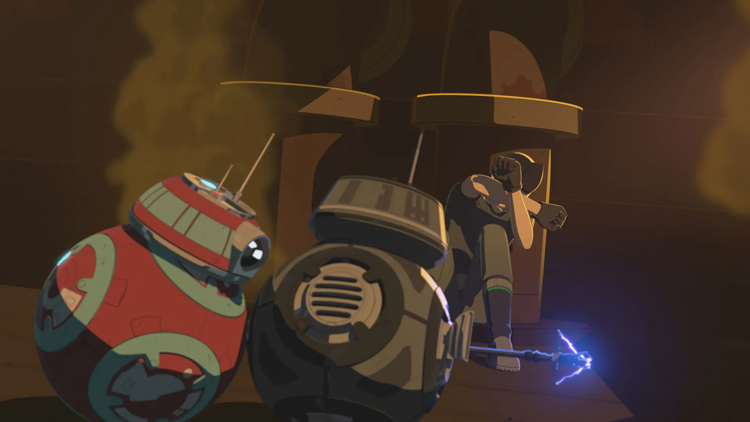 As was consistent with last season, the animation style is as vibrant as ever. Despite losing Castilon's bright blue ocean, the show remains solid in its visuals. This episode dealt with the dark quite a bit, so the use of lighting and shadows was particularly impressive. My favorite shot was a horror-esque frame of CB-23's detached head floating away from her ball-body in a dark hallway. There was some fun animation as well in Aunt Z's (Tovah Feldshuh) cantina with the gravity off, as patrons "swam" around gleefully chasing their floating drinks.
In terms of characters, nothing too much was different with Kaz given how little time has passed since the finale, as he remains his confident-yet-clumsy self. Tam, on the other hand, continued in her darker shift towards the First Order, completely rejecting any attempt made at getting her back. I'm quite confident she will be back on the side of good by the series' end, though I would like to be surprised.
Overall, I found this episode to be a sufficient premiere for "Resistance's" final season. Ths show is said to be ending after this second season because of how close it is getting to Episode IX, and apparently it will end right in the leadup to it. Some may say it could be due to poor reception, but I really believe that the showrunners' reasoning is the case. There is a lot to be explored in "Star Wars," and I am happy that Lucasfilm won't drag out a show longer than it needs to go on and will instead give it a full and satisfying story. Still, I will be sad to see the series go. That being said, we still have 18 episodes left and you can expect a review for each one here. If you are a fan of the sequel era or past animated series set in "Star Wars," then now is as good of a time as any to jump in. You can catch the next episode of "Star Wars Resistance" when it airs next Sunday at 6 p.m. on Disney XD.