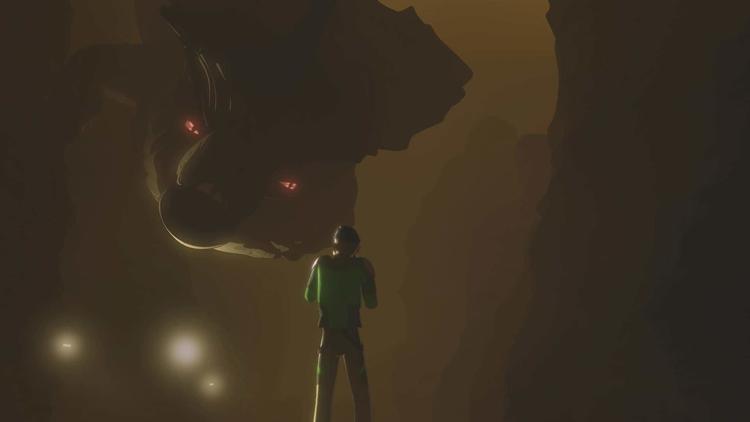 Warning: Spoilers for "The Engineer," "From Beneath" and prior episodes of "Star Wars Resistance" follow.
"Star Wars Resistance" is settling into a solid groove now in Season Two. Both of these latest two episodes, while not without their flaws, deliver exciting adventures for Kaz (Christopher Sean). Moreover, they give more screentime to characters who definitely deserve it.
"The Engineer"
At long last, an episode focusing around Neeku (Josh Brener) has finally arrived. The Colossus continues in its barely-scraping-by passage through space, essentially waiting for a miracle. The crew at the helm intercepts a mysterious distress signal and Kaz goes off to find its source with Synara in tow. They come across Nena (Meghan Falcone), who, like Neeku, is of the Nikto race. Nena quickly makes apparent her skills as a mechanic and hits it off with Neeku, who completely bypasses her suspicious persona with his good-intentioned trust of everyone.
Needless to say, Nena and Neeku's excellent epairs of the Colossus don't last for long before Nena's true intentions of siphoning the ship's power are discovered. While not directly with the First Order, Nena leads them to the Colossus floating in the middle of space without power for credits. This segment was probably my biggest issue with the episode, as it ends pretty similarly to "A Quick Salvage Run." The FO is led to the Colossus; Kaz and company desperately try to solve the Colossus' mechanical failures before doing so just in the nick of time into hyperspace. Now, I know I am probably hyper analyzing an animated series a bit too closely, but usually, Lucasfilm has handled its series in solid ways without hiccups in the plot. That said, there were positives to take away from the episode.
One thing, as I stated at the start, is this episode gives the spotlight to Neeku finally. Neeku, while a bit naive, has a truly-good interest for others at heart, which makes him stand out in the cast. It does get him into trouble with Nena, but Kaz reminds him at the end that this quality of his is what makes him special (once again, a very wholesome ending which I love). I expect we will certainly see more of Nena down the line, as her relationship with Neeku is something that I hope to see more of. Hearing both of them explain their backstories was touching, primarily Neeku's; his bantha herder (not an insult in this case but occupation) parents sold their prized-calf so that Neeku could pursue his dream of technology. Also, it is neat to point out that Neeku's voice actor is married to Nena's in real life, which gives their relationship in the show a little more context.
One more interesting takeaway from the episode is the pirates and their uneasy situation on the Colossus. When Nena frames them for stealing power, Captain Doza (Jason Hightower) and his associates are ready to take the excuse to kick them off. Ultimately Kaz figures out their innocence and reconciles with the crew. I think it is a good characterization that while the Kragan's (Gary Anthony Williams) pirates are indeed pirates, they are not without a moral code.
"From Beneath"
While this episode is my least favorite of the two, it accomplishes something similar to "The Engineer" by shedding more light on lesser-seen characters in Flix (Jim Rash) and Orka (Bobby Moynihan). The episode is also one of the first of the series, at least in my memory, to start straight into an action set-piece.  Kaz, Torra (Myrna Velasco), Flix, Orka and CB-23 travel through the stormy atmosphere of a planet in search of Flix's relatives who mine for fuel. Meeting his cousin Flanx (Paul F. Tompkins), it is apparent Flix did not leave his family's business on the best of terms. They, of course, agree to a deal for fuel, so the group heads deep into the mines despite warnings of "quakes."
Quickly the episode descends into a giant-alien-creature-extravaganza, something the series seems to have an infatuation with (see this season's "Hunto on Celsor 3" or last season's "Bibo"). Not that I am complaining, because the design for the Karnex Dragon is pretty darn cool. Essentially Kaz, Flix and Flanx deal with the family of beasts down below while Orka and Torra get back to the ship to escape. The action here is well-done, which in part is thanks to the lighting for their location. The mines themselves also seem very Kessel-inspired from "Solo." I have never touched on it before, but Flix's species, the Gozzo, design is extremely cool. Based on Ralph McQuarrie's original designs for Ewoks, the Gozzo stocky-build-but-long-legs is almost unsettling but I still dig it. Just another example of how "Resistance's" art style is absolutely on point in their creature design.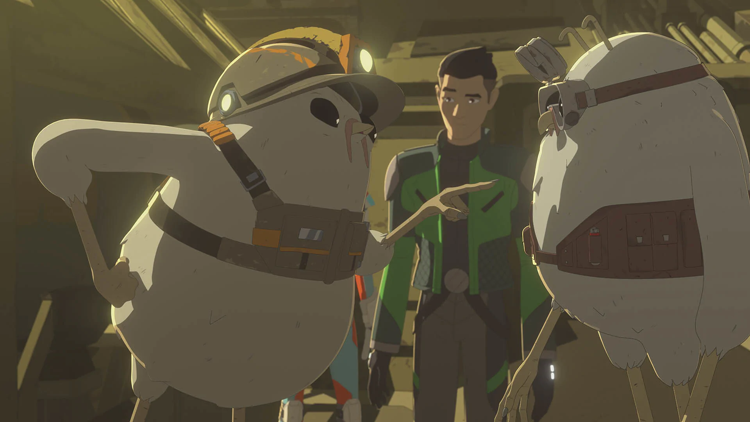 These two episodes are not the best yet from "Resistance," but they certainly are not the worst either. Both serve a clear purpose in shedding more light on Neeku and Flix & Orka respectively, helping me to get further attached to these characters. "The Engineer" was easily my favorite of the two though, and I am anxious to see what more we'll see of Nena and her relationship with Neeku by the series' end. You can catch the next episode of "Star Wars Resistance" for yourself when it airs next Sunday at 6 p.m. on Disney XD.