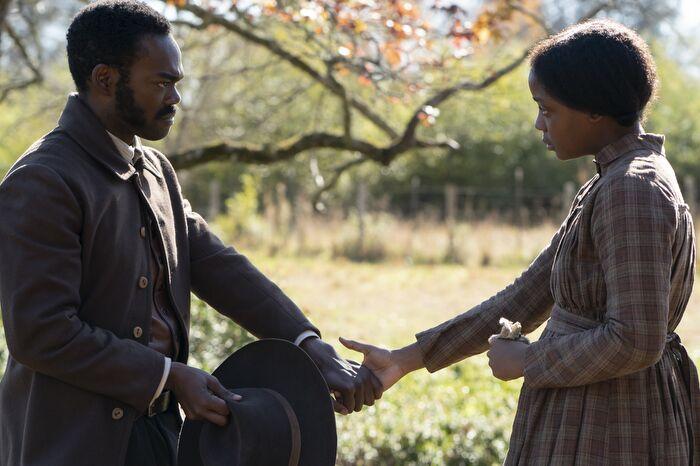 Shows like Berry Jenkins's "The Underground Railroad" remind me of the power of film/television as a medium. Based on Colson Whitehead's novel of the same name, it follows an alternative history where a young slave named Cora (Thuso Mbedu) escapes from her plantation. In her fight for survival against a slave catcher named Ridgeway (Joel Edgerton), she discovers a network for slaves known as "The Underground Railroad." This is the sort of television that really gives audiences a lot to chew on. From both a visual and thematic sense It's the sort of show with numerous substantive details.
Jenkins has spawned an early rising career of tackling stories with a meaningful subtext. Stories like "Moonlight" and "If Beale Street Could Talk" took simple notions of race, identity and sexuality and became something even more substantive. In the ten-hour television format, his best creative elements become something so much more. Every single episode plays out like a beautiful painting we're having the pleasure of witnessing. Following Cora in her fight for survival, we get a view of this world that's ripe with pain. On both sides, we get a clear understanding of what makes them believe the cause they're fighting for is the just one. It's a powerful way to let us as an audience sympathize with the people during such a horrific time. 
The success of such heavy material is also thanks in part to the cast being assembled. Mbedu as Cora has one of the absolute toughest jobs besides making this character feel authentic. She has to make us believe in the hope for a better future, which she does so gracefully. Ridgeway is someone who in the wrong hands, could've been more than a walking cliche. In the hands of Edgerton, he isn't someone who's a downright villain, but someone who's broken by the world around him. His only sort of humanity and peace comes in the form of a young boy Homer (Chase Dillon). As a young slave who Ridgeway freed, it makes for a fascinating parallel to Cora's story. 
This dual web of morality is something that really makes this material pop. Jenkins seamlessly shows us these two worlds without having them ever feel manipulative. There's a real honesty on display here from the combination of both the performances and cinematography. In the ten-hour runtime, it feels as if we're getting a mirror into a piece of history we only ever read about. These sort of stylistic decisions help for a viewing experience that allows us to learn more about the characters. Some will consider this choice to be slow, but we're allowed as an audience to live with these characters in actuality. Living with them includes going through both the great and horrific moments, making for quite a compelling watch.
Having the chance to have seen the show over a month ago, It's one I simply can't get out of my head. It's a real testament to those both in front of and behind the camera, because the length is never felt. There's never a moment that feels preachy or manipulative and ends up being honest and real. By the time we reach the season's epilogue-like conclusion, it feels like the journey has come full circle. This is the rare television show that thoroughly rewards viewers who are willing to go along for the show's darker and more tense moments. I haven't seen a show like "The Underground Railroad" before and am so happy that there's content out like this.
Rating: 10/10 
Watch Trailer Here:  https://www.youtube.com/watch?v=_Pq5Usc_JDA