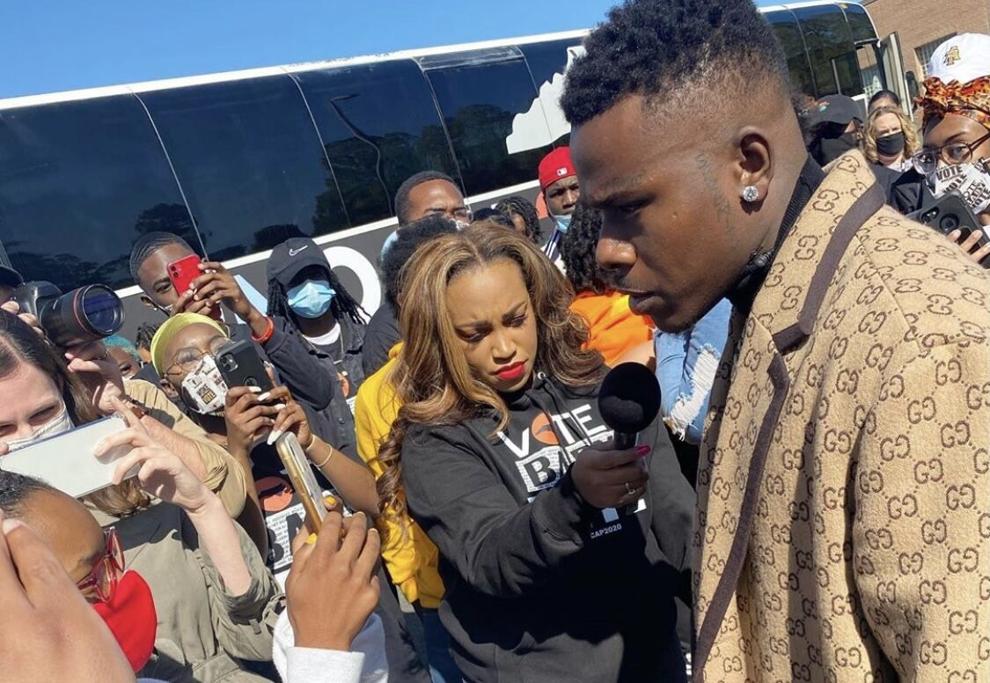 On this election day, No Cap 2020 hosted a pop-up event, "Vote, Baby, Vote," at multiple polling sites in Charlotte, which featured rapper and Charlotte native DaBaby encouraging Charlotteans to do their part in the election.
The organization partnered with Lyft to provide one free ride to the polls and fans to polling sites in Charlotte including Mallard Creek Elementary, Hidden Valley Elementary and the University City Regional Library via charter bus. Their efforts were aimed at getting the rapper's devout fans out to vote.
When asked what he would tell individuals who weren't sure if they were going to vote, he told QC Metro, "If I had time to catch them before the day was over with? Get your ass to the polls."
Fans of the rapper came out in droves in hopes of placing their ballots. Many of the event attendees were first-time voters, including 21-year-old Jomaurie Rodman who is a big DaBaby fan. 
The crowd had the opportunity to meet up with the Grammy-nominated rapper and event organizers as they spent the better part of an hour listening to music, dancing and flicking it up at polling sites.
No Cap 2020 organizers also handed out t-shirts and additional gear to attendees. One of the event's co-hosts and organizers, media personality Ally Lynn, said DaBaby was excited to encourage his fans to vote.
"Baby said he wanted to hit ten places but we had to tell him like Baby, relax, we gotta have time to travel," said Lynn. "It's been pretty cool because he's made like a scavenger hunt out of this, but that's baby, always over the top, always doing the most, but it's for a good cause."
In the midst of racial unrest following the deaths of Breonna Taylor, Ahmaud Arbery and George Floyd this year, Lynn also expressed how important it was to the rapper that he made his voice heard in this election.
"He's [DaBaby] taking a really big stand on social justice. So with everything going on, from the George Floyds to the Ahmaud Arberys to the Breonna Taylors, like now is the time more than ever to use his platform," said Lynn.
Makid also spotlighted that every vote counts in this crucial race.  "Know the power of your vote. The power of your influence. That Black lives been mattered, all lives mattered, right? All of us," said Makid. "We need everybody to get out here and vote. But I can speak to my community. Black lives matter. Your voice matters."
DaBaby was scheduled to make an additional stop at Garinger High School's polling site, but his "Vote, Baby, Vote" event was cut short after his brother, Glen Johnson, died from a self-inflicted gunshot wound earlier that afternoon according to TMZ. The University City Regional Library was his last stop; however, he learned of this news before he could get out and speak with voters.