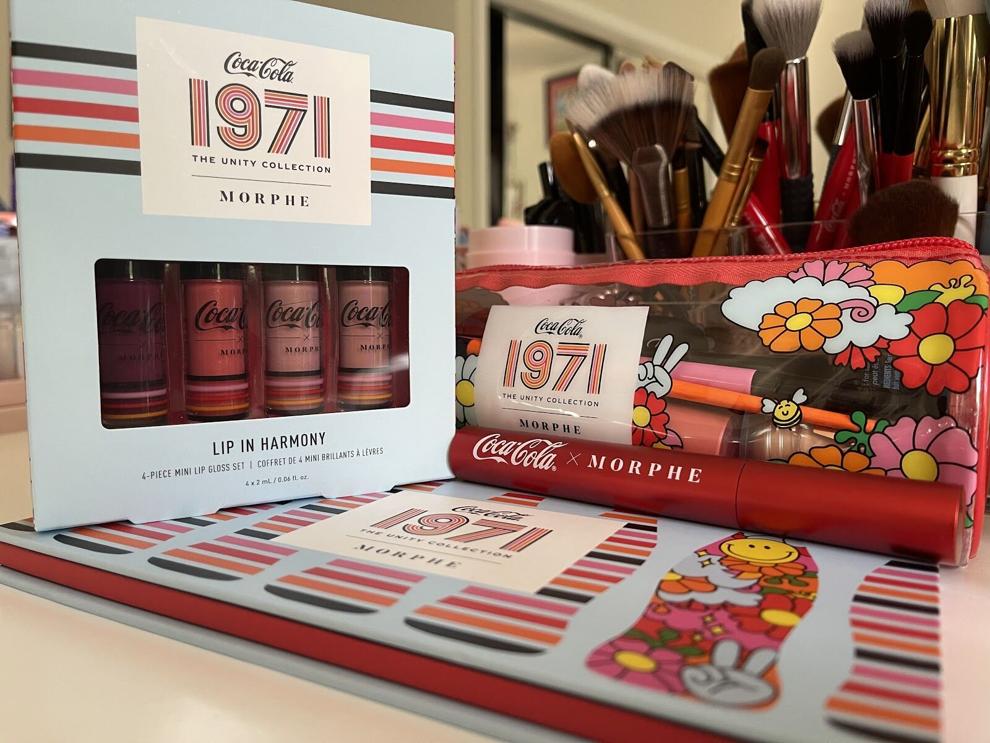 Morphe has collaborated with Coca-Cola again, and this time they released a summer makeup collection. Its name is the "Coca-Cola 1971 The Unity Collection". It is meant to highlight the fashion and makeup trends of the 70s. 
LIP GLOSS
There are four shades: Perfect World, Join Voices, Full of Hope and All The Feels. Perfect World and Join Voices are nude shades and add a subtle gloss to one's lips. All The Feels is the boldest color from the set and is perfect for making a statement. My personal favorite is the Full of Hope lipgloss. It is the perfect medium between a neutral and vivid color. They smell like vanilla and swatch beautifully. 
EYESHADOW PALETTE
Awe Together palette follows the theme on the cover with the bright blue background and the Coca-Cola bottles. There is one bottle that stands out as it is composed of the overall 70s theme. The palette consists of 18 colors and 11 of them being glitters. Half of the palette has neutral tones, and the other half has pastel colors. I had to layer the colors in order for them to show, so a good eyeshadow primer is needed for the colors to show. They do blend pretty well and create a smooth, finished look. The color 1971 pops out as it's a periwinkle color, and I had not seen that yet in an eyeshadow palette. 
EYE BRUSHES AND MAKEUP BAG
Sweep the Peace brush set comes with five brushes, and there are three that go along with the color scheme of the collection. I was a little disappointed because the previous collaboration collection that Coca-Cola had with Morphe came with eight brushes. The brushes work well for applying and blending the colors. It was a limited range of brushes but 
The bag was transparent and round, which was covered in flowers consistent with the collection. It is spacious enough for trial-sized items. It is also convenient to store eye brushes and other thin makeup products. Since it is clear, it allows you to see what is in the bag. 
MASCARA
Make It Big volumizing mascara did precisely that. It added much-needed volume to my lashes and did not clump. It did not harden my lashes in the way I thought it would. The brush applicator did not compare to others because it was thick and heavy. A skinny or flat comb wand applicator would allow for a much smoother application and spread the lashes evenly.