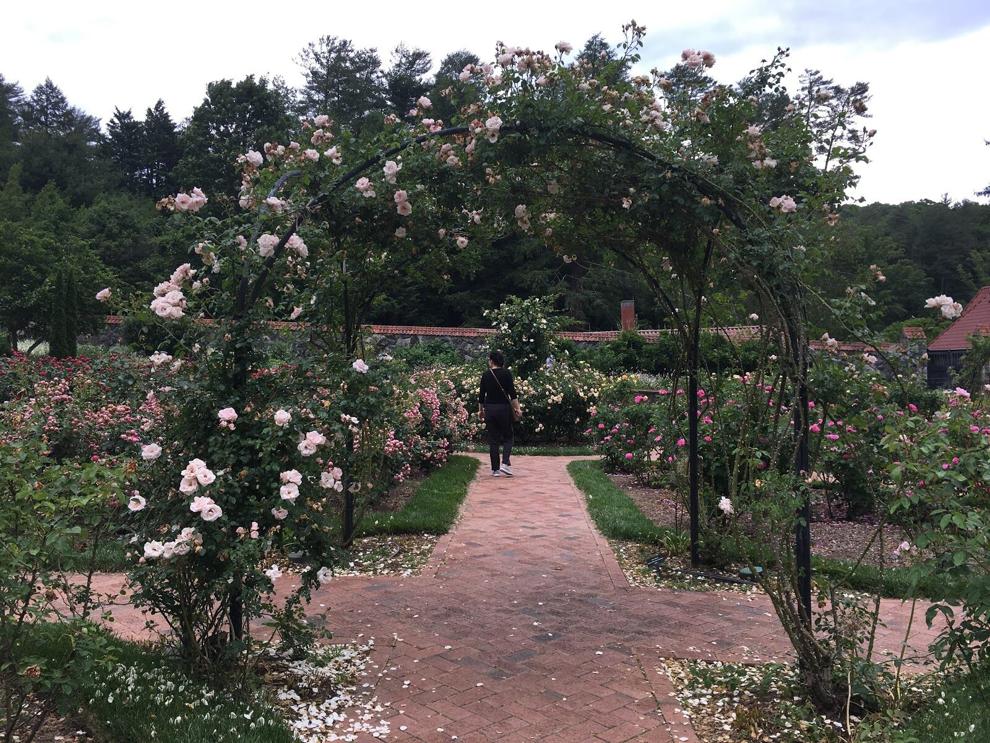 Biltmore Estate in Asheville, North Carolina, was built in 1895. It has beautiful gardens and vineyards that one can tour. There are also guided tours offered for the inside of the estate where you can learn more about George Vanderbilt, the mansion's original owner, and his family. It is a fantastic choice for a day trip, anniversary or birthday celebration.
The Front Lawn
The crisp straight lines and the two shades of green are so aesthetically pleasing. It is a pleasant introductory path to the gorgeous estate; it's one of the first things that attract you. However, I would highly recommend not wearing any open-toed shoes or flat sandals because the grass will get itchy. You can get a perfect view of the mansion from there and can see the garden and food court area peaking around the sides of the mansion. 
The Mansion
At the mansion's entrance, the winter garden brings a little bit of the outside beauty inside. There are options for a guided tour, or you could explore the mansion by yourself. With the guided tour, you will learn more about the history of the mansion and its owners. It was exciting and engaging, but if you decide to do a self-guided tour, you will be able to maintain the mystery of the estate. There was also a beautiful library that I still dream of having one day.
The Gardens
Nothing compares to being surrounded by nature, by so much greenery and flowers. There are so many different kinds of flowers of all colors that paint a beautiful image to capture the estate. There are bound to be many bees and other flying insects with all the flowers around, but they are minor inconveniences compared to the view. There are So many possibilities for Instagram-worthy pictures with the flowers wrapped around the arch or the vine-wrapped pergola. 
The Rooftop View
Everything is better when you see it from the rooftop. From this point, you can see all the surrounding ground and gardens around the estate. You can see the colorful gardens looking like a work of art, dotted art almost. You can see how the trees flow endlessly through to the mountains. The air feels crisp and refreshing, drawing you into a state of serenity. To stand on top of a vast and historical mansion is surreal.
The Food
Honestly, some of the food options for restaurants available on the property were expensive. It will be an option if you want to splurge on food for an anniversary or special occasion. I preferred the Courtyard Market; it had pretty good choices and was not too expensive. The outdoor seating is refreshing on a beautiful sunny day and conveniently close to the gift shop area. The Bake Shop and The Biltmore Dairy Bar are also good options for sweet treats. I loved having these options as a date location; it kept the experience light and happy.