It can be easy for college students to get wrapped up in the stress of school, work and other commitments we have going on. However, there are some inspiring and devotional books out there that are quick daily reads which can significantly help lift your spirits.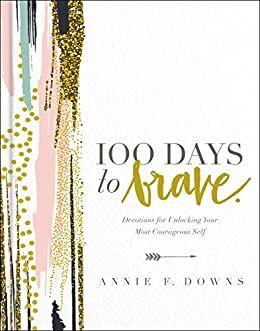 100 Days to Brave by Annie F. Downs
I can speak from personal experience that this book is amazing. It is a great book for dealing with anxiety and fear, personal growth, difficult changes and growing in hopefulness. Downs uses the 100 days of her book to help readers realize and discover how brave they are and that they are stronger than they ever thought possible. In her book, Downs tells personal stories about her own relatable struggles and experiences. She also includes inspiring quotes and prompts for how to practice the advice she provides. Each day's devotional is short and sweet, making it an easy read for college students. By the end of the 100 days, you are sure to feel more empowered and braver than you ever imagined.
Jesus Calling by Sarah Young
Like many of the other devotionals, "Jesus Calling" is a short daily devotional that will inspire you and give you strength for your day. Filled with scripture, words of hope and encouragement, and the opportunity for meditation and reflection, this book is a New York Times bestseller because of how many people have come to love it. There is a page for every day of the year, which can be really exciting and inspiring.
The Lipstick Gospel Devotional by Stephanie May Wilson
Stephanie May Wilson's devotional is 90 days long packed into a paperback book with a beautiful cover. Like "100 Days to Brave," in her book Wilson touches on maintaining faith even during times of uncertainty and transition. Wilson also adds a positive aspect to her devotional by encouraging joy and delight in your everyday life. "The Lipstick Gospel Devotional" also uncovers feeling truly beautiful and confident in your own skin.
Live Fearless by Sadie Robertson
Bestselling author and star on "Dancing with the Stars," Sadie Robertson writes about "a call to power, passion and purpose." Robertson's devotion is geared towards her generation, which consists of young adults, as she tries to explain that you don't have to be held down by your anxiety, fear and loneliness. She discusses finding the joy in yourself to become the best version of yourself and live a fulfilling life. "Live Fearless" is somewhat interactive, too, as its pages hold places to jot down notes, lists and practical ways to make changes, and inspirational thoughts on how being fearless can change everything.
College: Real & Relatable Devotionals for Every College Girl by Jordan Lee Dooley
College is amazing, but it can be easy to get wrapped up in classes, the social scene, and other things that sometimes we forget to try and grow ourselves. This devotional is written for all college students and can be great for groups or the individual. Specifically targeted to college students, this book focuses on many relevant situations students may find themselves in and offers the opportunity for growing your faith in college. For those seeking encouragement, this is a great text to check out.
Note: Most of these books can be found on Amazon or other bookstores.