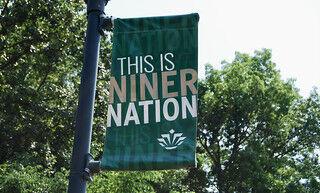 As a result of implications caused by COVID-19, UNC Charlotte has determined students will be allowed to elect Pass/No Credit (P/N) for up to three undergraduate courses for the entire academic year (fall, spring and summer), allowing no more than two per semester term. 
Per the University's email sent out to students on April 22, a form to make any necessary grade changes will become available in Banner Self Service. According to the article, "UNC Charlotte Academic Policy and Procedure: Grading," students may complete their courses and review their letter grades before deciding whether or not to request High Pass (H), Pass (P) or No Credit (N) grades. These H/P/N elections stand in place of standard grades for any spring 2021 course. The email from April 22 has an instructional video that describes how to navigate My UNCC to make any desired grade elections. 
This replacement option will not impact students who do not wish to make any changes to their grades. Students will be allowed to maintain their assigned grades should they wish to.
The grading of spring courses will conclude on May 19, allowing the grade election form to become available starting May 20 through June 1. It is advised by the University for students to thoroughly review their grades as well as consult their advisors before submitting any alternative elections. Should any final course grades not be posted by May 19, students should contact their instructor.  
Exceptions to this grading method include but are not limited to circumstances such as not applying to courses at the graduate level, withdrawn courses, courses in which students have been given a grade penalty for an academic integrity violation and students that have exhausted their eligible elections for the semester or academic year. An extensive list of the exceptions can be found on the University's "Grade Elections" website. 
Jonathan T. Reece, University Registrar, described how the evolution of the decisions regarding grading policies was a collective effort between administrators as well as students. "No single office or individual is responsible for the policies and/or their implementation. This was the greatest example of Forty-Niners coming together for the greater good," said Reece. Reece included how the decision to offer this alternative grading process helped to ensure students would remain on track.