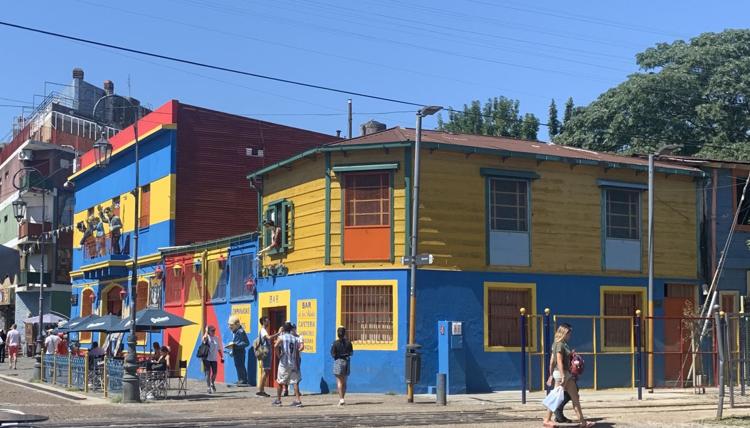 My senior year of high school, I hosted an exchange student from Buenos Aires, Argentina named Agustina, or Agus. We formed an instant connection and by the time she returned to Argentina, Agus and I were practically sisters. That was in the fall of 2018. I had been wanting to see Agus again since the day she left North Carolina, but with conflicting school and break schedules, it was hard to find a time. 
Luckily, this spring break served as the perfect opportunity as I was off of school and it was summer in Argentina so there was no school. I flew alone, which made me a bit nervous, but it was fine. My trip to Argentina was one of the best experiences of my entire life. It was amazing to see my "sister" again and I absolutely adored her family and friends as well. While we only had one week together, we packed each day full and did so much. 
One of my favorite days was when we went into the city of Buenos Aires. Agus and her family live in Tigre-General Pacheco, which is about an hour from the main city. We arrived around 10 a.m. and didn't leave until 8 p.m.. Me, Agus, her parents and a friend (another exchange student who had come to NC who I had befriended) went on a bus tour throughout the city. The bus was a double-decker bus with no roof so we got a great view of the sights. Also, passengers are provided with headphones that can be switched to many different languages, so I was able to listen in English about the sights we were seeing. It was nice because we would get off the bus every so often and explore the areas at that stop. Then we hopped right back on the bus and continued the tour. Keep in mind we spent 8 hours in the city and yet, after looking at a map later, we realized we had only seen a small portion of it. Buenos Aires is enormous.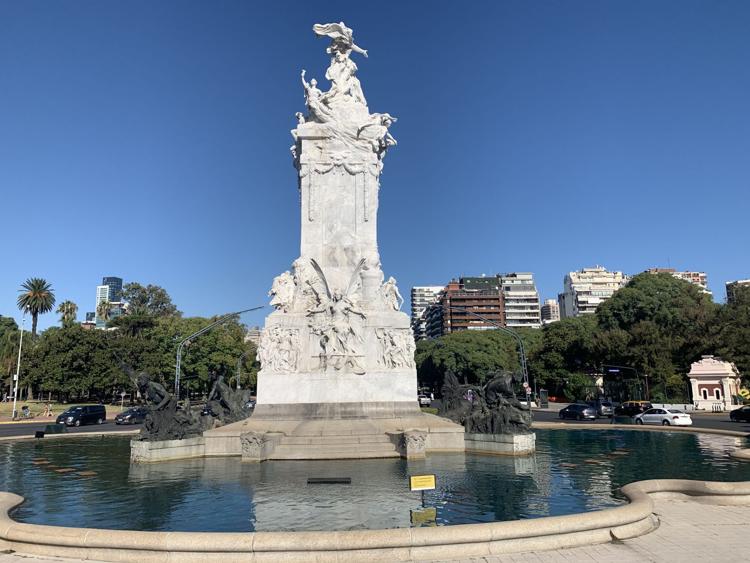 In the city, we saw the location of Plaza de Mayo. Mothers of the Plaza de Mayo gather there each Sunday morning to campaign for their children who had "disappeared" during the military dictatorship. We didn't see this protest happen, but we saw artwork of photographs of the weekly gathering. We also saw the Plaza Congreso where the Argentinian Congress building is located. Some other areas of the city we saw were San Telmo, Boca, Caminito (an area featuring a lot of art and traditional and colorful buildings), Parque Lezama, Puerto Madero, San Nicolas, and Retiro. We saw historical buildings such as the Teatro Colón and a cathedral, the Puente de La Mujer in Puerto Madero, traditional tango dancing, markets, the river, and so much more. The city is beautiful. 
We then visited Palermo, where we saw the city's huge planetarium. We went to Plaza Holanda which features a stunning rose garden and lake. It's a very big park, but we walked around for quite a while because the sights were breathtaking. Agus's family has a boat at Rio Primero, a nearby river in Tigre. So, one afternoon, we took the boat out for a ride and got to see some great views from the water, including the Buenos Aires skyline. 
From "tea times" with mate and pastries to traditional Argentinian meals of asado and milanesas to desserts packed with dulce de leche and frutilla, the food did not disappoint. It's different though because in Argentina, people eat 4 meals a day: breakfast, lunch, a tea time meal, and a late dinner. I found the food in Argentina to be much more filling than in the US; the food was very rich. Also, in the US there are a lot of sweets and candies, but in Argentina, the only dessert I ever really saw or ate was with chocolate. Even in the airport, I couldn't find Sour Patch Kids to take on the flight with me. 
I have taken Spanish since kindergarten, so I expected that I'd be able to communicate just fine on this trip. However, it was much more difficult than I thought. Some of the people said that people in Argentina speak much faster and louder than people in other Spanish-speaking countries and I didn't doubt it. The first day or so, I could barely understand anything they said when they were talking fast in Spanish, but by the end of the week, I could pick up nearly everything no matter how quickly people spoke. I found it much easier to listen to the Spanish being spoken or to read it rather than speaking it myself. I needed help ordering food at restaurants and translating certain words, but overall, I think I did pretty well. One day, I hope to be a nearly fluent spanish speaker. 
I saw many car brands I didn't recognize and most of the cars were older; there were few new models of cars. Also, shopping was very nice for me because the US dollar is so strong in Argentina right now so most things were much cheaper to buy.
This trip was amazing. Everyone in Argentina is extremely kind and friendly, always greeting one another, even strangers, with a hug and kiss. Everyone was so welcoming to me. I got to see so many things in one week as well as bond with my "sister" and her family and friends. It was fascinating to see firsthand a culture that is much different than my own and to also experience that culture. I absolutely loved everything about this trip. It was a bit nerve-wracking to travel that far by myself to a foreign country, but I'm so proud of myself for doing it because I got the best experience of my life by going.