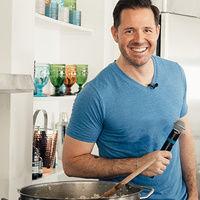 Chadwick Boyd, a figure well known in the food industry for being a guest on Food Network TV shows, his multiple appearances on The Today Show, copious amount of cookbooks, magazine branding, host of "Reel Food," a James Beard Foundation Journalism judge and most notably, his delicious biscuits. But even with all of this esteem, I had actually never heard of him until recently.
Going into his presentation and listening to his speech, I expected to hear about his passion for food, his experiences as a chef and how rewarding it had been. Instead, it was the complete opposite of cliche. It was awe-inspiring. It was motivational. It was relatable. Boyd compares his life story and his climb to success to the main ingredients for biscuits. 
First, there was the base. He was born in Southern Pennsylvania in 1971 to a seventeen-year old high school junior. Chadwick's says his mother Linda "was scared to death because she got pregnant from the boy on the opposite side of the tracks... in rural conservative Pennsylvania." But, "despite all [that] she knew and would endure, she also knew that within her, [she had] this being she would love unconditionally and [who would] love [her] unconditionally back." So she made it her mission for her son to have a great life and "'every single opportunity available' to him." 
She was his anchor and all the experiences, opportunities and memories she provided stabilized him, much like the base of flour within biscuits. Boyd's mother drove him across towns and cities to attend "pottery classes, art classes, acting auditions [and] drafting competitions," all while being introduced "to people with different cultures and cuisines." 
Nonetheless, cooking was most interesting to him. Throughout elementary school, his favorite book was his mother's 1961 edition of the Betty Crocker cookbook for boys and girls. Every day after school, he would race home, and before even doing his homework, he would "pour through all the illustrations and memorize the recipes." By the age of ten, he moved on to the Betty Crocker Adult cookbook and created his first dinner party consisting of "steak diane with twice baked mashed potatoes and peas, served on corelle ware with green curly edges."
Even more so, food was in Chadwick's blood, as he came from a long line of farmers. Thus, there was constant exposure from a family of farmers that have been farming since at least the 1600s. He learned "to feed the community" and create "moments around the table." Every Sunday dinner was time to not just enjoy food but for his "grandfathers and uncles [to] laugh and have joy in their eyes." Chadwick reminisced and marveled at these transformative moments for "seeing and tasting the food [caused the] flavors on the table to come to life." He internalized these moments and felt them move him. It perhaps there within these precious moments, that his passion for food was first cultivated. 
The rise or support in his life was the same as leavening (baking soda or baking powder) in biscuits. Chadwick's grandparents, Claire and Frank, were the secure lift throughout. He states, "they were my greatest teachers in life and they taught me how to cook, they taught me how to create community through food and crafts and they showed me how to lead through example in everything in life." Even though they were connected through Chadwick's stepfather, from the moment they meet, "it was a kismet connection."
His grandmother was a cook and baker and from an early age. She taught him how to "cook, do Thanksgiving dinner for 20-30 people and a multi-course for New Year's Eve dinner." She even gave him and his cousins a pastry board and icing to practice cake decorating in lieu of the coloring books and crayons all parents give their children to keep busy. His grandparents were always supportive, even in all four years of college, where they would send a Hallmark card every week with a dollar inside. They were "betting on [him] and reinforcing their investment in what they taught [him]." Claire and Frank were more than his leavening, they were Chadwick's backbone. 
The other ingredient necessary for biscuits is butter, or the richness that melts within. For Chadwick, it was his education and time at UNC Charlotte. It equipped him with flexibility and introduced him "to working professionals who were also professors." He recalls it was there that his "brain really came alive, in thinking about [his] ultimate profession [and] the applications of the lessons that [he] learned, became more enriching.'' It was "Charlotte's newness as a city center, [that] felt fresh and inviting" and hence excited him for what he could provide the world. It was here at UNCC that his creativity could be nurtured for his "dreams became more hungry."
The last foundational ingredient for making the perfect biscuits is the "light touch and love" incorporated. For him this was The Four Agreements. It gave him a spiritual practice, ability to keep himself grounded and not rush into things. Receiving a book in 2006 by a mentor named Ron Marks it aided him in his grieving process when his grandmother died. After his grandmother had passed, he went to South America for a healing and therapeutic vacation. Reading the book on the plane, he described that, "words just flew off and flew into him as he internalized it." 
One of the Four Agreements became empowering for Chadwick, as it spoke about being impeccable in your work. It reinforced what his grandmother, mother and UNC Charlotte had taught him, and he incorporates this philosophy in his worked every single day. It helps him to trust that his work is going to be "delicious, wonderful and more awesome than he thought it would be". So truly the big question for your success is, what is your flavor, what is your leavening, what is your richness, what is letting go and you take time to bake?