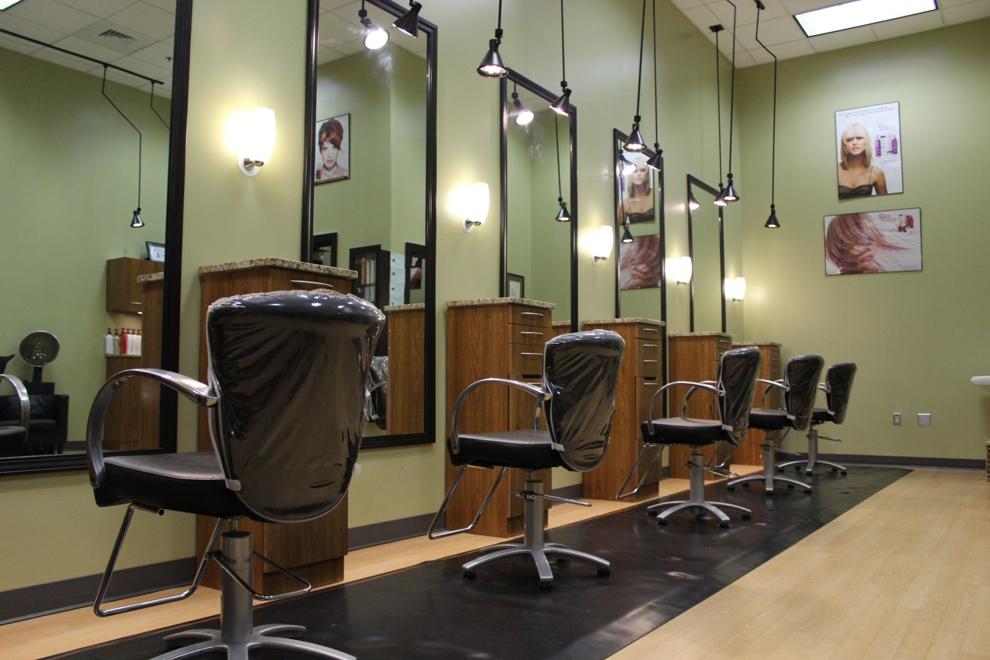 On the first floor of the Student Union, in the hallway beside the bookstore and opposite the Niner Tech office is a secret treasure that many students don't know exists: the campus salon. Established in 2009 with the mission to "provide quality services and products that enhance [their] clients professional and personal appearance, while being well located to benefit campus life," they have been a convenient resource for a while. 
According to the manager and UNC Charlotte alumna Katie Douthwriht, she loves being integrated in the UNC Charlotte community for the youthful and lively atmosphere. She opened the salon with the intention of being able to "do quality and precision work, do all textures of hair and have all walks of life come in." Thus, why all the salon's hair stylists must be professionals able to "do all types of hair, have experience before they can be hired and complete quarterly education sessions."
First going to hair school and then working for the salon across the street, Douthwriht quickly put out a bid after Suzanne Boyd, a professor in the Social Work Department, made her aware that students proposed an RFP for a salon. After winning the bid and being able to open in Feb., the salon became the first independent company to ever be on a state campus in North Carolina. Douthwriht describes the best part of her job as "always helping and making people feel good.'' 
Thank god it is still there today, as it became a much needed resource for me when I cut off half my hair on Labor Day in a hysterical fit from how damaged it was. Bleaching it in Jan. so I could get bright, Barney-like purple hair so I could look like a brown Kpop star was not the best decision. On top of that, my hair type is thick and coarse so it rejects color. The color didn't even last as it horribly faded twice in March and June. Dying it those two times to get a softer berry tone and supplementing it with developer were even more bad decisions on my part. Subsequently, my hair was beyond damaged and the bottom half looked like an electrocuted llama's head. 
My frustration culminated when it was steadily falling out for months. So, after self-pity, hair masks, oil treatments and many tears, I chopped it. Realizing I was not able to layer it properly, even after all guidance from several Youtube videos, I needed the quickest solution: the campus salon. Booking an appointment on Monday and getting a long-layered haircut on Tuesday was perhaps my best hair decision all year. I came back to my apartment fluffing it, trying out different hairstyles and really "gassing myself up." I looked like an actress or a model or even Vanna White. 
Bennett Wall, an employee who has been cutting and coloring hair for ten years, gave me my best haircut. He apprenticed under the manager Katie Douthwritht since about 2011. After working there for so long, he said, "I love it for the accessibility, convenience and the atmosphere being of fast paced and high energy." He wouldn't choose to work anywhere else for the full range of service with "shampoo, cut, style" that he can provide, especially to men's cuts and coloring for different genders. 
But it's not just the employees that feel that way. Professor Suzanne Boyd, a routine client, has much of the same perspective. She keeps going back to the campus salon every four to six weeks for the "excellent customer service, equal treatment given." This is clearly shown with being one of the few salons that provide privacy screening for Muslim clients by dividing the salon in half so they can get their hair done without being seen by men.
The convenience of having available walk-ins, being able to use 49er card for payment, booking an appointment online or in person, having cheaper prices to appeal to the student budget, and validating off campus parking all make the salon a promising option. The salon has even participated in many charity and philanthropy events especially with Charlotte Housing and UNC Charlotte's Rec Fest. All ages and clients, whether off campus or on campus, are welcomed—the oldest client is ninety five years old! 
So if you need to get your hair done, why not go there? Even if you can't afford a haircut, gift certificates raffles are occasionally given for a free haircut. The result may be a pleasant surprise.