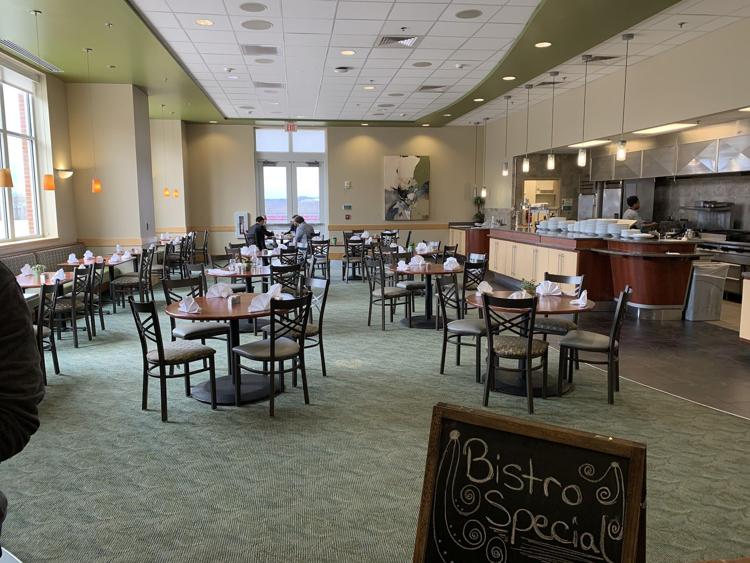 Rating: 4/5
Tucked into a corner between the Student Involvement office and elevators on the second floor, the Bistro 49 offers some variety outside of the hum-drum of student meal plans. This restaurant is a neat option to go to if you want to shake things up, but unfortunately, chances are that anyone you invite to go to the Bistro with will ask "what are you talking about?" 
I myself had only heard whispers of the fabled Bistro 49 for the past semester, from friends and classmates alike. Supposedly there was one such restaurant on the second floor, but I had never seen it (to be fair, I hadn't exactly done a thorough search, though the point stands.) I hadn't tried it until two of my family members suggested that we eat there. "I've never been. I don't know if it's good," I warned before we approached the little corner. 
"I've heard good things," said one of them. Those good things would come to pass. Most of our experience at the Bistro 49, which was inconspicuously marketed as "casual 49er dining," would end up being pleasant surprises instead of disappointments. 
We went around 1 p.m., the latter half of their 11 a.m. - 2 p.m. hours. The interior was nice. It was very similar to any other small restaurant, several tables spread out over a somewhat small but not crowded room, with a peek of the kitchen to the right. The interior color scheme and decorating was so clearly like the rest of the union, yet I hadn't stepped into a dining hall or a conference room. It was bizarrely familiar and still somehow a little different. 
We sat at a table with nicely arranged napkins and menus. I know if you spend most of your time eating rice and beans at your dorm desk or grabbing the same food from dining halls, it might lower your dining standards a little, but I digress. The menu was impressively varied with sandwiches, salads and other entrees despite being so small. Prices varied at an average of ten dollars. 
Service was quick, probably in part because the restaurant isn't that big and because only one other table was full. I ordered seafood spaghetti and made it vegan by switching out the seafood with vegetables. My family members ordered the asian salad and bean burger. I asked about the spaghetti sauce to double-check that I was understanding the ingredients right—I'm not vegan, but I am lactose intolerant—and our waitress didn't seem to be sure of the answer. She assured me she would double check, and I thanked her. While I wasn't irritated that she didn't seem to know the menu, I would caution anyone with dietary restrictions to ask after the ingredients, just to be safe. 
After a few minutes, our waitress brought dollops of something brown on three plates. "Goat cheese with fig," she explained. I poked at it with my fork enthusiastically and curiously. Goat cheese was normally not brown, but I was always ready for something new. 
One of my family members carefully nudged the fig away from the brown glob. She was much more severely sensitive to dairy than I was. Her husband, who was not at all sensitive but instead highly skeptical, poked at it for a while before I assured him it was good. 
We kept chatting so the ten or fifteen minutes we waited for food went by fast. The pasta I'd ordered had zucchini, red and green peppers and spicy herb tomato sauce. I was happy to discover that the "spicy" herb sauce, which I assumed would be solidly average, was actually really good. While I wouldn't call it a spicy dish, it definitely had more flavor than I anticipated. The Asian salad (noodles, sesame, vegetables) was cold but tasty. The most notable thing about the bean burger was that it tasted like beans.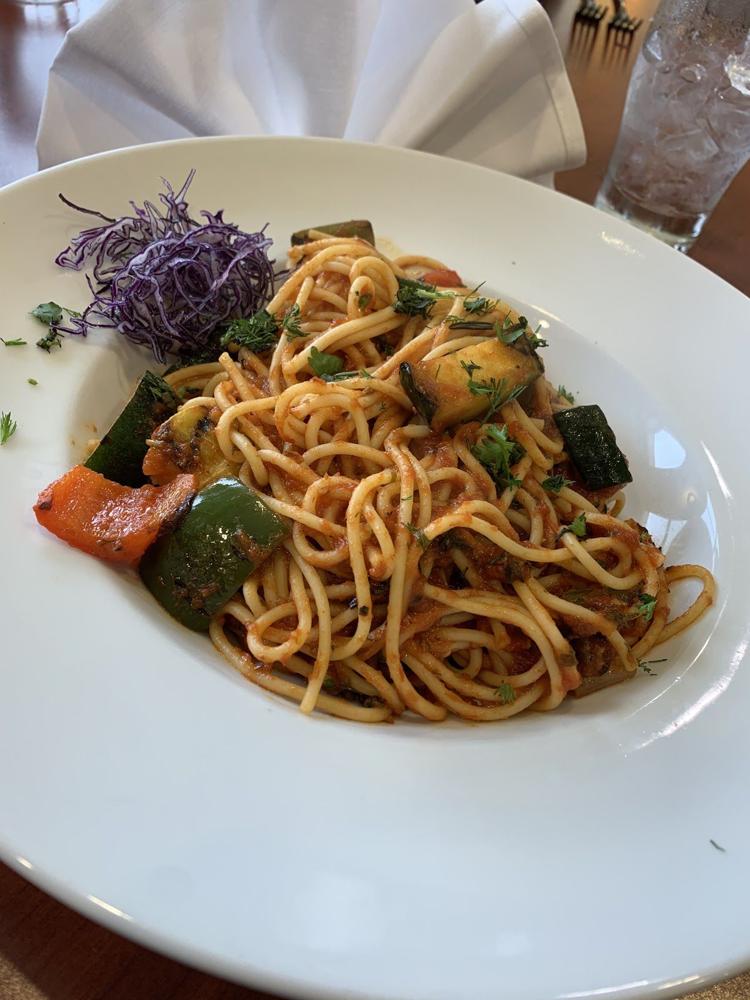 The overall food consensus: pretty good. It was nothing amazing, but a welcome reprieve from the dining hall. The food portions were also a nice balance between grossly overindulgent and kid size. That was plenty enough, but— "Should I get dessert? I feel like I should get dessert," I said. My friend Jon agreed it wouldn't be a proper food review if I didn't get dessert. So we both ordered the lava cake, which came a few minutes later. 
It wasn't very hot for a lava cake. In fact, it was cool. There was a little knob of chocolate in the middle that probably should have been melted all over the rest of the cake, but at least it was spongy and chocolatey.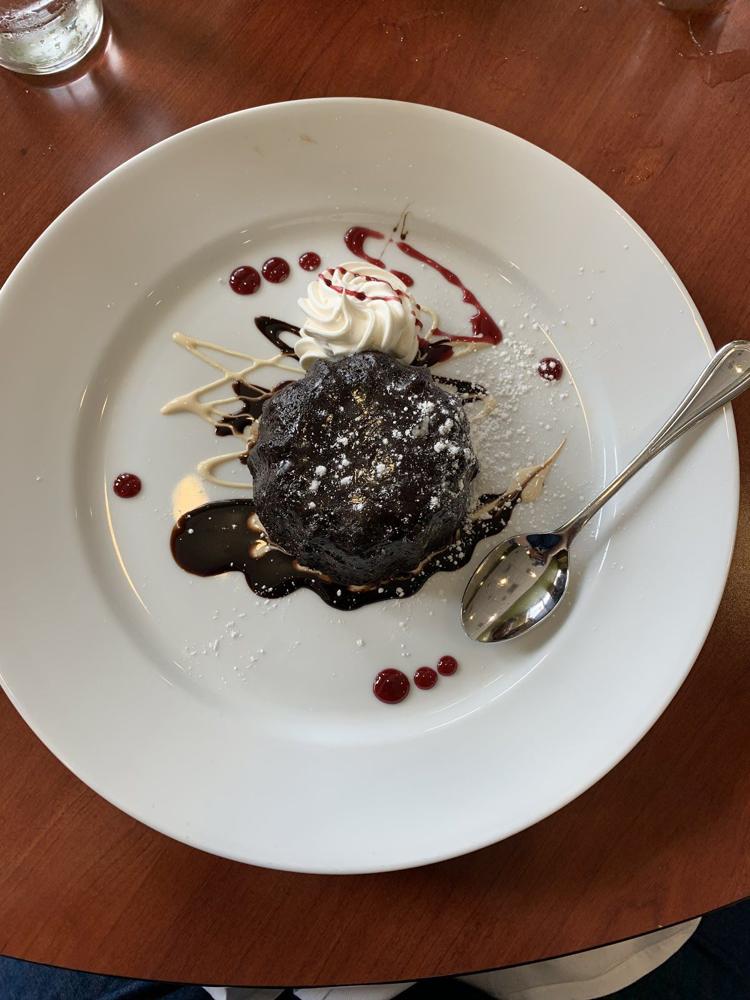 Overall, the whole experience was nice. As an out-of-state student without a car, I don't go off campus too much, and this technically wasn't different. But it felt different. Don't get me wrong, I don't mind eating at the dining hall and have gotten pretty good at mixing stuff together to create more interesting dishes. It's just a relief to have something different when you spend almost all your time on campus. 
Bistro 49 is nothing remarkable. However, if you're bored with campus dining and have ten bucks to spare, it can be a good choice. I hope everything else on the menu is as good as the spaghetti!