I first heard about the opening of Optimist Hall from Charlotte Agenda, a trendy Charlotte news source informing about food spots and interesting events. Charlotte Agenda promised Optimist Hall to be a unique venture unlike any other in Charlotte. Later when Optimist Hall opened its doors in late 2019 I didn't have a chance to visit and only heard more good reviews from my sisters and friends' Instagram stories. When I finally set a date with my friends to check this place out, I wondered why I hadn't visited earlier. 
Draped in plants and fitted with wide windows flooding sunlight onto dozens of specialty vendors, Optimist Hall is the hipster's eating paradise. Comfortable and spacious seating both inside and outside make it the perfect destination for a group of friends to hang out or to come solo for some studying.
 This former textile mill boasts Asian cuisine such as bao, pho, ramen, dumplings and sushi (Bao and Broth Ramen + Bun Shop, Zukku Sushi and The Dumpling Lady), Latin and Central American cuisine such as empanadas and tacos (Felix's Handmade Empanadas, Papi Queso and Velvet Taco), Indian cuisine (Botiwalla), Italian pizza (Ava), American food (Boxcar Betty's and Harriet's Hamburgers) sweets and coffee shops (Suarez Bakery & Barra, Undercurrent Coffee, Village Juice Company and Honeysuckle Gelato) and a few drinks joint (El Thrifty Social Club, Fonta Flora Brewery, and The Spindle Bar).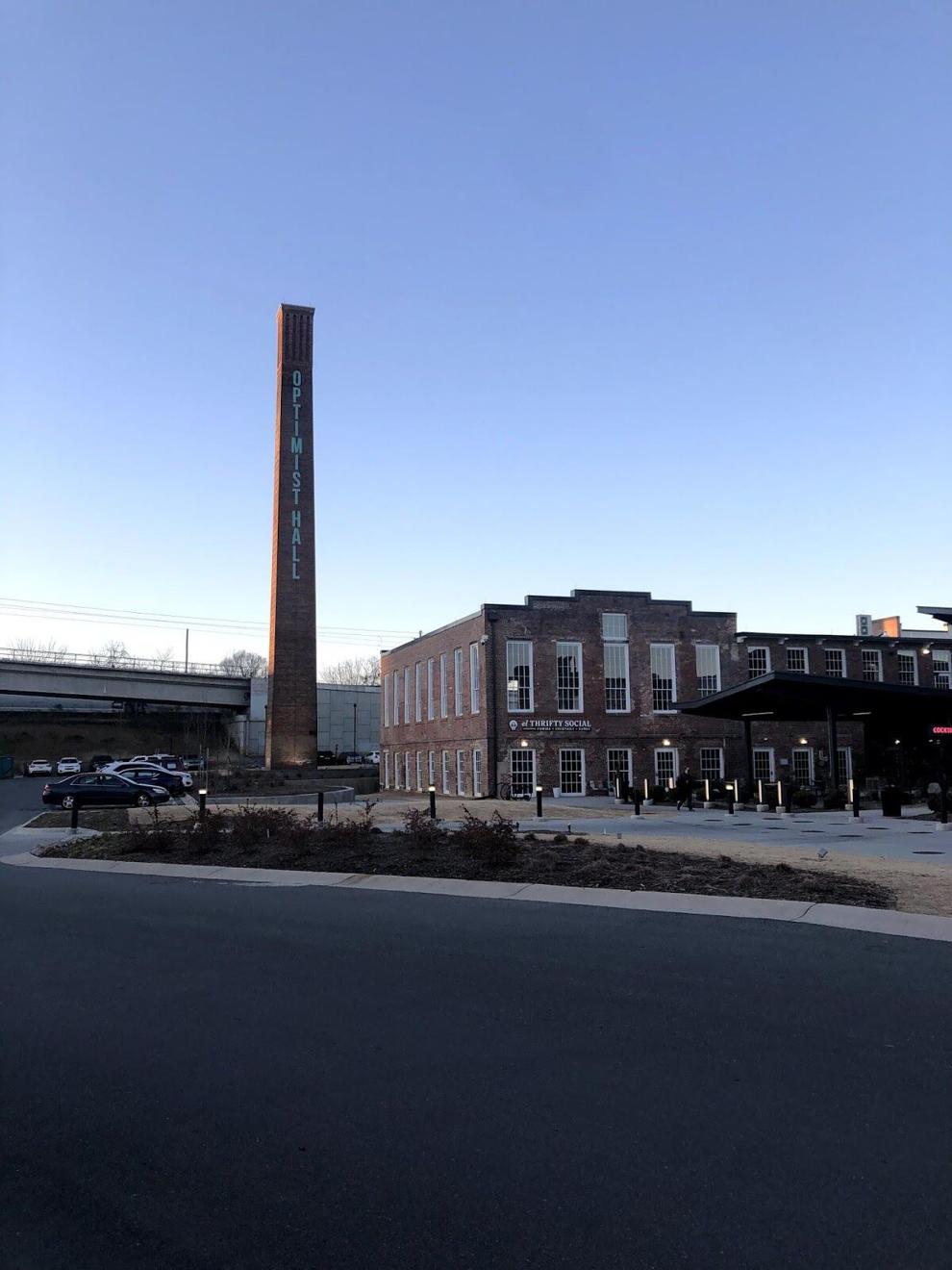 Such a large selection gives enough options for all your friends to have their favorite cuisine or to get something new!
Although I have yet to try all the food at Optimist Hall, I recommend Bao and Broth's tonkotsu ramen. This bowl of ramen has delicious creamy pork bone stock and fresh toppings of bamboo shoots, mushrooms, green onion, pork belly and hard boiled egg nestled in quality noodles. Having visited a few other ramen shops in Charlotte, I can attest that Bao and Broth is at the top of their game. I also had a root beer float with the salted caramel brownie gelato at Honeysuckle Gelato. It was a luscious and tasty concoction! 
Optimist Hall is easily accessible and about a twenty minute drive from UNC Charlotte. It's located on the outskirts of Uptown Charlotte and could be a good pit-stop on the way to exploring uptown on a weekday or stopping by a museum in the city. If driving is not an option, Optimist Hall is conveniently just a five minutes walk from the Parkwood light rail station.
Their hours give a chance for stopping by for any meal of the day: Mondays through Thursdays it's open from 7 am to 9 pm, Fridays from 7 am to 10 pm, Saturdays from 8 a.m. to 10 p.m., and Sundays from 8 a.m. to 9 p.m.. Still, be careful since these food stall hours don't apply for every vendor because some vendors close earlier. 
In terms of Covid-19 precautions, vendors are situated throughout the large space with lots of room for social distancing and masks are required to be worn at all times when not eating or drinking. There are also extra measures of cleaning being enforced. So, come on by to Optimist Hall to support these local businesses during this difficult time and show your Charlotte spirit!