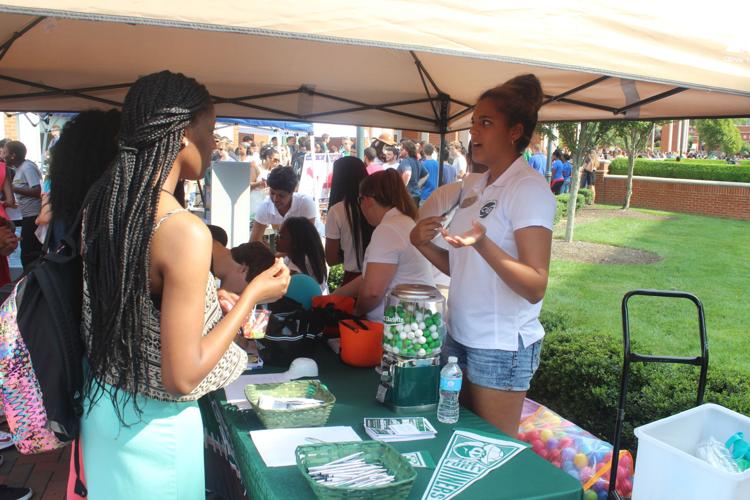 A big part of coming into college is the transition. There is a lot to getting used to. Students must start doing things on their own that are normally done for them if they were to be at home. With the newly gained independence comes a lot of responsibilities. Transitioning into college doesn't always have to be so difficult. One of the most important parts of a student's college experience is finding a group of friends or a community to hang out and build connections with. Joining student clubs, teams, and organizations is often the best way to better your student's transition into college. Joining communities can help your student have a better chance of making friends, getting involved with academics and their interests, and also get involved with the campus as a whole. Two popular ways students can comfortably transition into college is to join Greek Life or join communities that continue their interests from before they were admitted into college. 
The largest group of students involved in a campus community happen to be members of Greek Life. I interviewed Daniel Moody, a UNC Charlotte student in his junior year, to give an insight into Greek Life, stating that "Greek life is a collection of young individuals with strong merits who come together to accomplish great achievements as intellectuals and as leaders in the community." There are many different organizations such as Fraternities, Sororities, and even Co-ed Honors/Academics Societies like Alpha Kappa Psi, UNC Charlotte's Business Fraternity. Greek Life organizations tend to focus on profession, networking, but mostly volunteering and community service. Moody explains, "Many things my fraternity, Delta Sigma Phi, have done for the community are endless. In the past year, we have cleaned up Toby creek (a local creek on campus) twice, provided volunteers for a blood drive on campus, raised over $1000 for Beds for Kids (based here in Charlotte), and many other to services in addition to this." Moody also explains the opportunities he has come across on a personal and professional level. "Greek life provides many opportunities for me as a student and as a person trying to get through life. It has provided me the best friends that I could ask for. Not to mention the networking and volunteer opportunities provided for me day in and day out... there are also many opportunities presented after you graduate, especially in a professional manner such as job opportunities, etc. Although I have not graduated I know the brothers and alumni of Delta Sigma Phi will be there for me forever." 
Greek Life is a great way to transition into college, but if your student is looking for something more closely oriented to their interests or profession, then UNC Charlotte provides many communities focused on that one interest or profession. There are many recreational sports opportunities such as football, soccer, wrestling, dancing, and even more exotic sports life fencing. There are many volunteering clubs such as Helping Hands Project; cultural groups that help explore one's religion, culture or background; politics-based organizations such as Model United Nations; or media organizations such as Niner Times or Sanskrit. 
As all of these opportunities seem interesting, please remember to tell your students that time management is important. Commitment is crucial for any aspect of interest and life, and as much as joining campus communities can help one with that, your student must also be able to put in the effort and commit to the student organization they decide to join. More information about campus communities and how to join can be found on ninerengage.uncc.edu through your student's 49er account.