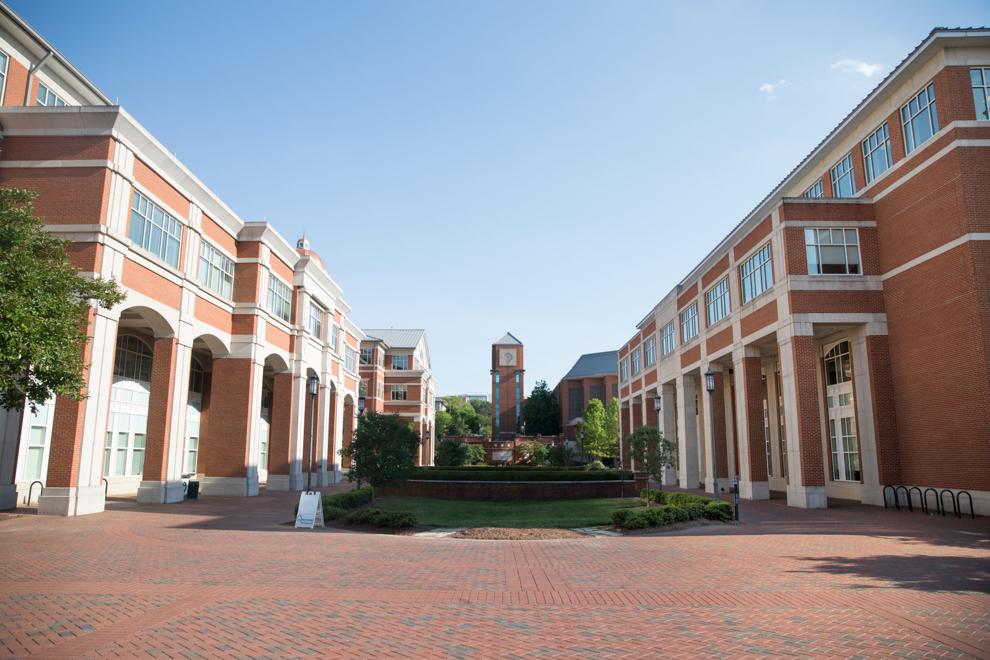 The following article is from our 2020-2021 "parent guide," which is why it is written in a style that is directed at students' parents.
As your student embarks on the next exciting chapter of their life, it is common for them or for you to feel nervous. The nervousness that comes with your student leaving home, making new friends and setting their own priorities is normal. This will be a big change in a small amount of time, which can be both exciting and intimidating for you. To make this transition easier for your student, UNC Charlotte is committed to helping future Niner parents to best guide their students in their academic and social endeavors. 
The first step in ensuring that your student is prepared for college, is figuring out where their interests lie. With 139 different majors in 75 different programs, your student will have many opportunities to figure out what they would like to pursue. Here are some answers to the most asked questions from our parents.
How can my student figure out what classes he/she take for their specific major?
UNC Charlotte has a pre-designed program of studies located at https://academics.uncc.edu/undergraduate-programs. This website is helpful in determining which classes are needed to satisfy course requirements, prerequisites, and availability times. Additionally, students can see course descriptions and times offered. Students can also use this website to explore other majors to their liking.
How can my student figure out their general education requirements?
Prospective students can plan out what classes they will need by going to https://catalog.uncc.edu/preview_program.php?catoid=25&poid=6193. Here your student will find all general education courses needed for their specific major. Please note that general education requirements can vary from program to program, so it is important that your student checks which classes are needed as some of these classes can also fulfill their major requirements.
My student is admitted in a Pre-Major program, what does that mean?
Some competitive programs require students to complete a set of prerequisites before officially declaring the major and being admitted into the college. This is most common for our Business, Biology and Nursing students here at UNC Charlotte. Being a pre-major student is not the equivalent of being an undecided major. Once your student has successfully completed the required courses and has attained a certain GPA, he or she will be admitted into the program.
My student has many interests outside their intended major, what should they do?
Having multiple interests is completely okay! In fact, the University encourages students to explore their interests. Many current students choose to double major or minor in a subject outside of their major. Please be sure your student consults their advisor before taking classes.
Advising
During your student's advising session, they will be assigned an academic counselor specific to the college they were admitted into. Your student's advisor will guide them on what classes they should take and give them advice. Academic counselors here at UNC Charlotte are not just here for academic advice, but they are also an important resource should your student need help — think of them as your student's personal life coach. Having a strong relationship with a trusted adult, not only allows your student to feel reassured in their academic pursuits but also allows them to use their advisor as a resource for applying to internships and jobs. 
Before for your student arrives at their very first advising session, consider asking your student to do the following things:
Have them write down a list of talking points they want to discuss with their counselor and maybe discuss these with your student.

Make sure your student has already sent their AP or other standardized testing scores

Have your student discuss student organizations they might be interested in or other issues not related to academics.
Will I be directly involved in my student's advising?
Advising sessions are only done with the student and their advisor. This due to FERPA laws, which protect the student but also allow them to make their own decisions for their education. Should you need to present in an advising session, your student has to give their written consent. 
Why can't I be in my student's advising session etc.?
While you, as parents, want what is best for your students, your student will get the best of their college experience if they are accountable for their education and grow as individuals. You can do your own advising as a parent by asking your student to log onto Degreeworks and explain it. As your student settles into college life, they will find that they might be unprepared and over-prepared in certain areas. Instead of stepping in the right way to fix problems, maybe ask your student "what do you need to feel prepared for?" or "what can I do best to support you?" By asking these questions, not only does the student feel more comfortable in making their own decisions, but they also learn how to be more responsible and self-aware of their strengths and areas where they might need help in.