Snapping photos of your food may be pretentious to some, but when you're grubbing on picturesque dishes in a food city like Charlotte, it's hard to resist the urge. In 2016, popular restaurant guidebook Zagat ranked the Queen City as one of the hottest food cities in the country beating out San Francisco, Atlanta and Houston. 
It's no surprise that the metropolitan's food blogger community is growing at a rapid speed. However, it's hard to explore Charlotte's fine dining scene as a budgeting college student. Fortunately, many of the city's best food gems lie within affordable, local and sometimes family-owned eateries. Get your phone out and eat like an influencer at these enticing food spots in Charlotte and the surrounding area. All photos were sourced from food bloggers/influencers in the Charlotte area.
1. LuLu's Maryland-style Chicken and Seafood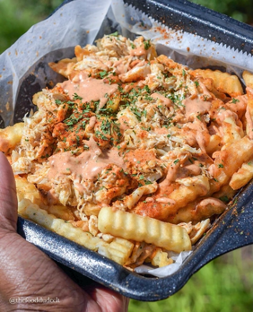 Described by Charlotte Agenda as "one of Charlotte's brightest stories of 2020," the black-owned and black-operated Lulu's Maryland Style Chicken and Seafood brought the authenticity of Maryland crab cakes to Charlotte in 2019. Now, not much later, owners Jay and Miketa Davis are expanding their uber-successful business with a second location opening on Central Avenue in early 2021. 
This fulcrum of Charlotte seafood boasts a menu filled with vibrant fast food options from both the ocean and the land. Their menu includes an appetizing wing combo, shrimp and grits, and their ever-popular and photogenic crab fries. Most items at LuLu's come in under $10, perfect for those who want a piece of homegrown goodness at a quarter of the price of most fine-dining seafood restaurants. Pop into LuLu's for a taste of Maryland in the Queen City: 2400 Tuckaseegee Rd, Charlotte, NC 28208. (https://luluscharlotte.com/)
2. Maria's Mexican Restaurant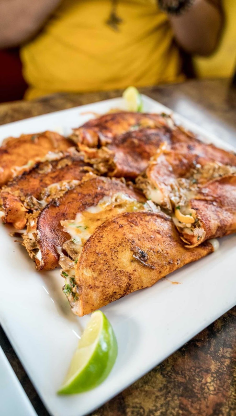 Maria's Mexican Restaurant's QuesaBirria became a TikTok sensation when user @wyneesworld dubbed a short clip of her eating the quesadilla-taco hybrid with a woman describing "authentic Mexican tacos." The famous video not only garnered over 214,000 likes on the platform but put Maria's on the map for taco enthusiasts in Charlotte, and helped popularize the niche of broth-dipped tacos on social media. 
Maria's sells its QuesaBarria for $5.50 each. However, the family-owned restaurant also offers a plethora of affordable Mexican favorites as well as some unique and savory specials. These include their savory Tacos Mar & Tierra and the daunting Michelada de Camaron cocktail. Best of all, the eatery also offers vegan options. With daily lunch specials rounding out at around $10, it's easy to grab an "authentic Mexican taco" at Maria's: 5234 South Blvd, Charlotte, NC 28217 (https://www.mariasmexicanrestaurantcharlotte.com/)
3. Omaggio Pizzeria Italiano
Photo courtesy of @eatdrinkclt via Instagram 
Homegrown Italian food runs in the family for Rome native and Omaggio Pizzeria Italiano owner Daniel Siragusa. When he opened the restaurant in the Metropolitan back in 2015, many doubted its success due to the revolving door of failed pizza joints that plagued the space in the past. However, Omaggio soon became a Charlotte favorite, known for its reasonably priced and authentic-crafted pies. 
Omaggio stands firm on its brand of authenticity, stating "we promise to always use the freshest ingredients and to keep our standards high while preparing the genuine tastes of Italian specialties." The pizzeria offers a plethora of red and white selections including Italian favorites such as Margherita and Calabrese pies. A single pizza at Omaggio will run you around $15, so feel free to stop by this piece of bona fide Italian culture right here in the Queen City: 1055 Metropolita Ave #130, Charlotte, NC 28204 (https://www.pizzeriaomaggio.com/)
4. Haberdish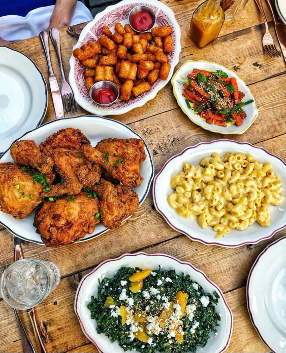 Haberdish prides itself as a Mill town Southern kitchen. With that said, its unique history is built on the bedrock of the textile industry that NoDa is known for. "We're here to help keep some of those stories alive through food and drink," the restaurant proclaims on its website. While you may come to get a taste of history, you're sure to stay and revel in the delicious brunch and Haberdish's signature craft cocktails.
This hotspot not only offers classic dishes such as their fried chicken and macaroni and cheese, they also feature remixes of your favorite southern dishes such as kale grits, charred okra and sweet potato dumplings. Their scenic two-piece fried chicken combo starts at just $6, so fret not about popping in for a meal just like mom used to make in the heart of Charlotte: 3106 N Davidson St, Charlotte, NC 28205 (http://www.haberdish.com)